Director: Hansal Mehta
Cast: Karishma Tanna, Mohammad Zeeshan Ayyub, Harman Baweja, Deven Bhojani, Tannishtha Chatterjee, Prosenjit Chatterjee, Inayat Sood, Tanmay Dhanania
Where: Streaming now on Netflix
Rating: 3 stars
Directed by ace filmmaker Hansal Mehta, 'Scoop' is that rare show that humanises journalists and their ordeal while navigating their lives and careers in a country that is constantly pitting them against changing governments, the cop and criminal nexus, fluctuating attention spans of the audience and a flawed system. In between all of this, our scribes have to relentlessly pursue the truth at the cost of everything that is dear to them. From their families, their reputation, even their conscience.
Karishma Tanna as Jagruti Pathak in Scoop
Based on the book 'Behind Bars in Byculla: My Days in Prison', authored by former journalist turned tarot card reader Jigna Vora, 'Scoop' traces how Deputy Bureau Chief Jagruti Pathak (Karishma Tanna), gets framed for the unfortunate murder of Jaideb Sen (Prosenjit Chatterjee). Sen, is based on the famous crime reporter J Dey, who was shot in broad daylight in 2011, by the men of dreaded gangster Chhota Rajan. What follows is Vora's judicial battle to prove her innocence, one that took a year's jail term and seven years in court, until she was finally acquitted in 2018.
Written by Mehta and co-writer Mrunmayee Lagoo Waikul, the show tries to pack in a handful, which is why viewers would require a certain amount of patience, in order to remain invested. From the everyday workings at a leading publication, to office politics, the clash between ethics and egos and the insatiable hunger for eyeballs, it's a tightrope walk for the makers to bring all of them to light in the narrative. While pitching your story based in a time when newspapers ruled the roost before the advent of the digital medium, to viewers who are now consuming information through Instagram reels or WhatsApp forwards, the technicalities might feel alien for the much-younger viewers.
Here is where the writers grab the opportunity to make strong, scathing observations on how the patriarchal Indian society views 'independent, strong women'. Pathak's discerning colleagues are quick to dismiss her credentials to favours exchanged, her single mother and divorcee status makes her an immediate prospect for men to nurture a soft corner for. You'll find yourself feeling triggered more than once when JCP Shroff (played by a surprising Harman Baweja) makes a move at Pathak. Or when two colleagues have to discuss and dissect Pathak's emphatic side to relate to her seemingly shrewd ways. It's in these moments that the show manages to keep you hooked.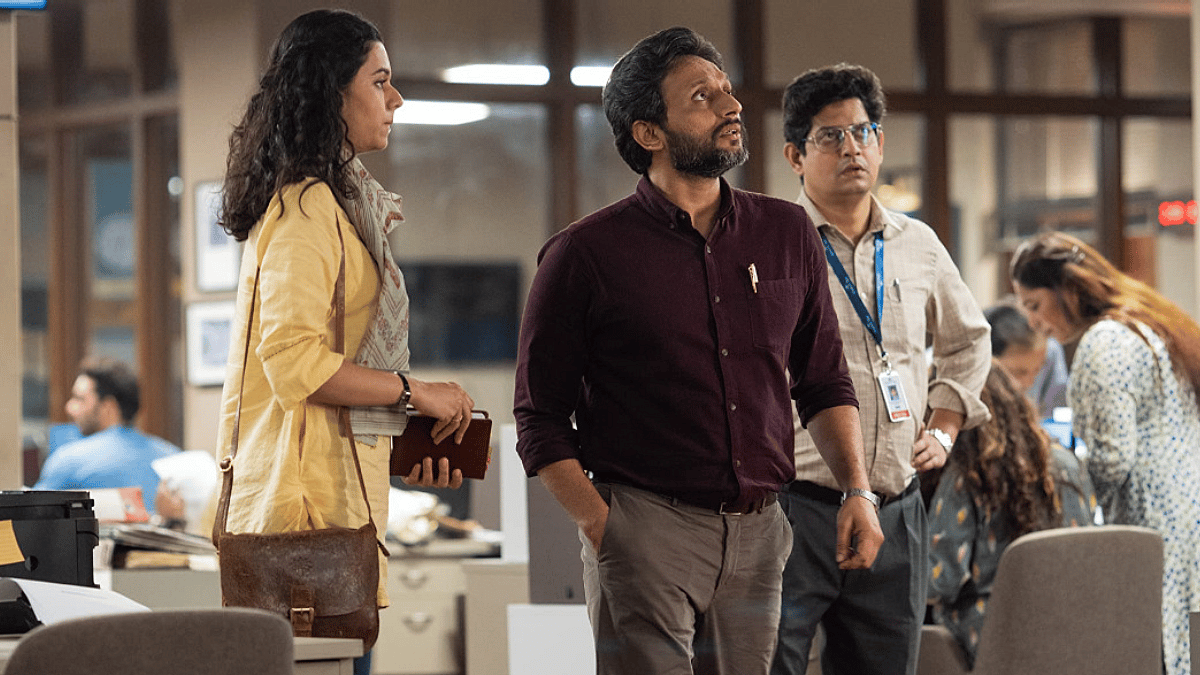 'Scoop' easily marks Tanna's most notable performance, by far. She isn't 'intimidating' nor is she cutting a sorry figure even when she is in jail. It's as humane as it can get. Chatterjee as Sen, is restrained yet affirmative. Baweja is unscrupulous, who will go to any extent to save his pride. But, it's Mohd. Zeeshan Aayub as Pathak's editor Imran Siddiqui that deserves the loudest applause. As an ethical man, who must surpass professional and personal scrutiny to safeguard his colleague's reputation and rights, Ayyub's resilience is commendable. The plot is further heightened by impressive performances by the remaining ensemble cast. From Tannishtha Chatterjee, who plays the scheming, sensationalist editor, to Inayat Sood as the undermined junior scribe Deepa Chandra, Deven Bhojani as Pathak's supportive uncle and Tanmay Dhanania as Pathak's envious colleague Pushkar are top notch.
But, for its occasionally meandering storyline and incomprehensible sub-plots, 'Scoop' makes for an ideal quick binge.
(To receive our E-paper on WhatsApp daily, please click here.  To receive it on Telegram, please click here. We permit sharing of the paper's PDF on WhatsApp and other social media platforms.)