Mira-Bhayandar: The cybercrime cell of the Mira Bhayandar-Vasai Virar (MBVV) police helped three more people get back a collective amount of nearly ₹3 lakh which they had lost by falling prey to cyber-frauds in the past few days. The three complainants were duped through different modes like-seeking refund of railway tickets, updating know your customer (KYC) details of bank accounts and credit card fraud.
With the latest additions, the total recovery of the cyber cell has crossed the ₹1 crore mark in the past less than eight months between January 1 and August 20, this year. The total number of cybercrime complaints received by the cell has increased from 794 in 2021 to 2,738 in 2022. This year the cell has received as many as 1952 complaints in less than eight months (till August, 20). Although the exact data related to the total amount of lost money has not been ascertained the figures might be over ₹8 to ₹10 crores.
Alarming rise in cyber fraud cases
In the wake of an alarming rise in cybercrime cases, the total numbers could touch 2,500 till the end of 2023. However, not all cases are limited to online financial frauds, nearly 40 percent comprise crimes, including social media hacking, fake accounts, defamation, harassment and even stalking. While ₹91.94 lakh was recovered in 2021, the figures stood at ₹28.80 lakh in 2022 and a little over ₹1.01 crore so far in 2023.
'Golden Hour' for cyber fraud victim to register cases
Despite operating with limited resources and manpower, the cyber cell used various methods such as effecting reversal of transaction by establishing contact with the gateway of the digital platform that provides recharge and payment solutions on the virtue of technical surveillance and money trail. "It is very important for the victims of financial cyber crimes to call us soon after they are cheated (Golden Hour) as it gives us that much time to block the transactions." said a police officer attached to the cyber cell while stressing upon the need for people to be careful while dealing with unknown callers/senders. People can dial the cybercrime helpline at 1930 or email at www.cybercrime.gov.in and also approach the local police stations for reporting online frauds.
MBVV Cyber Fraud Complaints
2021
794 complaints
Recovery ₹91.94 lakh
2022
2,738 complaints
Recovery ₹28.8 lakh
2023 (8 months)
1952 complaints
Recovery ₹1.01 Crore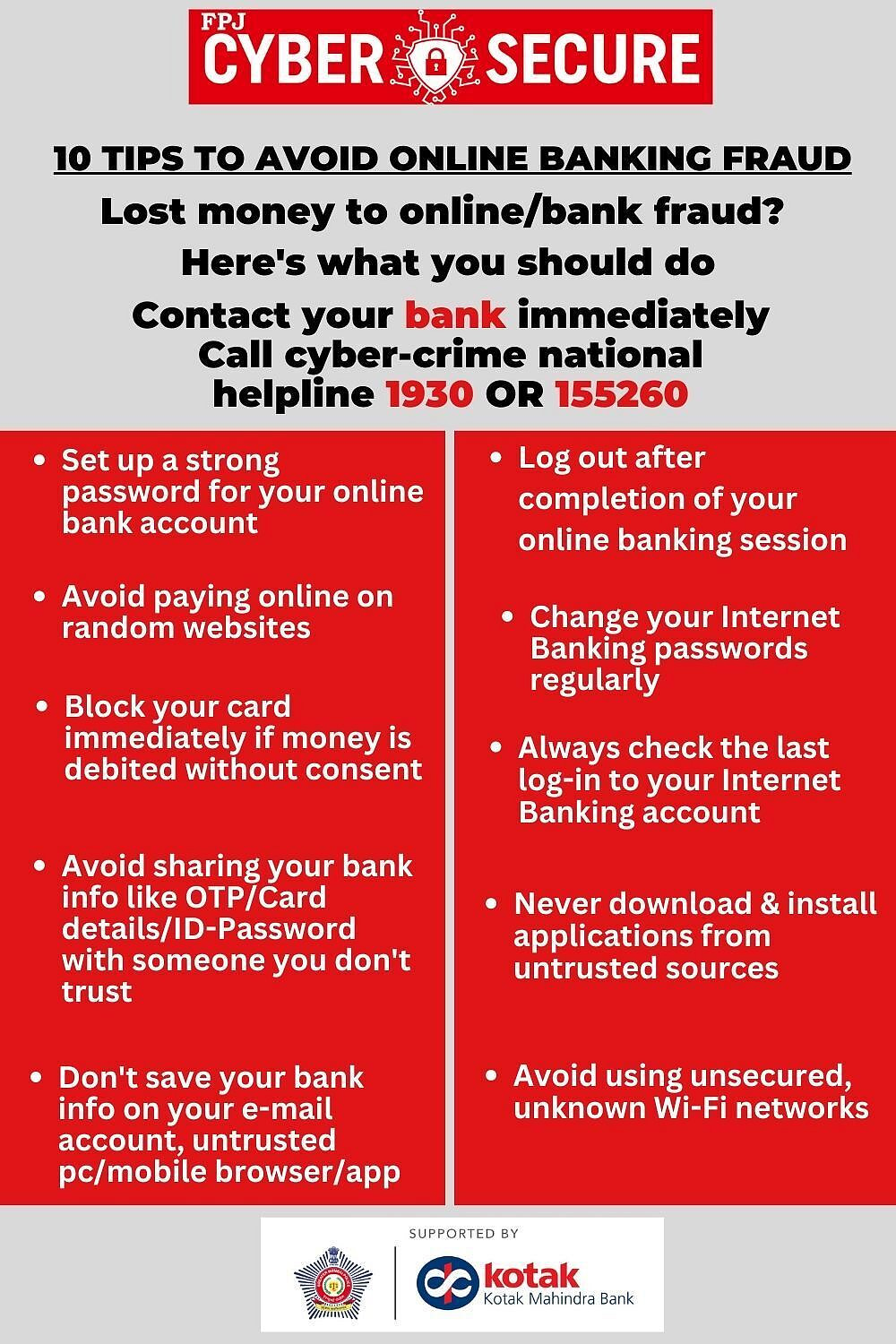 FPJ Cyber Secure | FPJ
(To receive our E-paper on WhatsApp daily, please click here.  To receive it on Telegram, please click here. We permit sharing of the paper's PDF on WhatsApp and other social media platforms.)