BHOPAL: A video showing vaccination team crossing river on foot to reach destination in Pindarikala, Chhindwara district, went viral in social media on Monday. Going by the campaign tagline- Ab Koi Na Chhoote Vaccination Maha Abhiyan – the health department team went to the village to jab 18 people.
CMHO Dr Girish Chourasia said, "We have to face a lot of challenges in vaccinations in remote areas. But ultimately we have to protect people from the Covid –19." Inoculation was carried on at 11,009 vaccination centres in the state.
Madhya Pradesh reported 11,63,855 vaccinations taking overall tally to 6,22, 83, 105 on Maha-Abhiyan-4 on Monday. First dose tally increased to 4,76,54,459 while second dose tally went to 1,46,28,646.
Chief Minister Shivraj Singh Chouhan and others watche as man receives Covid-19 vaccine in Bhopal on Monday | FM
Motia Bai, 99, was administered first dose of vaccine before Chief Minister Shivraj Singh Chouhan who kicked off Maha-Abhiyan-4 aiming to ensure 100 per cent vaccination of first dose to the adult people in Madhya Pradesh. Her grandson Raju informed that Motia Bai is born in 1923.
Chief Minister said that so far 86 per cent of the eligible population of the state has got the first dose of the vaccine. Madhya Pradesh is at number one in the country in administrating the first dose. This has been possible as a result of the cooperation of public representatives, administrative staff and public. The first dose of the vaccine has been administered to everyone in Bhopal. All the eligible persons in the state capital have been vaccinated, said Chouhan. Those eligible persons who were out of Bhopal due to some reason and have missed their vaccination should also get vaccinated, he added.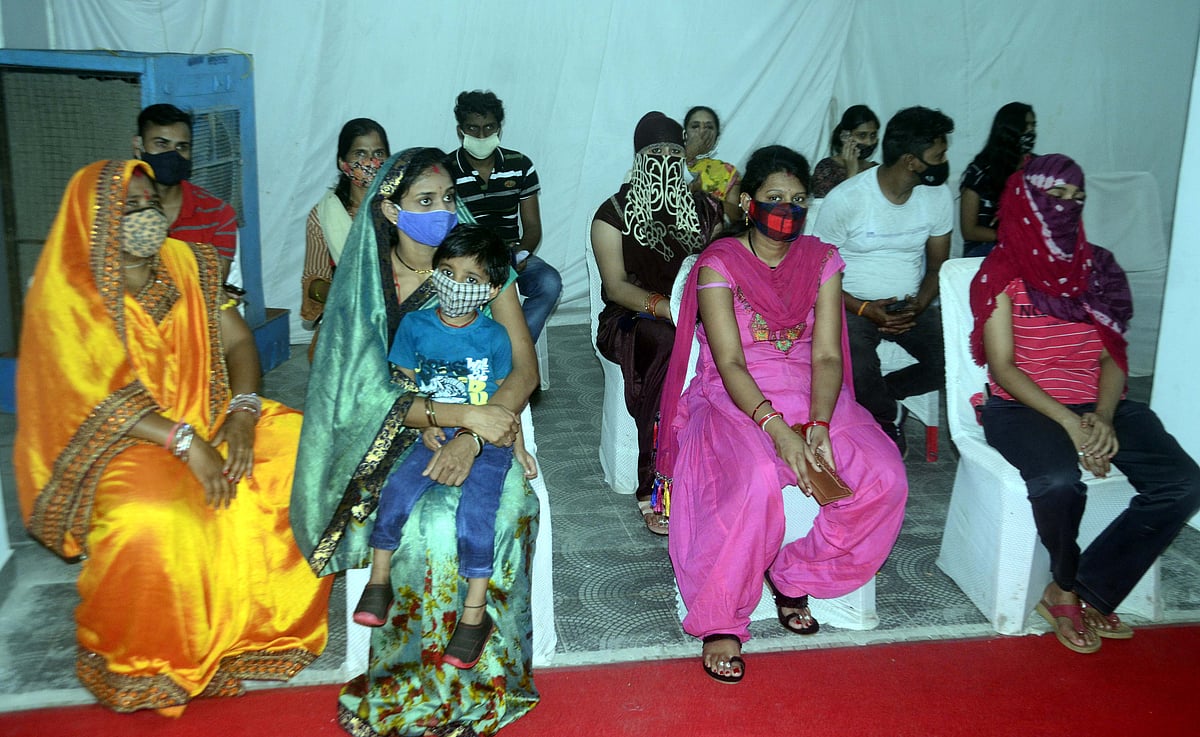 Jhabua 19,259CM said that in this vaccination campaign, special care is being taken to vaccinate differently-abled, senior citizens and women. As many as 2,57, 506 pregnant women have been vaccinated so far in the state. Similarly, 12,509 doses of CM inquired about the wellbeing of disabled Krishnakumar Vishwakarma, Ruchi Sharma and Vinod Kumar who came to the vaccination center for vaccination. He also interacted with Smt. Sunita and Smt. Nisha and 99-year-old Smt. Motia Bai, who came for vaccination. Special arrangements were made for the differently-abled, senior citizens and women at the center.
Medical Education Vishwas Sarang watches as man receives Covid-19 vaccine in Bhopal on Monday |
Rewa 72,772

Jabalpur 52,622

Satna 51,202

Indore 42,915

Bhopal 41,113

Chhindwara 49,337

Balaghat 45,537

Dewas 39,465

Ratlam 30,168

Singrauli 37,021

Shivpuri 28,527

Bhind 24,750

Vidisha 20,998

Raisen 20,688

Khandwa 24,406

Sidhi 16,190
Minister for medical Education Vishwas Sarang facilitating ANM Gaytri Shrivastava | FP
Sarang praises ANM Gaytri Shrivastava
Minister for medical Education Vishwas Sarang congratulated ANM Gaytri Shrivastava for administering 61,000 doses at Katju Hospital. She did not avail any off-day since January 25 and so far has administered 61,000 doses. She has pledged to achieve target of 1 lakh.
(To receive our E-paper on whatsapp daily, please click here. To receive it on Telegram, please click here. We permit sharing of the paper's PDF on WhatsApp and other social media platforms.)