Ujjain (Madhya Pradesh): An insightful deliberation on "Amrit Kaal Budget-2023" held during a symposium at Pandit Jawaharlal Nehru Institute of Business Management (JNIBM), Vikram University, here on Friday. The objectives and provisions of the fiscal budget were discussed by industry experts hailing from finance, banking and manufacturing background.
Keynote speaker Anubhav Jain, treasurer of Laghu Udyog Bhari Ujjain and head of Mayank Textile Group highlighted that India must be self-reliant and our production capacity shall be fully utilised. The objectives of this budget can be fulfilled with the help of skill development and industry 4.0 facilities to the youth of small towns, he said.
Siddhant Dev of RR Agarbatti Group, Indore, who was also a guest at the event, discussed the features of the GST system and Budget with examples while making an appeal to the students to work hard and understand the standards of economic environment.
As the last speaker of the symposium, Jaikumar Bhatt, an alumnus of JNIBM, former senior banker and stock market expert, underlined the positive and negative effects of the Budget and the trends of equity research. The welcome speech, programme outline and introduction of the industry guests were presented by Dr Dharmendra Mehta, director, Pt JNIBM. The programme was coordinated by Rimjhim Dubey and Vishal Malviya. Question and answer session, symposium summary and gratitude was presented by Anubhi Bhatnagar, Vinita Chowdhary, Payal Kushwaha and Mehak Mansuri.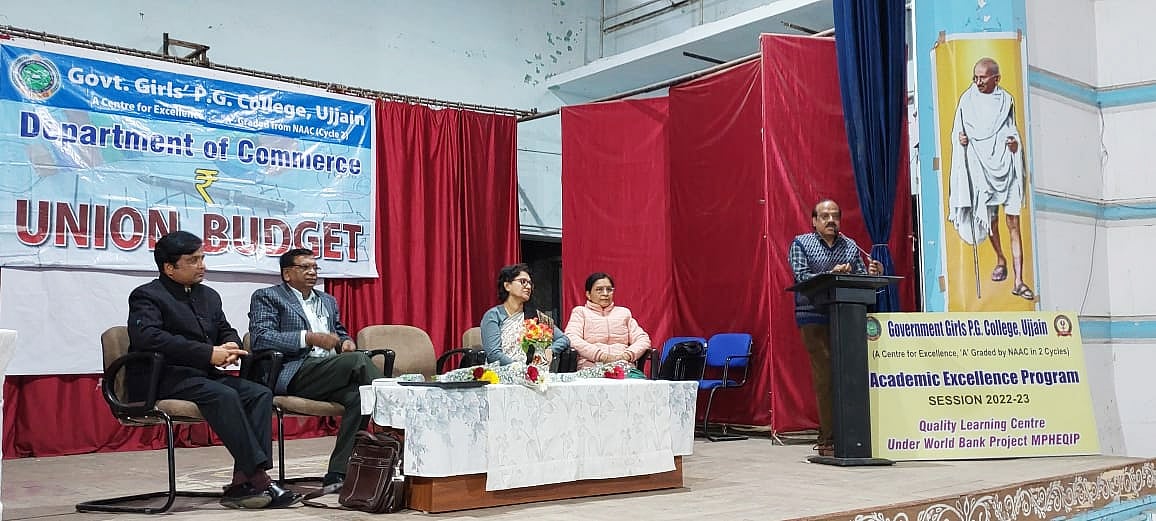 Symposium on Budget-2023 in progress at GGPGC |
AT GGPGC
Budget symposium was organised on Friday by the commerce department of Government Girls Post-Graduate College (GGPGC), Dussehra Maidan. The first subject expert, Dr Dinesh Singhal, professor and head of the department of commerce, Government Kalidas Girls College, said that this Budget is based on the Saptarishi concept.
By taking advantage of the various schemes mentioned in the Budget, even a common man can progress a lot. The second subject expert, chartered accountant Kamini Meharwal said that special efforts have been made for women and youth in the Budget. Senior citizens have also been taken care of. The effort to reduce the fiscal deficit is noteworthy.
She gave information about different slabs of direct tax and indirect tax and told that this will make tax collection easier. Principal Dr HL Anijwal gave the presidential address and urged the students to understand the nuances of the Budget. Head of the department of commerce, Dr Nikhil Joshi welcomed the guests. Dr Shalini Vijayvargiya coordinated the programme. Dr Shraddha Kabra and Dr Arpita Trivedi gave the guest introduction. Sarika Bhavsar proposed the gratitude. Dr Archana Singh Chauhan gave special support in organising the symposium. The technical support was from Wasim Khan.
(To receive our E-paper on WhatsApp daily, please click here.  To receive it on Telegram, please click here. We permit sharing of the paper's PDF on WhatsApp and other social media platforms.)