The property cell of Thane Police Department apprehended two individuals on Thursday, June 1, and successfully dismantled an inter-state gang involved in the illegal trade of firearms and ammunition. The operation took place in Kopri, Thane, where law enforcement officials seized a total of 17 pistols, 31 magazines, and 12 live cartridges.
Acting on credible intelligence about a significant shipment of arms and ammunition being transported to Thane, a dedicated team from the Thane Property Cell swiftly coordinated their efforts and laid a trap in the area on June 1.
During a press conference held on Tuesday, Deputy Commissioner of Police (Crime) Shivraj Patil shared crucial information regarding the operation. He revealed that a confidential source had contacted Senior Police Inspector Anand Raorane of the Thane Property Cell, providing specific details about two individuals who were planning to arrive in the Kopri area of Thane to deliver pistols, magazines, and live cartridges. Acting swiftly on this tip-off, the property cell team discreetly positioned themselves in plain clothes and set up a trap in Kopri. As anticipated, by evening, two men fitting the description provided by the police source arrived at the designated spot. Senior Police Inspector Anand Raorane, supported by his team, promptly arrested the two suspects, effectively foiling their illicit activities.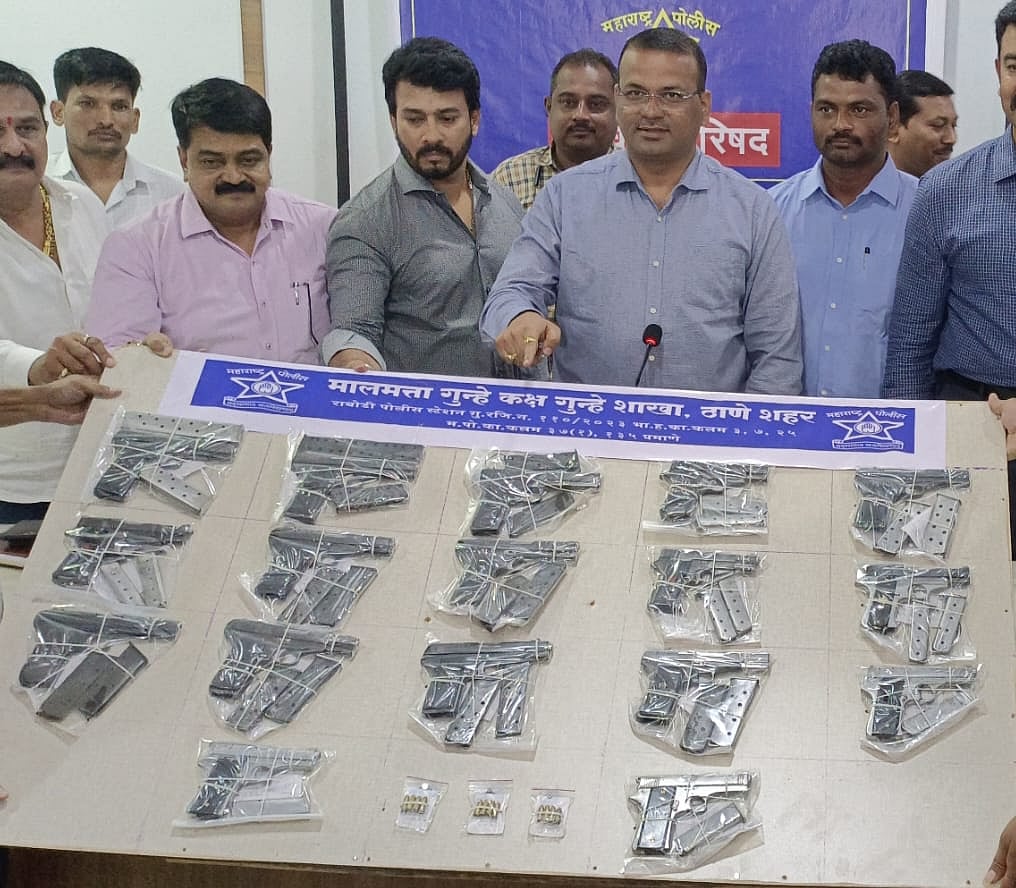 Patil further provided additional details, stating, "Upon inspection by Raorane, it was discovered that both suspects were carrying a bag. Upon searching the bag, it was found to contain 3 pistols, 4 magazines, and 5 live cartridges. A case has been registered against the accused at Kopri police station under sections 3, 7, and 25 of the Arms Act, as well as various sections of the Indian Penal Code (IPC). Subsequent interrogations of the suspects, with the assistance of Madhya Pradesh police officials, led to the recovery of additional pistols."
The individuals involved in the case have been identified as Ramesh Misuriya Kirade, also known as Bilal (25), and Munna Amasa Alwe, also known as Barela (34). Both individuals are residents of Madhya Pradesh. It is reported that the accused duo worked as gun runners for a criminal gang operating along the Madhya Pradesh-Maharashtra border. They are suspected to have been involved in supplying arms and ammunition to various regions across the country.
Patil expressed his concern, stating, "Considering the rise in criminal activities and the upcoming elections in Thane, the seizure of these weapons is highly alarming. The confiscated firearms bear a striking resemblance to high-end pistols manufactured by authorised arms and ammunition companies. The distribution of such weapons throughout the country has the potential to disrupt the law and order situation. Our police team is diligently investigating the identity of the main source responsible for the supply of arms and ammunition. We are also determining the number of cases registered against them in various other parts of the country."
(To receive our E-paper on WhatsApp daily, please click here.  To receive it on Telegram, please click here. We permit sharing of the paper's PDF on WhatsApp and other social media platforms.)