In the past month, the Navi Mumbai Municipal Corporation (NMMC) has conducted visits to over 400,000 households to identify and address mosquito breeding spots. During these inspections, the civic body's team discovered a total of 495 locations where mosquitoes were breeding.
Campaign to continue till end of rainy season
To proactively combat the issue in anticipation of the upcoming rainy season, a special campaign was launched on April 15, 2023, specifically targeting indoor mosquito breeding sites. This campaign will continue throughout the municipal area until the end of the rainy season.
Since April 15, the civic health department has visited a total of 210,867 houses and inspected 413,888 potential mosquito breeding sites. The survey identified Anopheles mosquitoes (which carry malaria) at 30 locations, Aedes mosquitoes (known for causing dengue and biting during the day) at 452 locations, and Culex mosquitoes (also responsible for dengue and biting during dusk and dawn) at 14 locations. All of these 495 breeding sites have been eliminated.
Mosquito breeding spots found on building roofs
The survey also revealed that many buildings have mosquito breeding spots on their roofs.
In accordance with the guidelines set by the Central Government and the Government of Maharashtra under the National Pest Control Program, the NMMC conducted various activities on National Dengue Day, which took place on May 16. Special health camps were organized at 23 civic primary health centers to raise awareness about dengue. A total of 4,557 citizens visited these camps, and 555 individuals had their blood samples taken for examination.
Furthermore, extensive public awareness efforts were made through exhibitions and demonstrations at 22 locations, as well as morning fairs at 13 places. The Health Department official stated, "Banners, posters, and pamphlets were distributed, and important areas were prominently marked."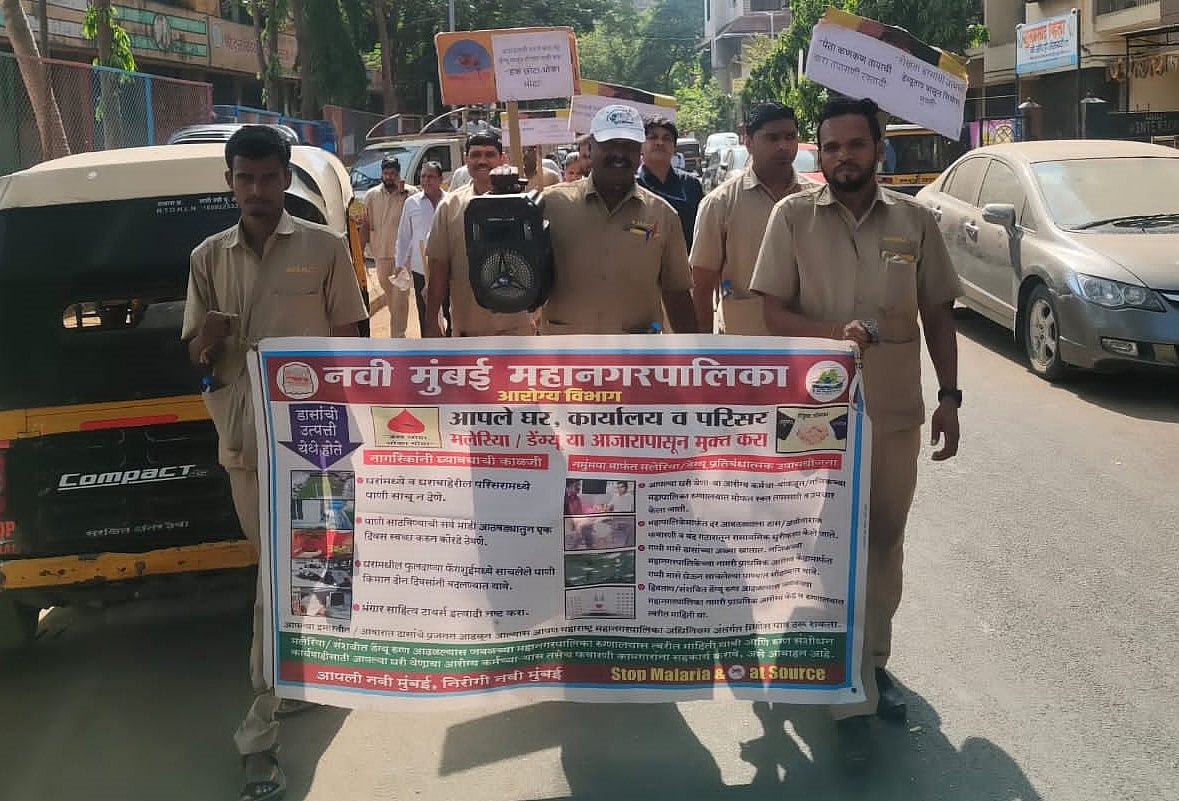 Dos and Don'ts to Prevent Dengue:
Avoid allowing water to accumulate in your home or office premises.

Ensure that all water tanks in the community are tightly sealed and covered, including loft tanks on rooftops. Vent pipes should be fitted with anti-mosquito nets.

Dispose of scrap materials, such as empty bottles, cans, paint cans, or flat tires that may be present on the terrace or around the house.

Regularly change stagnant water in vases, trays under pots, and feng shui arrangements at least once a week.

Remove accumulated water in trays under sinks, fridge defrost trays, and AC ducts on a regular basis.

Use mosquito repellents and mosquito nets whenever possible.
(To receive our E-paper on WhatsApp daily, please click here.  To receive it on Telegram, please click here. We permit sharing of the paper's PDF on WhatsApp and other social media platforms.)