Railway Protection Force (RPF) personnel saved a 27-year-old youth from attempting suicide on the tracks of Nalasopara railway station on Saturday evening after he fell into depression due to a pay cut at his work place.
𝗬𝗼𝘂𝘁𝗵 𝘄𝗮𝘀 𝘀𝗲𝗲𝗻 𝗼𝗻 𝗽𝗵𝗼𝗻𝗲, 𝘀𝗼𝗯𝗯𝗶𝗻𝗴 𝗮𝗻𝗱 𝘄𝗮𝗹𝗸𝗶𝗻𝗴 𝘁𝗼𝘄𝗮𝗿𝗱𝘀 𝗩𝗶𝗿𝗮𝗿 𝘀𝗶𝗱𝗲
According to the RPF, while patrolling the station, around 5 pm one youth was seen talking on the phone and sobbing while jumping from platform number 2 and walking towards Virar side while sobbing bitterly.
𝗬𝗼𝘂𝘁𝗵 𝘄𝗮𝘀 𝘁𝗿𝘆𝗶𝗻𝗴 𝘁𝗼 𝗷𝘂𝗺𝗽 𝗶𝗻 𝗳𝗿𝗼𝗻𝘁 𝗼𝗳 𝘁𝗿𝗮𝗶𝗻
A train was heading towards his direction and he was trying to jump in front of it. Meanwhile head constable Rao Manjre saw the youth and ran towards him, pulling him away from the train.
The police personnel then took him to the RPF office and tried to calm him down. The youth who was a resident of Bandra East, revealed that he was under immense mental stress as there was a recent pay cut in his salary. "I was completely disturbed, I was not understanding what to do, I just wanted to end my life," he told the officers.
𝗣𝗼𝗹𝗶𝗰𝗲 𝗰𝗼𝗻𝘁𝗮𝗰𝘁 𝘆𝗼𝘂𝘁𝗵'𝘀 𝗳𝗮𝗺𝗶𝗹𝘆, 𝗵𝗮𝗻𝗱 𝗵𝗶𝗺 𝗼𝘃𝗲𝗿
The police then contacted his family members, after which his cousin brother residing in Virar came to pick him up. The police explained him the situation and handed him over.
"The youth are undergoing tremendous mental pressure and do not think twice before taking any harsh decisions. Talking to family members or counsellors can surely help. If anyone witnesses odd behaviour of people at railway platforms, do approach a near by officer and alert them," said an RPF official.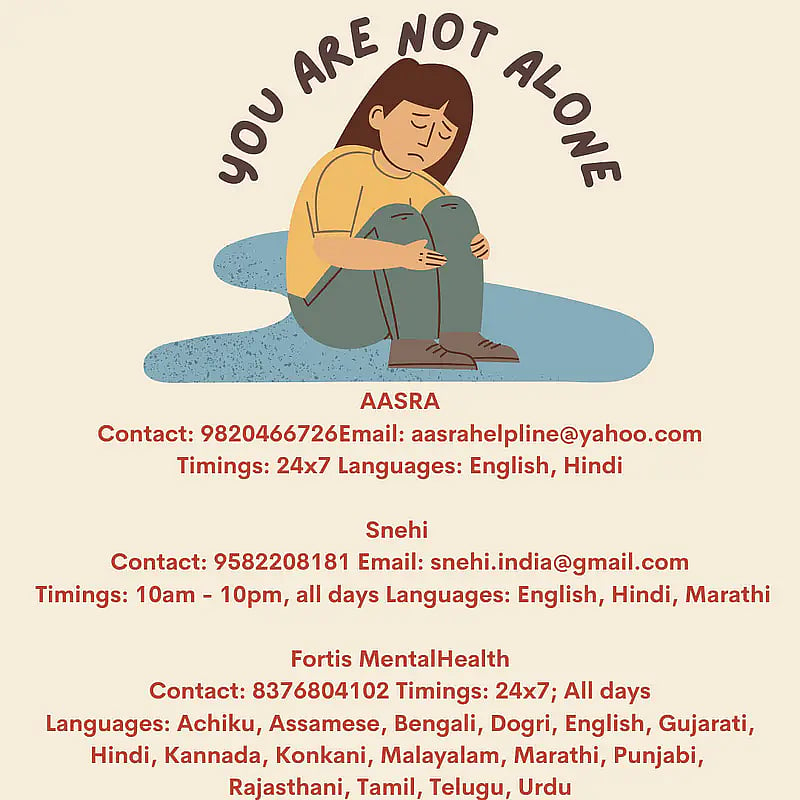 If you or anyone you know is struggling with suicidal thoughts, seek help here: | Mental Health Helplines
(To receive our E-paper on WhatsApp daily, please click here.  To receive it on Telegram, please click here. We permit sharing of the paper's PDF on WhatsApp and other social media platforms.)