Dog's best friend
She is no less than an angel. Every evening at 7pm, Eliza leaves her rented home in Dombivli with bagfuls of chicken legs, milk, water and dog feed and visits Thane, Airoli and other stations where her friends eagerly wait for her. The moment they spot her, stray dogs come running towards her and dance around her legs. She feeds them till they are sated and then cleans up the place before going for her rendezvous with dogs in other railway stations. The chicken legs, etc, are given to her gratis by shopkeepers. For the past several years, Eliza (45) has been following this routine unfailingly, rain or shine. During the day, she works as a housemaid and in the evening she dons the avatar of an angel. Over the years, she has earned the blessings of hundreds of canines and the admiration of dog lovers. May her tribe increase.
A precautionary story
It speaks volumes about the character of Mumbaikars that the controversial film The Kerala Story is being screened all over the city without any problem whatsoever. Thousands have watched it already and many more are readying to do that in the coming days. Last week, producer Vipul A Shah stunned the media when he presented as many as 26 girls from Kerala who were converted from Hinduism to Islam and later did ghar wapsi. The girls spoke about their experiences and warned people about 'love jihad'. They were extremely articulate and spoke in a matter-of-fact way. Several of them have decided to dedicate their lives to preventing other girls from falling victim to radical propaganda. Like the movie, the press meet left many stunned.
Seeking Blessings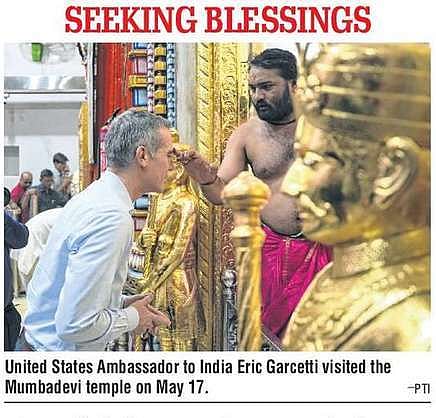 US envoy comes calling
Eric Garcetti, the ebullient US ambassador to India, was in Mumbai last week and he made quite an impression on all those whom he met, including Chief Minister Eknath Shinde and his deputy Devendra Fadnavis and corporate bigwigs. He also chose to visit the Mumbadevi temple despite the fact that it is located in one of the most congested areas of the city. But then the metropolis derives its name from this famed temple and it was but natural that the US envoy pray there on his maiden visit to the city in an official capacity. Many years ago, he had come to Mumbai as a private individual. Wish those who drew up his itinerary had also included a visit to Jamnagri Farsan Mart near the temple. This antique shop serves some of the finest farali pattice with pomegranate pearls embedded in them, crisp kachoris, samosas, fafdas and yummy jalebis. But then there is always another time.
A politician and a music lover
Beneath his tough exterior as a neta, Ashish Shelar hides within himself a lover of Hindi film songs. Every year on Mohd Rafi's birthday on December 24, he makes it a point to organise a programme based on the legend's songs at Rang Sharda auditorium, located in his assembly constituency, Bandra. The event has become so popular that Ashish is required to organise two programmes of three hours back to back. It is an event eagerly awaited by fans of Rafi. These professionally organised shows are free. The best of Rafi's songs, including 'Man tarpat, Hari darshan', 'Kaun hai jo sapnon mein aaya' and 'Badan pe sitare', are rendered by talented singers and it is a sight watching the audience sing along. Some time ago, Ashish had supported a musical programme called 'An Evening with BJP', which featured songs picturised on Biswajeet, Jeetendra and Pradeep Kumar!
Compiled by S Balakrishnan
(To receive our E-paper on WhatsApp daily, please click here.  To receive it on Telegram, please click here. We permit sharing of the paper's PDF on WhatsApp and other social media platforms.)