A doctor was duped of Rs. 4.47 crore by cyber fraudsters who allegedly posed as employees of a courier service and as Mumbai Police officers, in order to extort money.
It began with the doctor receiving a phone call from a person who claimed to be from FedEx, informing her (the doctor) that there was a parcel with her home address. They said that the parcel contained narcotic drugs which had been seized by the authorities and were being examined by the Andheri police. The doctor was then made to talk to another person, who said they were a police officer from Andheri police station and advised her to make a police complaint online, in order to resolve the matter.
Doctor received a call saying her Aadhar was used in 23 bank accounts for money laundering activities
For this purpose, the bogus police officer made the doctor download Skype, a video and voice chat/call platform, to finish the process of filing an online complaint. The doctor then received a call on Skype from a person identifying himself as an officer from the crime branch unit of the Mumbai police. Reportedly, she was told that her Aadhaar Card ID was being used in 23 bank accounts for money laundering activities.
In order to 'prove her innocence', the doctor was asked to provide her bank account details, including her bank balance, to 'prove' that she was not involved in money laundering, as was being suspected.
Suspects working under the guise of the RBI
They asked her to pay into bank accounts which were named 'Reserve Bank of India', among others, with the promise that these amounts would be returned to her after verification 'of 'her involvement'.
Police, who are currently investigating the case, revealed that the victim was threatened with arrest and told that if word of her unlawful activities got out, her reputation as a doctor and a citizen of the country was likely to be ruined. This way, money was extorted from her bank via online transactions, from May 5 to 9. As part of a technical investigation, police have ascertained that all the accounts to which the money was transacted were bogus, and the source of the real accounts is yet to be found. A probe is underway.
FedEx issues statement
FedEx does not request personal information through unsolicited phone calls, mail, or email for goods being shipped or held, unless requested/initiated by customers. If any individual receives any suspicious phone calls or messages, they are advised not to provide their personal information and instead should contact our customer service hotline at 1800-22-6161 or 1800-209-6161for verification.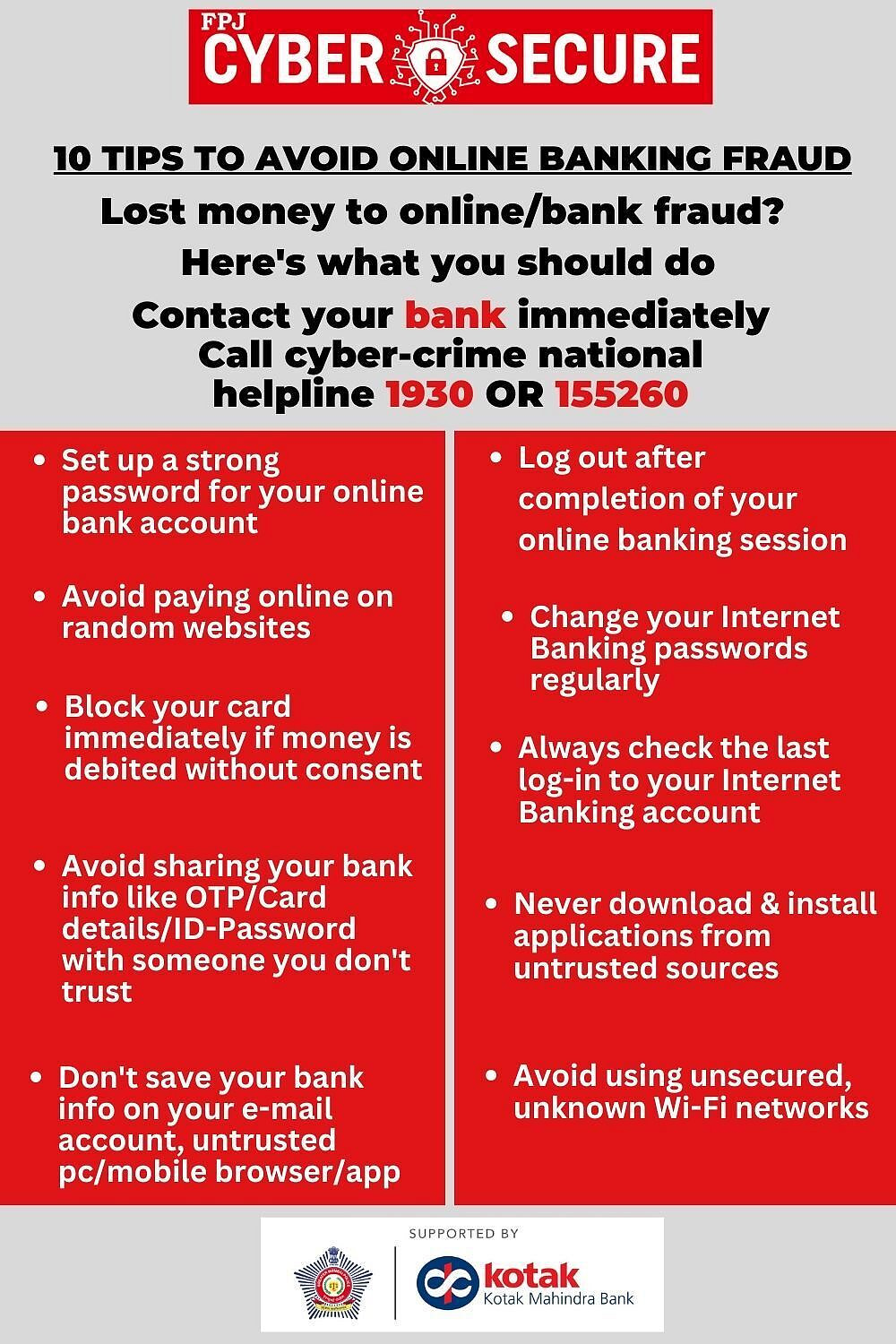 FPJ Cyber Secure | Fpj
(To receive our E-paper on WhatsApp daily, please click here.  To receive it on Telegram, please click here. We permit sharing of the paper's PDF on WhatsApp and other social media platforms.)