Google needs to get its algorithm right. In the latest mess by the search engine giant, interim Congress President Sonia Gandhi's name crops up when you search for 'Italian Bar Dancer'.
The images are mostly poorly photoshoped, comprise memes involving Sonia Gandhi, while some of her younger images are during family portraits with former prime minister Rajiv Gandhi.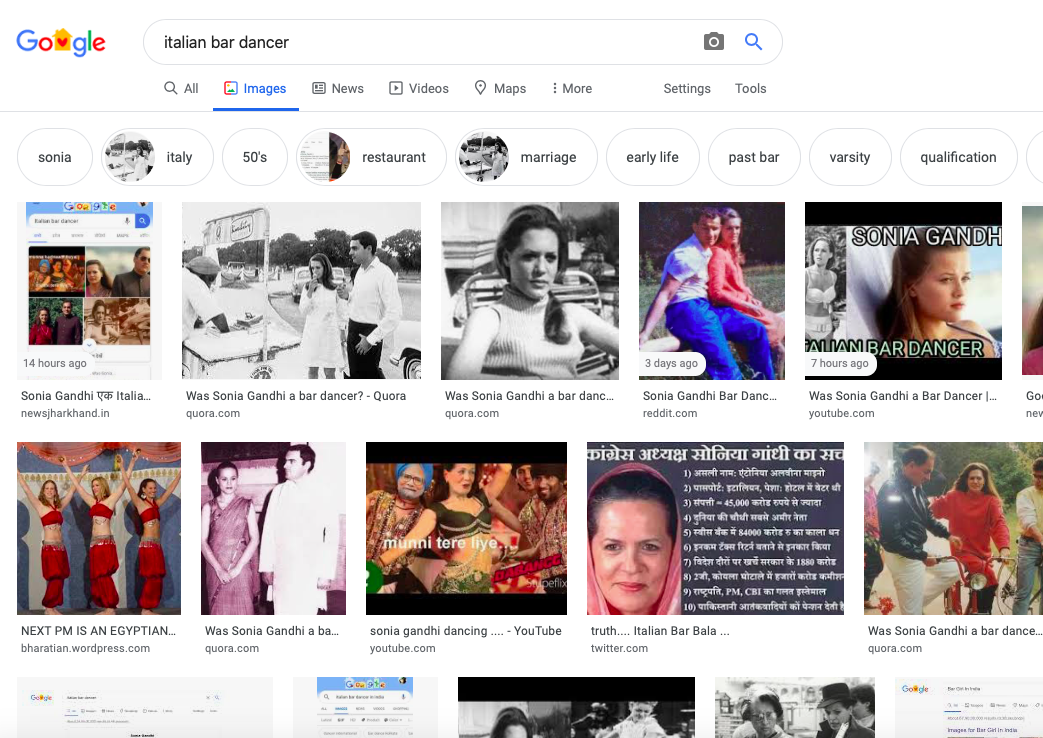 Sonia Gandhi has been in the news recently after Republic chief Arnab Goswami questioned her silence over the lynchings of three people in Palghar last week, two of whom were Sadhus.
This is not the first time Google has made a mistake like this when it comes to offending the Indian diaspora. A 2015 search for World's Most Stupid Prime Ministers showed PM Narendra Modi along with other world leaders like Tony Abbot and David Cameron. Naturally, Indians were furious at this, and Google was forced to issue an apology.
More recently, a Twitter search on COVIDIOTS revealed PM Modi's image as well. This was right after the prime minister had announced the junta curfew in March.
Google had even said that the two scariest words in the world are Allahu Akbar. The result comes from a Quora response to an used who had wanted to know what the "scariest word" was.
The first response, which shows up on the Google search page has been upvoted 66 times and says that while that was technically two words, it is "literally the scariest word in the world".
The stigma attached to the word is not new. There have been several terror-related incidents where the participants have allegedly used the phrase before venturing out to wreak havoc. In 2017, the driver of a truck that rammed into and killed 8 people and injured several others was said to have said it moments before he was shot down, and in 2015, those who carried out the Charlie Hebdo attack allegedly chanted the same before they stormed the offices of the satirical weekly in Paris. There are many other instances.
(To receive our E-paper on whatsapp daily, please click here. We permit sharing of the paper's PDF on WhatsApp and other social media platforms.)
Published on: Friday, April 24, 2020, 11:14 AM IST