Bonhomie between Shiv Sena MP Sanjay Raut and Congress MP Rahul Gandhi was on display again at the breakfast meeting organized by the latter in the Constitution Club on Tuesday. Raut, who has played a crucial role in the formation of the Shiv Sena led Maha Vikas Aghadi government in Maharashtra in November 2019, had an over one-and-a-half hour-long meeting with Rahul on Monday evening. Raut, who enjoys the confidence of party president and Chief Minister Uddhav Thackeray, has been making a strong case for Opposition unity with the Congress party's active involvement to take on the mighty BJP and especially Modi-Shah combine.
Raut also took a dig at Prime Minister Modi saying he never offered tea.
Raut tweeted, ''Met Congress leader Rahul Gandhi and discussed the political scene in Maharashtra as well as national politics. Gandhi expressed satisfaction over the work of Maharashtra government and also showed interest in knowing about the growth and functioning of Shiv Sena.''
"A meeting between us was due some time. He (Gandhi) had some doubts which have been addressed now. He has assured to visit Maharashtra soon." "I will brief my party chief (Uddhav Thackeray) about the discussion we had on a possible alliance ahead of the next general elections," he said.
Two days ago, Raut received a pat from Rahul after his speech at a dharna organized by opposition in the premises of the Parliament against the BJP led government over the Pegasus spyware snooping issue.
Gandhi has conveyed to the Maharashtra state leadership that Shiv Sena and NCP are not only crucial allies for the state assembly elections but also for the Lok Sabha elections slated for 2024.
Meanwhile, NCP President Sharad Pawar nominated Supriya Sule and Praful Patel to attend the breakfast meet. Sanjay.jog@fpj.co.in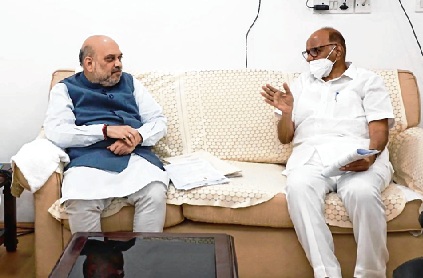 …Meanwhile, Pawar meets Shah, seeks relief for 'ailing' sugar mills
The Nationalist Congress Party President and former union minister Sharad Pawar led a delegation on Tuesday to meet newly appointed union cooperation minister Amit Shah and sought government's intervention to resolve a slew of issues faced by the cooperative sugar sector. Pawar, in a bid to avoid speculation in the political circles, released a copy of letter he had sent to Shah seeking his appointment and also three-page memorandum submitted to the minister.
Pawar was accompanied by the NCP MP Sunil Tatkare, the National Federation of Cooperative Sugar Factories Chairman Jaiprakash Dandegaonkar and its MD Prakash Naiknavare.
Pawar argued that the cooperative sector as a whole and the cooperative sugar mills in particular, continued to reel under financial crisis, which, if not contained on time, may explode in the form of mills permanently pulling down shutters and millions of farmers facing unprecedented anxiety and stress for their very survival. Sanjay.jog@fpj.co.in
Lalu supports Chirag, wants tie-up with RJD
RJD chief Lalu Prasad Yadav met Sharad Yadav on Tuesday, and both leaders held talks for over an hour. The RJD leader told media later the absence of socialists lea­ders like Sharad Yadav, Mulayam Singh Yadav and himself had resulted in neglect of people-related issues in Parliament.
He backed LJP leader Chirag Paswan, who has been deserted by 5 MPs of his party led by his uncle Pashupati Kumar Paras, saying the young lawmaker has emerged as leader despite the feud. People have rallied around him, the former Bihar CM said, favouring an alliance between LJP leader and his party which is being now led for all practical purposes by his son Tejashwi.
FPJ VIEW
The Opposition bonhomie is gradually snowballing and on Tuesday, the table spread laid out by Congress was appreciated by all present even as it was not "spicy enough" to attract Mayawati and Kejriwal to the table. Tharoor, however, described it as "sumptuous" in his tweet.
For the Grand Old Party, the "Brekkie and Bike Meet" was a show of strength, as also for Rahul Gandhi, who is showing signs of accepting that is he is calling the shots while mom Sonia, is officially the (interim) chief of the party. The (14) Opposition parties "got together" to ensure they work together in both Houses to corner the government over controversies including the contentious new farm laws and the Pegasus phone-hacking scandal.
A look-back at last week will reveal Mamata had visited Delhi with the intention of meeting Opposition leaders, including Sonia and NCP strongman, Sharad Pawar. Even as the Pawar meeting never took place, the TMC supremo, little before the meeting with Sonia said she would want to be cadre in the Opposition Front and "surprised" many by saying she did not aspire to become the Front leader. Was today's (Tuesday's) breakfast party heavy on her mind and did she say so not to jeopardise the breakfast party?
Also, it may be recalled that Mamata has to face a bypoll by November 2021, follo­wi­ng her defeat at the hands of Suvendu Adhikari in Nandigram and if the polling is not held owing to the Covid attack, it will be a constitutional crisis in West Bengal. Was this another reason why she stepped on the brakes on the last moment and opted for the role of a cadre in the bigger fight with BJP in 2024 Lok Sabha.
The Trinamool's attendance at today's (Tuesday's) meeting, compared to its absence at the last one, comes after Mamata Banerjee's recent meeting with Sonia Gandhi. On her trip, Mamata announced her clarion call for "khela hobe"… is it being hijacked by the Opposition in general now?
MNM may join anti-BJP front if invited: Haasan
Chennai: Makkal Needhi Maiam (MNM) could join the opposition bloc against the ruling BJP at the Centre, if invited, Kamal Haa­s­an said on Tuesday. "Going by the situa­ti­on and invitation, the party may consider joining it," Haasan said in Chennai. To another query on stalling of Parliament for 11th day on Pegasus row, Haasan said, "What is happening in the Parliament itself is the reaction. This cannot be a surveillance government. You cannot look into my personal life..."
(To receive our E-paper on whatsapp daily, please click here. We permit sharing of the paper's PDF on WhatsApp and other social media platforms.)
Published on: Wednesday, August 04, 2021, 12:21 AM IST