Nargis and Sunil Dutt's love story is nothing less than a fairytale romance, and we couldn't agree more. Though Bollywood has been able to present us with several love stories, theirs is the most adorable one. It all started with a fatal fire on the sets of Mother India in 1957, when a fire scene went awfully wrong. During one of the scenes, Nargis was trapped in a ring of fire, where Sunil Dutt jumped into the flames to rescue her without a thought for his own life. He suffered several burns on his face and chest. Nargis visited him every day at the hospital and nursed him. In that time the two got extremely close to each other and she even opened up about her past to him. A few weeks later, he proposed marriage to her and she said 'yes'.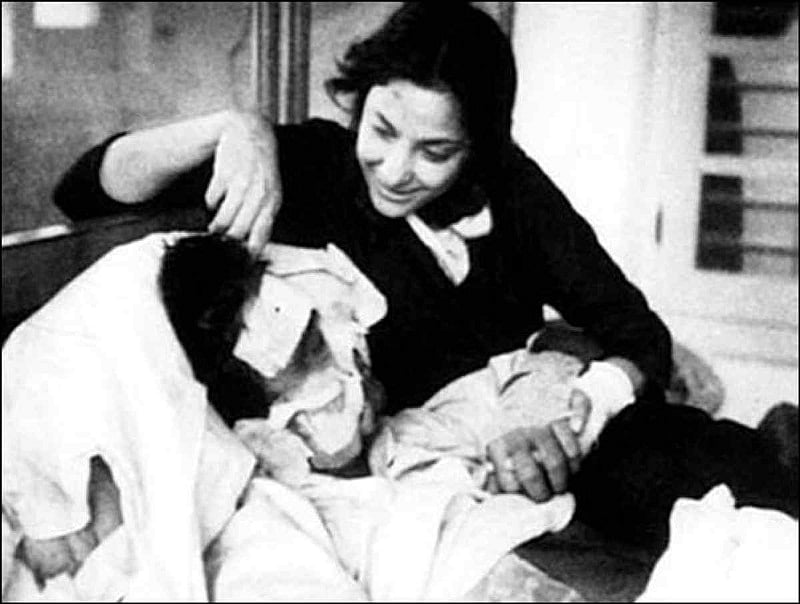 Another interesting fact in their love story is that Nargis was Sunil's long-time crush and though they have crossed each other's paths at many film gatherings he kept his appreciation for her to himself. Reason? She was at the peak of her career while he was still struggling to be an actor. She was just 14 when legendary filmmaker Mehboob Khan approached her mother Jaddanbai to launch her in his film Taqdeer (1943). On the other, he had a long struggle before he became an actor. Before making his Bollywood debut Dutt would work as a Radio Jockey and interview film stars. He got his first break in 1955 with the film 'Railway Platform'.
Nargis and Sunil were introduced on the sets of their film 'Mother India' (1957) where he played her errant son. It was at the time when Nargis was allegedly in a relationship with an already married Raj Kapoor. Nargis and Raj's relationship didn't last long and she was so depressed that she even tried to commit suicide. But the fire incident on the sets of 'Mother India' proved to be a turning point in her life. Nargis and Sunil started dating and got married in a secret ceremony in 1958 but stayed with their respective families. A year later they held a reception. After their marriage, she gave up her film career to settle down with her family. The couple was blessed with three children – Namrata, Priya, and Sanjay.
Life was a fairy tale until 1979 when Nargis suddenly fell ill while in Delhi for her Rajyasabha session. She returned home and was admitted to Breach Candy Hospital. Initially, she was diagnosed with jaundice and later with pancreatic cancer. She was flown to New York and was admitted to Sloane Kettering Cancer Center. She returned home a year later with innumerable surgeries. Upon her return to India her health once again deteriorated and was admitted to Breach Candy Hospital. Unfortunately, on May 1, she slipped into a coma and breathed her last on May 3. Her son Sanjay was set to make his Bollywood debut with 'Rocky' and Nargis wanted to attend the premiere which was scheduled for May 7. But never made it. While many believed she died of cancer, her daughter Namrata recently clarified in an interview that her mother died of a urinary tract infection. While Sunil Dutt died of a heart attack on May 25, 2005, at his Bandra residence.
Nargis and Sunil Dutt's love story is something that makes cinema and literature look drab.
(To receive our E-paper on whatsapp daily, please click here. To receive it on Telegram, please click here. We permit sharing of the paper's PDF on WhatsApp and other social media platforms.)