Gauahar Khan and Zaid Darbar were blessed with a baby boy on May 10. They announced the birth of their first child on social media a couple of days back.
On May 13, Gauahar and Zaid were spotted for the first time with their newborn baby as the actress got discharged from Lilavati Hospital after delivery.
On Saturday, Zaid also took to his official Instagram account to give a glimpse of the baby. He shared first photo with his son and penned a heartfelt caption for Gauahar.
"My biggest blessing ❤️ #allahummabaariklahu I am so grateful to the almighty, for making this possible," he wrote in the caption.
Praising his wife, Zaid added, "I'm so indebted to my beautiful and strong wife for giving me this gift of being a DAD to our lil angel. Thank you to everyone who sent their love and wishes via all mediums, we really appreciate every prayer made. Much love to one and all, please continue to bless us as a family."
After dating each other for a while, Gauahar and Zaid had gotten married in the presence of their friends and family members in December 2020.
Gauahar, Zaid welcome baby boy
The ecstatic parents took to their Instagram handles to share a heartwarming and adorable note to announce the birth of their baby boy.
"It's a boy. Assalaam U Alaikum beautiful world, says our bundle of joy. Arrived on 10th of May, 2023, to make us realise what happiness truly means," the note read.
"Our blessed boy thanks everyone for their love and prayers. Grateful and giggling new parents, Zaid and Gauahar," the couple added.
Gauahar and Zaid's love story
Gauahar had revealed that she first met Zaid at a grocery store during the COVID-19 lockdown, post which, Zaid had slid into the actress' DMs with a courteous message.
Zaid is the son of veteran singer-music composer Ismail Darbar. He is a choreographer by profession.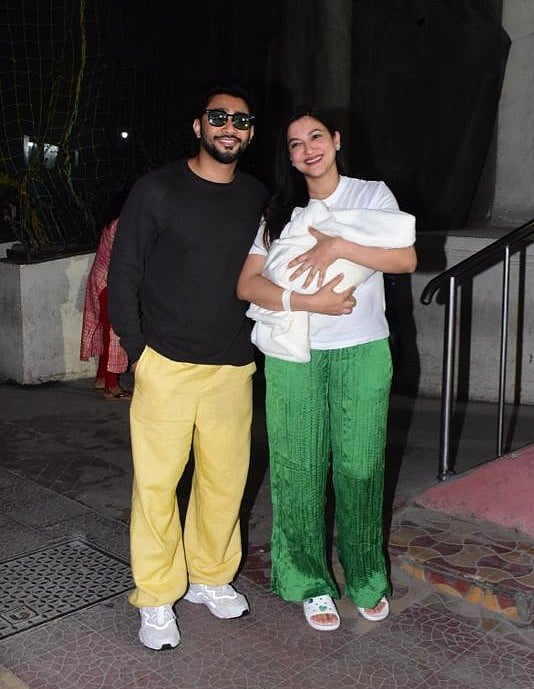 Gauahar and Zaid with their newborn baby | Varinder Chawla
He flattered Gauahar by calling her "the most beautiful woman he has ever seen", and it sure worked on the actress, who was instantly bowled over by Zaid's charm.
The two then got chatting and soon began going on drives and dates, and during those dates, they fell head over heels in love with each other. They eventually decided to get married and exchanged their vows in December 2020.
(To receive our E-paper on WhatsApp daily, please click here.  To receive it on Telegram, please click here. We permit sharing of the paper's PDF on WhatsApp and other social media platforms.)