Bhopal (Madhya Pradesh): Police personnel and senior officials came together to rejoice in Holi celebrations at the office of Bhopal police commissionerate and various other police stations on Thursday morning. The spectacular festivities began at the police commissionerate office at 10:30 am on Thursday.
Commissioner of police (CP), Makrand Deoskar, arrived at the office premises at 11 am and extended his warm wishes to everyone present on the occasion. Arrangements for DJ music and water cannon machines had also been ensured to leave no stone unturned in making the celebrations a memorable one. The police personnel, who had been indulged in the upkeep of law-and-order situation across the city from the last 72 hours celebrated Holi by dancing and hurling handfuls of gulaal in air.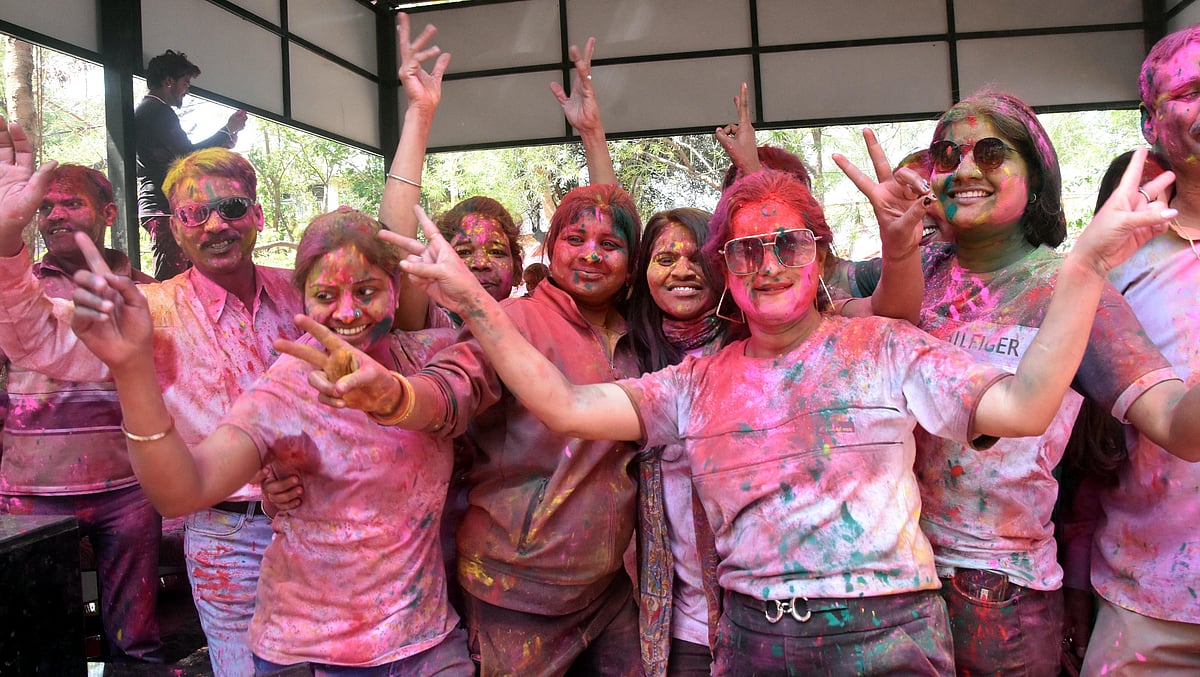 A splendid Holi Milan Samaroh of the police headquarters (PHQ) was held at Lal Parade ground on Thursday too, in which director general of police (DGP) Sudhir Saxena was invited as the chief guest.
DGP Saxena wished everyone a happy and colourful Holi on the occasion and said that Holi was celebrated fervently and peacefully across the city due to strict vigilance of police personnel. Senior PHQ officials such as Special DG Sudhir Kumar Shahi, GP Singh, ADG Vijay Kataria, ADG Srinivas Rao, ADG Sushma Singh and DIG Krishnaveni Desavatu also ensured their presence on the occasion.
During this, Faag songs were also staged by various wings of the police department, which included melodies like 'Kesariya Rang dale Kanhaiyya', 'Tune Kinho Julam Rang' and 'Meri Chunari mein pad gayo daag'.
(To receive our E-paper on WhatsApp daily, please click here.  To receive it on Telegram, please click here. We permit sharing of the paper's PDF on WhatsApp and other social media platforms.)