The Roseate, New Delhi
Inspired by the five elements of Hindu philosophy – air, water, fire, earth and sky – The Roseate offers a refreshing contrast to the Capital's grey concrete. Think eight acres of pristine water bodies, soothing architecture and verdant spaces alive with mellifluous birdsong.
Conceived by internationally-acclaimed architect Khun Lek Bunnag, the resort's columned verandahs, gargantuan doors, high-domed ceilings and Isfahan pillars are a visual treat. A botanical tour around the award-winning property introduces us to stunning patches of flowers, flaming bougainvillea, fruits and organic vegetables.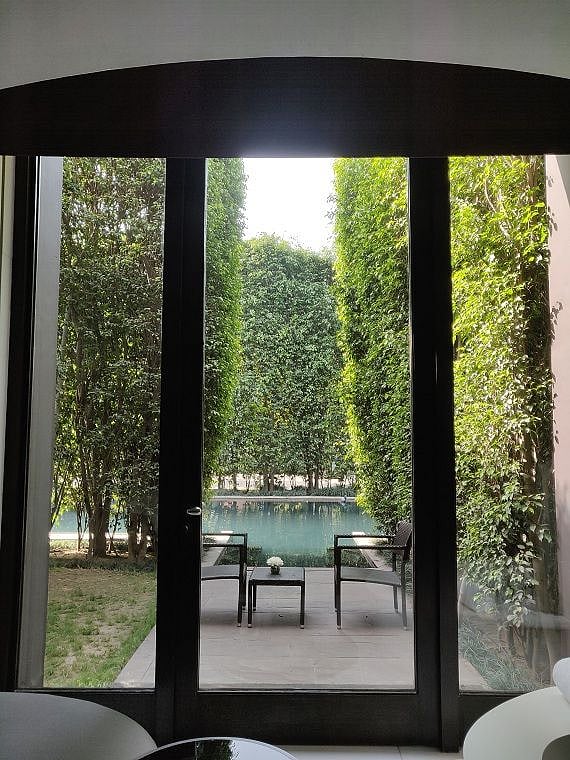 Much of this produce finds its way into the kitchen for chefs to create healthy, flavour-charged meals. At Chini, we sample Chef Dhamala Neeru's smorgasbord of delicious Chinese fare, while Chef Pradeep Bhandari of Kiyan floors us with his inventive take on Indian/ continental cuisine.
Supporting a sustainable plastic free future, the resort even has its own brand of bottled water hygienically packed in chic glassware. The alkaline water with 8.2 ph value is carefully blended with trace minerals, we are informed.
After a day of touring and tucking in, we check into Aheli spa where an internationally-trained therapist skillfully banishes our aches and pains while the 'Hamam' pampers our senses. For the fitness conscious, there's yoga, aquatic yoga, and meditation, while the spiritually inclined can seek inner peace while enjoying an enchanting temple ceremony.
Karma Lakelands Resort, Gurugram, Haryana
Nestled in the lap of nature, and just 40 kms from Delhi, Karma Lakelands is an eco-friendly golf resort with colourful winding bougainvillea lanes, an award-winning nine-hole golf course, an animal farm, organic gardens, a swimming pool and charming chalets.
From nature trails to bird watching, running and cycling to star gazing and horse riding, it offers an array of activities. Ambling around, we learn about the resort's earth-friendly initiatives — water harvesting and organic agricultural projects, solar energy utilisation processes, bee farming and bio-compost pits.
The gastronomic offerings reinforce the property's sustainability theme. Under The Neem café and Kraft Kitchen is a deep dive into traditional raw produce and its expressions in cuisine. With a clear focus on eco-responsible cooking, it offers an immersive culinary detox. On Kourse, eponymously named after the resort's golf course, brings the farm-to-fork concept alive with its 'Organically Yours' menu featuring organic produce grown in-house.
Welcomhotel Dwarka, New Delhi
Located near the airport, Welcomhotel Dwarka, a five-star hotel, hews to the ITC luxury chain's responsible luxury theme. From water conservation to waste management, elimination of single-use plastic to recycling of solid waste, a slew of planet-positive initiatives are in action here.
We begin our staycation with a WelcomSthalika, a perfect assortment of regional dishes on a single platter promoting 'Dehlvi' cuisine. It is prepared using organic produce from a local agronomist to reduce the food's carbon footprint, we are told.
Under the property's 'Green Banqueting' concept, cocktail stirrers are replaced with wooden stirrers; plastic bottles with glass bottles; plastic cutlery with wooden cutlery. In my suite, I note that all toiletries come in bio degradable environmental-friendly packaging.
"Over 99 per cent of solid waste is either re-used or recycled in the hotel," Nishant Negi, General Manager, Welcomhotel Dwarka. This has helped the property gain a zero waste generation status by reducing, reusing and recycling its solid waste. Kitchen trash is converted into manure by an in-house organic waste convertor and recycled for use in landscaping garden areas. From conserving water through harvesting rainwater and treating and recycling grey water, every effort is made to preserve the eco-system around the property.
Roseat By The Ganges, Rishikesh
Hiking? Check. Trekking? Check. River rafting? Check, check. From a spiritual journey, pilgrimage spots, yoga and meditation to visiting organic farms, the Beatles ashram and the Rajaji National Wildlife park, the resort is a wellness seeker's haven.
Located on the foothills of the Garhwal Himalayas of Rishikesh, it also offers breath-taking views of the Ganges waterway. Each of the resort's 16 villas offers a private balcony that opens up to the river valley. Large sliding glass doors overlooking trees and mountain ridges bring the salubrious outdoors within. A heated infinity pool and terrace, a spa, sauna and gym with a focus on Ayurveda and yoga seem befitting for a destination known as the "yoga capital of the world".
Start your day with a morning yoga session and a nature walk on the white sand beach. Follow it up with an organic breakfast and a culinary session with the chef rustling up local Garhwali dishes. The food is super fresh incorporating locally farmed and ethically sourced produce. Be it the award winning Roasted by Roseate café or Chidya Ghar, where a regionally influenced menu reinforces the resort's sustainability theme, there is little here that won't leave you awestruck.
End your day at Parmarth Niketan Ashram where the Ganga aarti is performed every evening. Air thick with frankincense and the chanting of mantras to the accompaniment of drumbeats and torch flames, it culminates in devotees floating glittering diyas down the Ganges.
So the next break you get – keeping COVID times in mind – enjoy these staycations that give some thing back to the earth.
Tijara Fort Palace, Rajasthan
Making heritage sustainable has been one of the pioneering ideas behind Neemrana's 19th Tijara Fort Palace in Rajasthan's Alwar district. A passionate initiative in the heritage hotel movement in India, pioneered by conservationists Aman Nath and the late Francis Wacziarg, the fort's building was left unfinished in 1845 because of the premature death of Raja Balwant Singh, who started the construction of this fort-palace in 1835.
The Neemrana Hotels' founder pair undertook its completion, helping the fort keep its cultural identity alive, generate local employment and facilitate a bespoke eco-friendly experience for its guests.
There are 71 suites and rooms named after India's leading painters, designers and aesthetes who have helped create them. My 175-year-old suite had thick vaulted ceilings, fortified with lentils and jiggery smashed in a lime mortar to strengthen them. The palace's labyrinthine corridors, stairways, courtyards and quaint rooms furnished with vintage furniture transport us to a bygone genteel era. The food — much of it organic and sourced locally to reduce food miles — is a mélange of traditional Rajasthani and western flavours. A trip to the nearby Sariska Tiger Reserve for a safari makes Tijara an ideal weekend getaway.
(To receive our E-paper on WhatsApp daily, please click here.  To receive it on Telegram, please click here. We permit sharing of the paper's PDF on WhatsApp and other social media platforms.)