Say summer and what comes to mind is vacations, mangoes and ice cream—all three which are looking like a dream due to the lockdown. While we can't do anything but wait till the lockdown lifts, we certainly can take care of the ice cream part. Here are some easy-to-make at home ice cream recipes. Enjoy!
Walnut Milk and Saffron Kulfi
Ingredients:
Large pinch of Saffron threads
A few drop yellow food grade color
1 cup khoya
4 cups walnut milk
1 cup castor sugar
Toppings:
1/4 cup California walnuts, chopped roughly
2 tablespoons candied fruits
For Walnut Milk: Soak a cup of untoasted walnuts for two hours in two cups of water. Strain and rinse walnuts well. Transfer to a blender with one cup cold water. Blend on high for a minute. Strain through a muslin cloth till you get an almost dry powdery mass in the muslin cloth after pressing the milk. Transfer in a glass jar and store in the refrigerator. This gives you two cups of home-pressed walnut milk.
Method: Pour walnut milk into a heavy bottomed pan. Allow it to boil till it reduces to half its original quantity. Add khoya, sugar, saffron threads, yellow food color and chopped walnuts. Stir well. Keep aside. Pour the mixture into freezer proof candy moulds/trays or in an ice cream box. Place in the freezer overnight to firm. Quickly dip the base of each mould in hot water to loosen the kulfi and turn out onto serving plates. Garnish with some more California walnuts, candied fruits and saffron strands, if needed. —Recipe by Chef Varun Inamdar
Maple Walnut Ice Cream
Ingredients:
4 frozen bananas, cut into 1-inch chunks
2 tbsp maple syrup
1/3 cup walnuts, chopped
1/4 cup walnut halves, for garnish
Method: Blend frozen banana chunks and maple syrup in a powerful blender until smooth, stir in walnut pieces. Pour mixture into a small metal loaf pan and freeze for at least 2 hours. Scoop and serve with extra walnut pieces on top as garnish. —Recipe by Chef Sabyasachi Gorai
Walnut Ice Cream with Caramel Sauce
Joff Lee
Ingredients:
125 gm California Walnut Pieces
600 ml double cream
400 ml whole milk
2 tsp vanilla paste
6 medium egg yolks
100 gm castor sugar
200 gm salted caramel sauce
Method: Preheat the oven to 2000 C. Place the walnuts on a baking tray and roast for 5-6 minutes, allow to cool. Meanwhile, place the cream, milk and vanilla in a large saucepan and heat to just below boiling point. Whisk the egg yolks with the sugar in a large bowl until pale and thickened. Gradually whisk in the hot milk mixture until combined and pour back into the saucepan. Cook the custard mixture on a medium-low heat, stirring continuously until it thickens slightly and coats the back of a spoon, about 8-10 minutes. Remove from the heat and allow to cool completely. Chop 25 gm roasted walnuts and stir into the caramel sauce and set aside. Place half of the remaining walnuts in a small food processor and blitz until smooth, chop the rest and stir both into the cooled custard mixture. Transfer to a freezer proof container and freeze for an hour. Mash with a fork to mix and refreeze for a further hour and repeat until frozen. Warm the caramel sauce and serve with the ice cream. —Recipe by Chef Sabyasachi Gorai
Spiced Pumpkin and Mango Ice Cream
Photo Courtesy: Reetu Uday Kugaji
Ingredients:
1/4th cup red pumpkin purée (cooked and strained, can also use canned)
1/4th cup Alphonso mango purée
1½ cup full-fat milk, chilled
1/4th tsp dry ginger (powder)
1/4th tsp cloves (powder)
1/4th tsp black pepper (powder)
1/4th tsp cinnamon powder
2 tbsp honey (or more as desired)
For the sprinkling:
Lightly roasted pepitas/melon seeds
1/4th tbsp chopped nuts (optional)
3/4th tsp red chilli powder or flakes
Method: In a large bowl, combine pumpkin and mango purée, ginger powder, powdered cloves, cinnamon, pepper and dry ginger powder. Mix well. Add chilled milk. Now, blend it till it becomes very smooth. If you have an ice cream maker, simply transfer the mixture to the maker and churn at the lowest speed for 15 to 20 minutes. If you don't have one, you can freeze the mixture in ice cube trays, and then blend the frozen ice cubes in a high-speed blender. Then transfer the mixture to an air-tight container and freeze it for 8 hours. Enjoy this ice cream sprinkled with pepitas/melon seeds, chopped nuts and red chilli powder or flakes. —Recipe by Chef Reetu Uday Kugaji, Culinary Expert and Consultant
Carrot Matka Kulfi
Photo Courtesy: Reetu Uday Kugaji
Ingredients:
1 cup carrots (grated and pureed)
1.5 litres full-fat milk
30 gm khoya, grated (optional)
2 tbsp sugar (or more if desired)
1/4th tbsp mixed nuts (chopped)
1/4th tbsp green cardamoms (crushed)
For the garnish:
1/4th tbsp mixed nuts (chopped)
Method: Boil milk in a heavy bottomed non-stick pan. Keep stirring till the milk reduces to three-fourth of its original quantity. Add the puréed carrot to the milk. Mix well and ensure no lumps are formed; you may whisk it or stir it. Simmer for another 10 minutes stirring it constantly. Add grated khoya and simmer for another 5 minutes. Add sugar and ensure that the sugar melts. Add the crushed cardamoms. Mix well. Remove from the flame and pour it in a wide glass bowl and cool it completely. Pour the mixture into small soaked earthenware pots. Sprinkle with the chopped nuts. Cover each matka with a small muslin cloth or aluminium foil. Tie the muslin cloth and leave the kulfi to chill in the freezer for 8 hours. Serve chilled and enjoy eating it in winters as well as summers. —Recipe by Chef Reetu Uday Kugaji, Culinary Expert and Consultant
Biscuit Ice Cream
Ingredients:
340 ml whole milk
30 units biscuits (any)
4 egg yolks
85 gm sugar
235 ml heavy cream, at room temperature
Method: In a large bowl prepare an ice bath: add a handful of ice cubes and top it off with cold water. Place a slightly smaller bowl with a strainer inside it. Take a medium bowl and whisk egg yolks and sugar together until the mixture is smooth and pale yellow.
Now, take a saucepan, add milk and on medium flame stir the milk until it becomes hot to touch. Now, while whisking the egg yolk and sugar mixture, add about 60 ml of the hot milk to it. Then pour the egg mixture into the saucepan and lower the heat to medium-low. Cook, stirring constantly, until the custard has thickened and coats the back of a spoon.
Pour the custard through the strainer in the ice bath. Stir in the heavy cream until completely incorporated. Keep stirring until the mixture reaches room temperature. Place plastic wrap on the surface of the custard to prevent a skin from forming and keep it in the fridge for 4-5 hours.
Later, take the custard and churn it in blender for about 15-20 minutes until the ice cream starts pulling away from the sides. Transfer the mixture to a freezer-safe container. Add crushed biscuits into the mixture and freeze it for about 6 to 8 hours. Served chilled. A chocolate sauce (if you have one) can be drizzled over it. –Recipe by Chef Ishijyot Surri, Executive Chef, SJI Hospitality and Food Private Limited
Mango Ice cream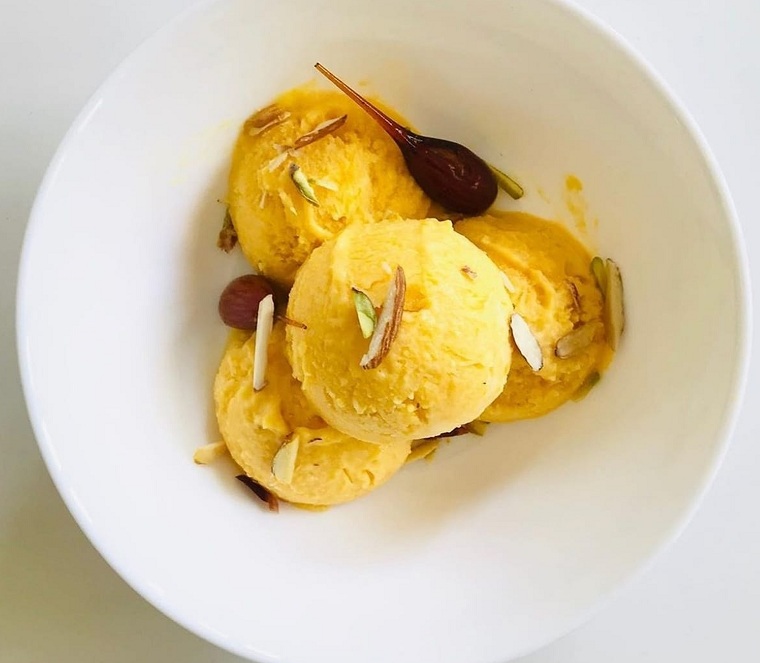 Ingredients:
150 gm fresh mango (peeled and cut)
500 ml fresh heavy cream
100 gm sugar
30 gm milk powder
20 ml lukewarm milk
Method: Mix the milk powder and warm milk together to form a smooth paste. Keep it aside. In a blender, add the peeled and cut mangoes and blend it to form a smooth pulp. Add the milk powder mixture to it. Whip the fresh cream until it becomes soft. Add the mango and milk powder mixture to the whipped cream. Mix it gently and freeze it for 3 to 4 hours. Take it out from the freezer and whip it again to make it frothy and light. Freeze it again until set. Serve it chilled topped with mango pulp. –Recipe by Chef Ishijyot Surri, Executive Chef, SJI Hospitality and Food Private Limited
(To receive our E-paper on whatsapp daily, please click here. We permit sharing of the paper's PDF on WhatsApp and other social media platforms.)
Published on: Sunday, May 24, 2020, 07:00 AM IST