In late March, after the first COVID wave had satisfactorily subsided, we decided to travel to Arunachal Pradesh by road. Vaccinations had started in India and, like many, we thought normalcy had been restored. But the Arunachal government was quite alert as they had mandated a negative test report on arrival. Once we reached Dibrugarh airport in Assam, the gateway to Arunachal, for our week-long road trip across the state, there didn't seem to be much restrictions in place. Except for the formality of report checking, we weren't stopped anywhere.
We kept our masks above the nose for most of our journey and made it a norm to sanitise our cars, luggage and places we sat or slept.
Having stayed at home for a year without much traveling, we wanted to restart somewhere. Cut to the last week of March, we are on our third day of our road trip.
This state in the north-eastern part of India promises a rustic nature, a wild Himalaya with hardly any commercialisation. While this works well for travellers who hate crowds, lack of decent stay options, remote locations, formal lavatories and poor roads do add up to the inconvenience of those who want to explore nature as you aren't sure where you would sleep at night. We have reached Walong.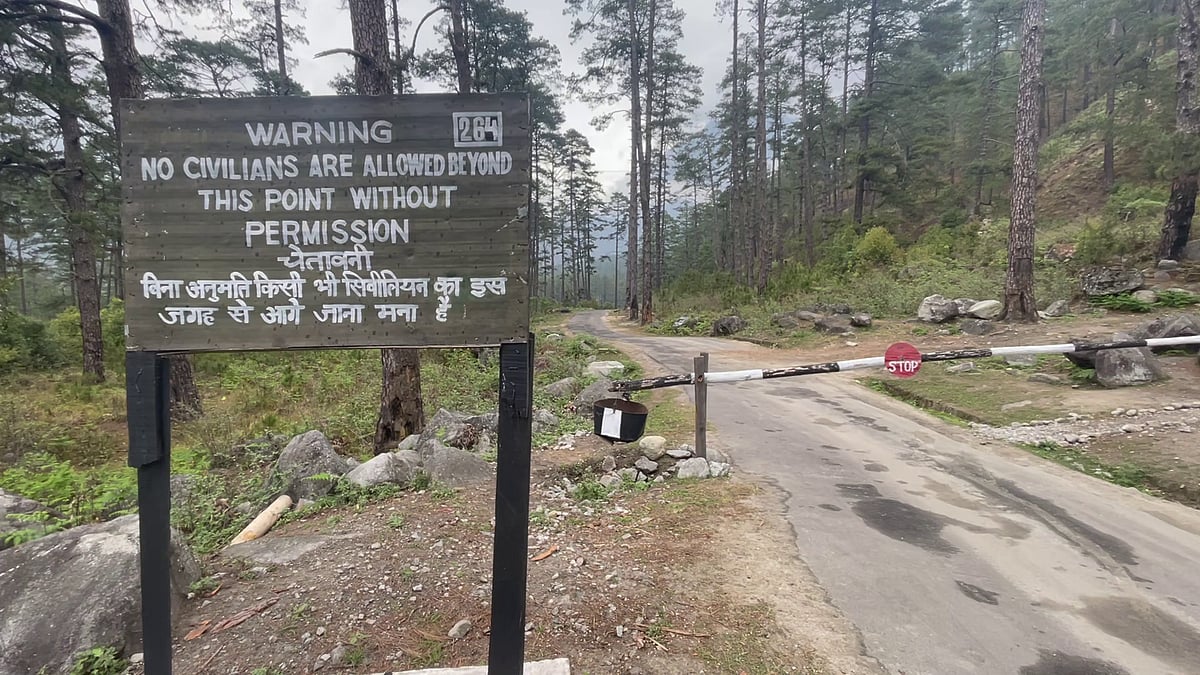 Walong is a small cantonment town in Arunachal. It appeared to be a hill town that goes off to sleeps right after sunset. A handful of shops in Walong Bazar start operating early in the morning and close by the sunset. Being the easternmost town in mainland India, Walong is an hour away from the Indo-China border.
While we were happy to see the snow-capped Himalayan range around us and a few uncelebrated war memorials at Walong, we were more excited to visit Kaho, the first village of India bordering the Indo-China actual line of control.
Our phones wouldn't work because it's a border area. We sought help from the local people for the route. We came across Grop Meyer, a headmaster of a local village school. A kind soul, Grop, agreed to help us tour Kaho.
Scenic route
The drive from Walong to Kaho would take us around an hour. Being under the jurisdiction of Border Road Organization (BRO), the road is smooth without many curves. A tributary of the Brahmaputra, Lohit enters Arunachal Pradesh from China and would accompany you all through.
Reaching Kaho
Far off on our left, we could see a mountain range that marks the Mcmahon Line — the demarcation line between India and China. Another 10 minutes later, we entered Kaho from a hanging bridge. The government's plan to build Kaho into a model village is working well. We were greeted by a huge gate with lots of graffiti around – it's a splash of colours after the green and brown panorama.
War tales
As we drove towards the end of the village, where the Indian Army checkpost is located, the kids in the streets welcomed us with smiles. There are 66 residents in the village and just 14 families. All of them belong to the Meyer tribe. Right at the village entrance lives an old man, who claimed to be an eye-witness of the Indo-China war.
At his small hut downhill, we sat and heard stories of Chinese soldiers invading on an October midnight in 1962. The old man and his mother were coming down from the mountain after attending a village ritual. The man had tears in his eyes while describing the horror the war brought.
Last tea of India
As we walked towards the checkpost, we crossed a school where students were playing cricket. A scenic view with blue mountains, kids playing around and a river flowing – ingredients for a perfect romantic travelogue indeed.
A hundred metres away from the checkpost towards the Indian side, there was a small shop. We asked if we could get some tea. A pretty woman came up and said she would make us some tea. A piping hot strong tea made with fresh goat milk and a view of the Himalayas painted a perfect sunset.
A Meyer House
It felt quite thrilling to learn that where we stood was the last corner of India and beyond the mountain range is China. We decided to speak to some locals to hear their stories. We entered a hut, almost 100 years old. The huts have a kitchen in the front, which serves as a sitting area. The climate being cold throughout the year, the wood oven keeps the hut warm.
The architecture is remarkable. Not a single nail is used to build the hut, a tradition the residents have been following for years. In the kitchen sat three generations of the family – an old couple, a young couple and their children. Water is being boiled to keep the surrounding warm. Life is quite tough.
There is one village school with only one teacher. Very few kids would experience the city life as for them, a fulfilling life meant carrying heavy goods for the army. But, they are happy and that's what matters the most.
How to reach: Take a taxi from Dibrugarh airport. The journey from Dibrugarh to Hayuliang is eight hours. Hayuliang to Kaho would be another six hours.
Places to stay: Kaho doesn't have stay options yet. There are three homestays available at Walong market. Pre-booking is necessary.
Budget: Rs 1,500 per night for a couple. Food will cost Rs 1,000. Cars are expensive. If you opt for self-drive, you can do so from Guwahati, which would be a longer route.
(To receive our E-paper on whatsapp daily, please click here. To receive it on Telegram, please click here. We permit sharing of the paper's PDF on WhatsApp and other social media platforms.)