Chef Sanjyot Keer, Founder of Your Food Lab
Favourite dishes
Since childhood, my Holi mornings always start with some piping hot samosas, chole pattice, some pakwan dal and some delicious Sindhi gheeyar, which is a huge jalebi like dessert – and it's mind blowing. Moreover, it is a Sindhi kind of an affair, I really don't know the reason for it, but when I think about Holi this is the kind of food that comes to my mind.
Fondest memories
As a kid I grew up in a huge residential complex, and all the festivals were celebrated together. I was always involved in the organising of the festivals, which was a lot of fun. We would collect wood to set it up for the Holika Dahan one day prior to Rang Panchami and perform rituals along with other kids and families. The next morning we would play Holi the whole day and it was one of the most fun festivals I celebrated as a kid.
Best part about the festival
Holi is the festival of colours and the food part of it is what I love the most — Sindhi gheeyar is my favourite. When we were kids we used to use a lot of water and colours to celebrate Holi and to be honest, I used to love it but as I grew up I realised that it's important to be mindful while celebrating festivals. Use organic colours and do not waste water.
Holi plans
We are going through very uncertain times and the pandemic has changed how things are done today. I feel that it is best to stay at home and enjoy the festival within home limits. I am planning to cook a meal for the family and make some thandai to beat the heat. I am also shooting and releasing a few recipes for Holi. When the viewers will celebrate Holi with my recipes, that will be the best kind of celebration for me.
Holi must-have
Thandai is a must have on Holi.
Recipe: Thandai-Inspired Paneer Tikka
Prep time: 5 minutes
Cooking time 10 minutes
Serves: 3-4 nos.
Ingredients:
Thandai powder 2 tbsp
Hung curd 3 tbsp
Ginger paste ½ tsp
Green chilli paste ½ tsp
Salt to taste
Rose water 1 tsp
Paneer 300 gm
Oil or ghee (for grilling)
Method:
Add all the ingredients in a mixing bowl, and marinate the paneer well for 10-15 minutes. Set a grill pan on medium heat, add very little oil or ghee and cook the paneer until its golden brown in colour. Serve hot with any dip of your choice.
Chef Reetu Uday Kugaji, Culinary Expert and Chef Consultant
Favourite dishes
Favourite dishes are gur pare, coconut and dry fruit gujia, thandai kulfi, kesari thandai rabdi, mathi and kachori. The reason why I love these sweet and savoury dishes is that, apart from being delicious, they can be made well ahead of the festival, and there isn't any wastage in preparing these dishes. Rabdi needs to be consumed within three to four days under refrigeration, and can be paired with various other foods and consumed too.
Fondest memories
My mother would prepare mind-boggling sweets, and the aroma would be wafting through the whole house. Every dessert was made from scratch, including the desi ghee that was used in those dishes. She wanted to keep the tradition going so that we can pass it on to the next generation. The
list is long, but thandai aur narangi ki phirni, kesari thandai rabdi and kulhad wali thandai ki kulfi made by her were a hit, and I enjoyed gorging on them.
Best part about the festival
I adore the festival because it is so vibrant, full of colours, zest and zeal. From applying colours to each other to enjoying a platter full of mouth-watering sweets, Holi is cherished by all age groups.
Holi plans
I will be celebrating Holi with my husband at home. A big yes to mask and social distancing when people come home to wish. Let's be responsible citizens and pledge to say no to food wastage, bhang and minimise the use of water. I will be playing Holi with Fuller's Earth (Multani Mitti) or dry organic colours, as they can we washed off easily. I will also be preparing and distributing sweets among the underprivileged.
Holi must-have
Aamras and home-baked wheat crackers.
Recipe: Aamras
Ingredients and Quantity:
Alphonso Mangoes, Ripe, Peeled and chopped- 03 large.
Green Cardamom Powder- ½ tsp.
Saffron strands, steeped in 1 tbsp. lukewarm milk- a pinch
Skimmed Milk, boiled and cooled completely- 1/4 th cup /as required to adjust consistency.
For the sprinkling/ garnish:
Saffron strands- a pinch.
Almonds, slivered-1/4th tbsp.
Pistachio nuts, slivered-1/4th tbsp.
Rose Petals, dried and edible-02 tsp.
Method:
Put the chopped mangoes, green cardamom powder, saffron strands and milk in a blender, blend till it forms a smooth paste. Pour in 04 glass bowls , cling wrap it and refrigerate it till 30 minutes. Serve chilled garnished with, saffron strands, slivered almond ,pistachio nuts and rose petals. This usually goes best with poories, too oily isn't it. Try this Aamras with home-baked wheat crackers.
Chef Tips:
You may add clarified butter (Desi Ghee) to the prepared Aamras to further enhance its flavour.
Amit Kocharekar, Executive Chef, The Resort Mumbai
Favourite dishes
love relishing jalebis during Holi. This particular sweet dish is a popular celebration food, which is often eaten with rabdi. What I loved about this traditional sweet dish is that it can be made with several variations like apple, pineapple, pears and chocolate.
Fondest memories
During my childhood we used to enjoy the festival with the whole family and indulge in lots of traditional Holi special dishes prepared at home.
Best part about the festival
Holi is special for me because the festival brings everyone together. This is the only festival where we can see the energy emitting from every person enjoying it.
Holi plans
At The Resort Mumbai, we are planning to serve brunch with Holi special dishes like thandai, jalebi rabdi and different types of chaat.
Holi must-have
Thandai is quick and easy to make. You just have to grind all the spices with almonds and blend together in a large bowl. Add water, milk and saffron. Strain through muslin cloth until the liquid is smooth. Serve it cold.
Chef Neha Deepak Shah, First runner-up Masterchef India (season 4)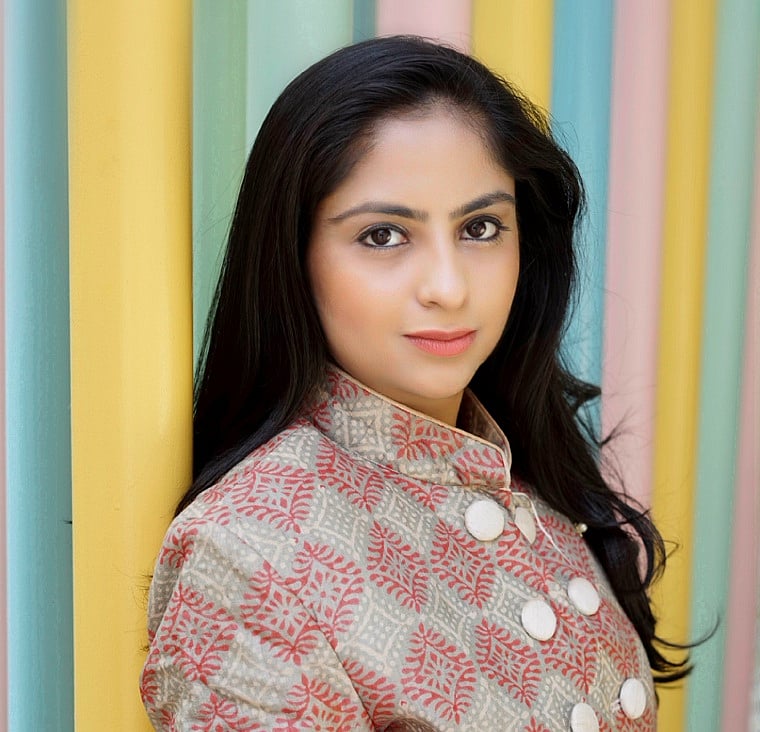 Favourite dishes
Holi and food go hand in hand, and most of my memories of the festival are of Mumbai. In our building, everyone would play Holi and then there used to be a fun potluck where we would savour dishes made by other families. My dad makes atleast 30 to 40 litres thandai each year and that's something that was always made at our house for all our near and dear ones. I look forward to drinking thandai, and I love dahi vada and hot pakodas.
Fondest memories
When I was a kid, Holi celebrations would start one week in advance... It was all about water balloon fights then. The night prior, everyone would get together for a bonfire. The day of Dhuleti (Rang Panchami) was crazy madness, full of splashing colours on and throwing water balloons at each other. We would start at 9 am and it would go on till 12 pm. Then we would have small potluck, where families would get together and indulge in Holi delicacies. It's a standard ritual, and now that I am away from home, I miss it.
Best part about the festival
Best part if that everyone becomes a part of the festival, having fun. For me, its food though!
Holi plans
Currently, I am in Dubai. I don't think we have big plans this year. The idea of a lot of people getting together seems scary to me considering the current situation. I will definitely be making dahi vada for sure. It will be a relaxed, happy day at home, with a few friends coming over.
Holi must-have
Thandai Mousse
Recipe: Thandai Mousse
Ingredients:
¾ cup Whipping Cream
100 gram White Chocolate
60 gram Fresh Cream
3 tbsp Thandai Powder
2 tbsp Icing Sugar
For Garnish –
Sliced Pistachio
Dried Rose Buds
Silver Leaf
Mangoes
Shaved White Chocolate
Thandai Powder
¼ cup Almonds
¼ cup Cashewnuts
¼ cup Pistachios
8 to 10 Black Pepper Corns
7 to 8 Cardamom Pods
2 tbsp Melon Seeds
1 tbsp Poppy Seeds
1 tbsp Fennel Seeds
8 to 10 Saffron Strands
2 tbsp Dried Rose Petals
Method
Thandai Powder
1) Simply grind all the ingredients to make a fine powder.
2) Store in an airtight container.
For Mousse:
1) Melt White Chocolate and mix it with the fresh cream to make a ganache. When you add the cream to the chocolate, the mixture will thicken and the colour will change.
2) To this add the thandai powder. Refrigerate this for about 10 minutes.
3) Beat this using a double beater until light and fluffy.
4) Whip the whipping cream to stiff peak stage.
5) Fold in the whipped cream into the chocolate thandai mixture.
6) Transfer into glasses or cups and refrigerate until you are ready to serve.
7) Garnish with chopped pistachio, shaved chocolate, dried rose petals, silver leaves, some mangoes.
8) Serve Chilled and Enjoy Holi
Neha Mathur, Founder, WhiskAffair
Favourite dishes
I make a lot of dishes for Holi, but gujia and thandai are my favourite. Indian festivals like Holi should definitely be celebrated with these traditional dishes, and I want everyone to savour them. Hence, I make them every year.
Fondest memories
Holi brings back a lot of memories. We cousins would get together and play Holi not for one, but several days! It was fun to form teams and apply colour on each other. My mom used to make gujias and serve it along with kanji and thandai to everyone who visited our home. As kids we would gorge on these homemade delicacies.
Best part about the festival
Greeting people with gulal and some specially-made recipes is what I love about this festival. I like to make delicacies like kali gajar ki kanji, mawa gujia, thandai and dahi vada. I still follow the tradition to serve everyone these dishes who visits our home.
Holi plans
This year, it would be a small family affair due to the pandemic. But, I will make my favourite recipe and serve it with a splash of gulal.
Holi must-have
You should definitely try the kanji. It is healthy and can be made quickly (however it needs time to ferment), with just five ingredients, and has few calories. Kanji can be called Indian Kambuch and it is good for gut health.
Recipe: Kanji
Ingredients
· 2 litres water
· 4 teaspoon salt
· 2 teaspoon turmeric powder
· 1 teaspoon red chilli powder
· 5 teaspoon coarsely ground yellow mustard
· 200 grams carrot

Instructions:
· Start by preparing the carrots. I have used 200 grams of black carrots which are used popularly in North India to make kanji recipe. If the black carrot is not available, use the regular red or orange carrots. You can add a few pieces of beetroot if you are looking at that dark color of kanji.
· Wash the carrots and peel them. Cut them into half-inch thick and 2 inch long fingers. Heat 2 liters of water in a large pot and as soon as it comes to a boil, switch off the heat.
· Note – Some people do not boil the water while making this drink. I do it to make sure the drink doesn't get spoiled while fermenting. Do this extra step for peace of mind.
· Add the carrot sticks to the boiling water and cover the pot with a lid for 10 minutes.
· Remove the lid and add 4 tsp salt, 2 tsp turmeric powder, 1 tsp red chilli powder, and 5 tsp yellow mustard powder to the water. Use only yellow mustard to make kanji. Black mustard could make it bitter.
· Transfer the Kanji to a clean glass jar and cover the mouth of the jar with a muslin cloth.
· Place the jar in the sun for 4-5 days for fermentation. Shake the jar once every day.
· Once the kanji drink is ready, bring the jar inside. Open the cloth and give it a stir. Refrigerate it for 2-3 hours before serving. Serve kanji in glasses along with a few pieces of carrots in each glass.
(If you have a story in and around Mumbai, you have our ears, be a citizen journalist and send us your story here. )
(To receive our E-paper on WhatsApp daily, please click here.  To receive it on Telegram, please click here. We permit sharing of the paper's PDF on WhatsApp and other social media platforms.)