Huami is a Chinese company that makes Mi Bands for Xiaomi, which are one of the highest-selling smart wearables across the globe. Apart from making these bands and other accessories, Huami also sells smart wearables under its own brand called AmazFit.
The company sometime back introduced its Amazfit GTS smartwatch in India. After having used multiple Mi Bands for the last few years, I was keen to try one from the maker itself.
The Amazfit GTS was unveiled in India at a price of Rs. 9,999 which is way less than the popular smartwatches from the likes of Apple, Samsung, Fossil, etc. Unlike these premium smartwatches, the AmazFit GTS does have a lot of limitations, especially when it comes to third-party app support.
Does this limitation weigh more than the value it offers at this price? Let us have a look at the answers in the review ahead.
The Amazfit GTS watch: Design, battery and performance
The moment you pull out the watch from its box, you'd be impressed by the build quality of the watch. There is no doubt that it is very easy to mistake this for an Apple Watch. Only at the second glance would anyone be able to identify the differences. It is no surprise that most of the Chinese brands look at Apple for design inspiration and Huami is no exception.
The watch comes with a 1.65-inches AMOLED display and is just 9.4 mm thick. It comes with a 20mm removable silicon strap. The strap was too small for my liking and though it is comfortable to wear for long durations.
The watch has one button which can be clicked or long pressed to interact with the UI. It does scroll like the Apple watch's crown, but you can't expect anything more than that. For inputs, you can use the touch screen, which is very responsive and is bright enough to be viewed under direct sunlight. Though a thick bezel is present on the display but it's is only noticeable if you use a light or a colourful watch face. Apart from that, the entire interface bears a black colour, hence the bezels are barely noticeable.
The watch sits in a metal chassis while the bottom part has a plastic build, though a metal build would've been nice but then it would end up making the watch heavy. The bottom houses magnetic charging connectors and the optical heart rate sensor. Overall build quality is good and the watch does look premium. Since the watch is water-resistant up to 50 meters, wearing it while swimming or a shower is not an issue at all.
There 12 different activity modes to track your physical work out. These modes include outdoor running, treadmill, walking, outdoor/indoor cycling, elliptical trainer, pool/open water swimming, mountaineering, trail running, skiing and exercising, covering almost all the activities one would find in any fitness tracker. The watch comes with a 6-axis acceleration sensor and GPS + GLONASS dual positioning function to help you track your outdoor activities.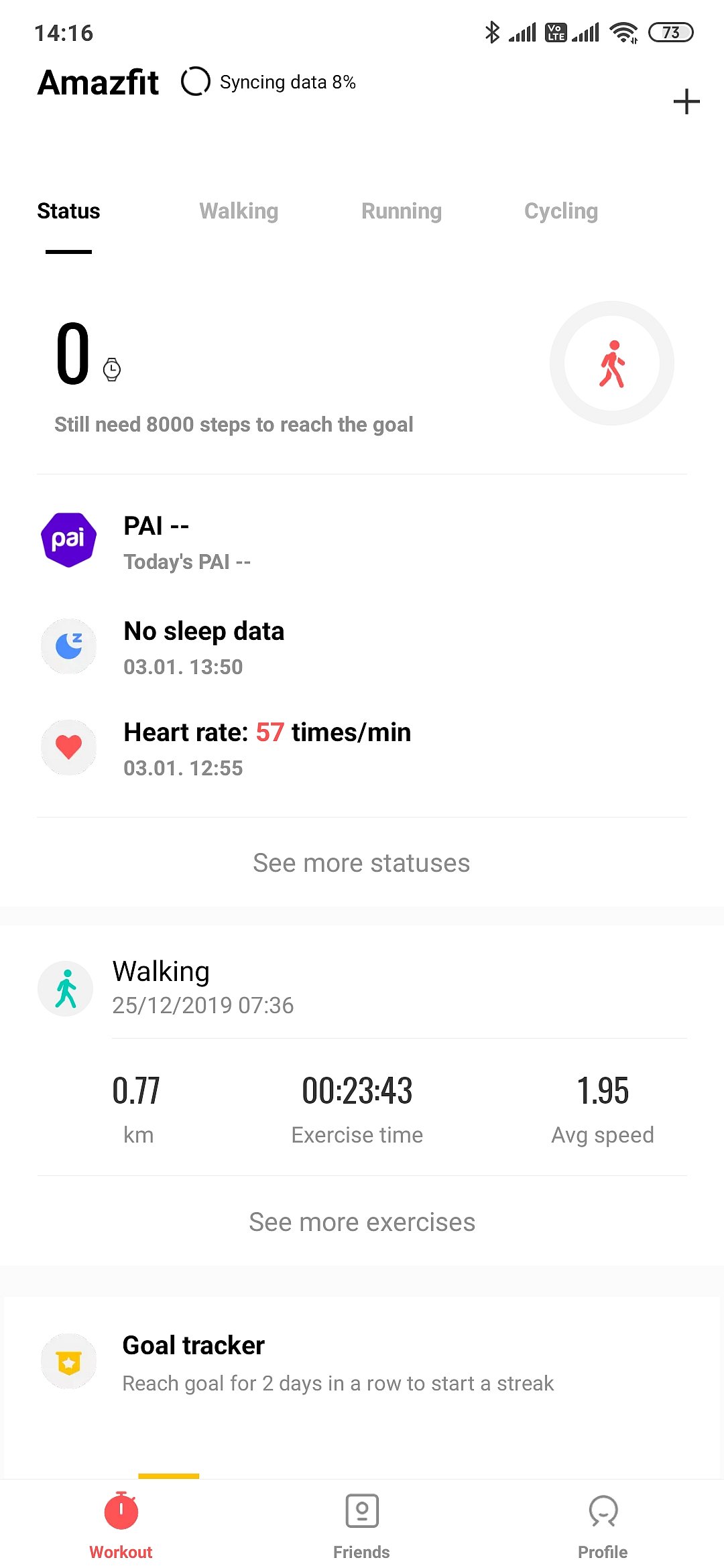 The interface present on the watch is pretty straight forward. A swipe down on the home screen brings quick settings like the torch mode which lights up the entire display to assist you in the dark, you can adjust brightness, do not disturb hours and screen lock. It also displays current time, date and battery percentage. Swiping left or right shows step counter and readings from the heart rate sensor.
A swipe up from the home screen brings forward workout modes, daily status, activity data, notifications, alarms, timers, compass, music, and general settings. You can tweak the features of the watch like Always-on display, screen auto-off, etc under settings. Sadly, pressing the crown takes you to the home screen rather than taking you back to the previous screen.
Activating features like Always-on display, 24-hours heart rate monitoring will reduce battery life. Always on display brought down the battery backup to less than 5 days, otherwise you would not need to worry about charging the watch for at least 10 days or so. Though the company claims that the 220 mAh battery can offer a backup of 14 days, but even 10 days is a big positive. This comes as a huge relief for a person who was using the Ticwatch E which barely lasted a day, with low to moderate usage.
Among the primary tasks of this watch, the AmazFit GTS scores well on fitness tracking steps counter and heart rate measurements. Strangely, sleep tracking wasn't the most accurate. Often it was not able not track me waking up during the night. There were times when I woke up in the middle of the night and eve stepped out of the room but it wasn't recorded in the sleep tracker. GPS tracking was on point as well though it does take a few seconds to start tracking, once turned on.
There are more than a few watch-faces you can download using the app and since it's an AMOLED display, red and neon on the black background look the best. The latest update adds customization options and lets you use your own image in the background on a watch face. These watch faces can be downloaded via the app that you need to download and pair the watch with. The app is simple and presents your data in a graphical format and lets you add friends to compare your fitness activities.
Conclusion
The Huami AmazFit GTS falls somewhere in between a full-blown smartwatch and a fitness tracker. While the design, display and a more than decent battery life works in favour of the GTS, it does have some strange issues. Since it runs on a proprietary OS you cannot download third-party applications, notifications can only be accessed via the settings menu, and most importantly, you cannot respond to messages from the watch directly. I often noticed that even after I'd responded to a call, the watch continued to vibrate. Though the best part is that, barring third-party app support, most of these issues can be solved by a quick software update.
The Amazfit GTS does an amazing job in terms of fitness tracking and battery backup but just falls short of a proper smartwatch. At the price point of Rs. 10,000 is indeed a good buy for someone who is looking for a device better than a just fitness tracker and does not like charging yet another gadget.
(To receive our E-paper on whatsapp daily, please click here. To receive it on Telegram, please click here. We permit sharing of the paper's PDF on WhatsApp and other social media platforms.)