Changemakers are often met with resistance from ordinary folks. However, it is their determination and dedication that drives them. 25-year-old Pune-based plogger Vivek Gurav, who has taken it upon himself to clean the city through plogging, is no exception. From being called a kachrawala to being hailed by Prime Minister Narendra Modi, Union Minister of Environment, Forest and Climate Change Prakash Javadekar, and others, Gurav's efforts have been recognised all over the country.
What is plogging you might ask? It is a combination of jogging and picking up litter. It started as an individual activity in Sweden in 2016 and spread to other countries later. In a freewheeling chat with the Free Press Journal, Vivek Gurav enthusiastically spoke about this intiative which he began seven years ago when he moved to Pune to study at the MIT Academy of Engineering, Alandi.
"When I shifted to Pune in 2014, I started with the cleaning up of river Indrayani in Alandi. The situation was pathetic as people dumped trash in the river. It was always flooded with plastic waste. After college, my friends and I used to roam around the river bank and that is when I understood the problem why we don't have clean water for the entire area. Even when there was a river, there was no drinking water available and we had to buy water cans in the hostel," said Gurav.
Initially, Gurav and his friends blamed the local body (Alandi has a gram panchayat) for not taking actions against the people dumping waste in the river, but then he felt it was the moral duty of the citizens including him to keep the area clean. "We tried to involve locals initially but they were reluctant. I started cleaning with my friends. We cleaned the bank for around 6 months and then observed a behavioural change in the people. During Ganesh Visarjan, we used to form a human chain and convince the people to donate the idol instead of conducting the visarjan in the river. We tied up with various organisations who used to take the donated idols. In the first year (2015) itself, we had around 1,000 volunteers and recovered over 1 lakh idols from the river. This was a huge campaign. This has become a trend in Alandi now as several organisations carry out the same initiative each year," said Gurav.
Gurav said he continued the cleaning for around 5 years, but then it started becoming monotonous and boring. He said he wanted to transform the initiative and that is when he came across plogging. He thought this would add excitement to the clean-up drive. "In the college we had around 300 volunteers, but then the count reduced to around 20-30. Later, when we brought it with a new name, people began joining again. The term was quite new. People are attracted to something trending. And we named the initiative as Pune Ploggers," he said.
"Plogging addresses two main concerns--your health as you are jogging and by picking up trash you also take care of the environment. We call this a gamified version of the Swachh Bharat Mission. We have converted plogging into a sort of trash hunt and this has been a major attraction for the youngsters. When it began it was an individual-level initiative, but we converted it into community-level on October 2, 2019. We have completed 182 plogging drives so far and around 5,000 tonnes of collected trash has been sent for recyling, upcycling and to the landfills. Now, more than 4,500 members are part of the team across the country. Those living outside of Pune have started plogging in their own cities."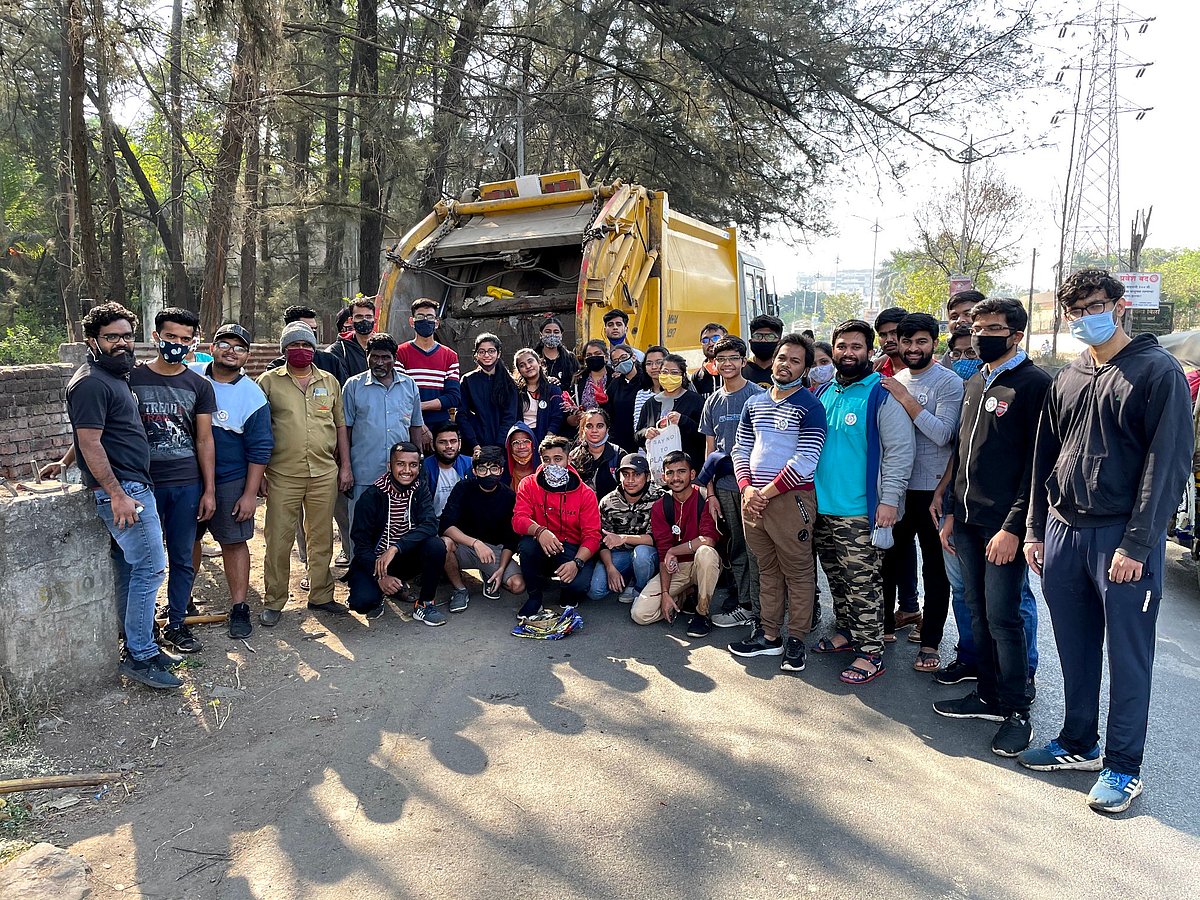 Speaking about the reactions from family and friends, Gurav said they were not happy at first. "Asa ghan kaam karu nakos. He karayla tula Punyala pathavla nahi ahe (Don't do such dirty work. We haven't sent you to Pune to do this)," said his parents initially. Study, get a job and settle down were the expectations of his family. His friends also mocked him. "Abhi college karke aye hai. Maze karenge, ghumne jayenge (We have just come from college. Let us chill, go out)," his friends said. "I lost quite a few friends due to this (he laughs). Not many people thought that a change could be brought. Localites also mocked me. They used to call me kachrawala, kabadiwala and said nothing would happen because of this. Some of them even threw waste on our volunteers," Gurav added.
The 25-year-old said the waste is segregated and sent for recycling and upcycling. "The glass bottles are sent to a community of rural women in Alandi and they convert it into decor pieces and handicrafts. We also empower kabadiwalas so that they can also earn something out of it. We also send the waste to Recycle (a private firm), Adar Poonawalla's Clean city initiative, Pune Municipal Corporation (PMC), and SWaCH (waste management service)," said Gurav. "We also make Eco-Bricks out of clean and dry plastic waste. Around 300g plastic waste is needed for a 1-litre bottle. It is filled into glass bottles and when we fill it in layers applying force, it becomes hard and turns into a brick. It is used for building walls, furniture, art installations etc. We have involved households for preparing Eco-Bricks. There are around 250 residential flats in Magarpatta city who prepare Eco-Bricks from their own household waste," the plogger added.
Gurav, who is originally from Kolhapur's Jaysingpur, is a software engineer. However, he is planning to go abroad and pursue MSc Environmental Policy and Management. He has also applied to a few universities in the United Kingdom (UK) and has also got an offer. "I wanted to switch my career to a full-time volunteer and activist. But then I thought why can't I be involved in policymaking. Already I am protesting against a few government projects (Pune's riverfront development project and Environment Impact Assessment (EIA) 2020), instead it would be better if I get a chance to be in the policymaking process and help the government," he said. "I want to reach a stage where I can influence government's environmental policies. I want to do it dedicatedly," he added.
Gurav is also involved in tree plantation drives, raising awareness regarding climate change, etc. To protect the environment, he wants everyone to start doing their bit in their own capacity. "Every small effort is going to help in the long run. Start from your personal routine and rethink your choices. Are they good for the planet? This simple question will direct you towards what needs to be done. Start today. We are running out of time," the concerned plogger added.
(If you have a story in and around Mumbai, you have our ears, be a citizen journalist and send us your story here. )
(To receive our E-paper on WhatsApp daily, please click here.  To receive it on Telegram, please click here. We permit sharing of the paper's PDF on WhatsApp and other social media platforms.)