Abhijit Bangar, the municipal commissioner of Navi Mumbai Municipal Corporation (NMMC) inspected the ongoing nullah and gutter cleaning work as part of the pre-monsoon work. He visited Nerul, Vashi, Belapur and Koparkhairane wards during his visit. He was accompanied by the deputy commissioner of Solid Waste Management Dr. Babasaheb Rajale and City Engineer Sanjay Desai.
In Nerul ward, skid steer loader was used to clean soil and stones accumulated the hills in a large natural nullah passing under Sion Panvel Highway. Bangar directed to complete the work of the culvert parallel to Sion Panvel Highway. Similarly, the commissioner also instructed to complete the cleaning of the nallah near Raheja expeditiously and to increase the number of workers as required.
Bangar also directed to complete the work of culvert leading to Shivaji Nagar Shirvane MIDC under Sion Panvel Road near LP Junction as soon as possible.
While inspecting the ongoing cleaning work at the largest Nala in Vashi Sector 17, Bangar directed to take strict precaution to ensure that all the flap gates on the holding ponds in the municipal area would remain operational by replacing or repairing them.
In order to flush out water from the low lying area in Vashi and Belapur, Bangar directed to make arrangements for additional electrical backup at the pumping house at Vashi Sector 8 and CBD Belapur Sector 11 to ensure that there is no problem in keeping the pump operational in case of a power outage during the rainy season.
While the work of natural drainage and gutters in the NMMC area is about 85 percent completed, Bangar directed that the works should be completed by May 31.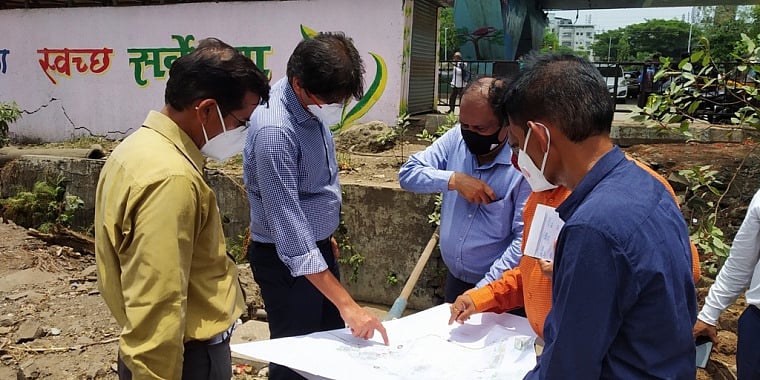 (To receive our E-paper on whatsapp daily, please click here. To receive it on Telegram, please click here. We permit sharing of the paper's PDF on WhatsApp and other social media platforms.)