Trigger Warning: Mention of suicide
Mumbai: A 59-year-old Tilak Nagar resident, who worked as a deputy director in the Uttar Pradesh tourism department, died by suicide on Tuesday morning. Vimleshkumar Banarasidas Auditya jumped from his flat on the second floor of a housing society in the Tilak Nagar area in Chembur at 8.15am.
His wife, Rama Auditya, informed the police at 9am, following which a case of accidental death was registered. The police subsequently conducted a spot punchnama and inspected their residence, looking for a suicide note, which was not found. The body was sent to Rajawadi Hospital in Ghatkopar for post-mortem.
Had resigned due to work pressure
The police said Vimleshkumar was a qualified engineer working in the state tourism department of UP, which is located at the World Trade Centre, Cuffe Parade. He earlier served as deputy director in the same department at the head office in Lucknow.
However, two months ago, he resigned from that post owing to work-related stress, his wife told the police. She said he was often dejected because he couldn't meet his family or stay with them when he was in Lucknow. When he resigned from his post, his employer asked him to continue work till March 31, she said.
Going by the victim's wife's statement, the police lodged a case of accidental death. However, an investigation to ascertain other reasons is underway, the police said.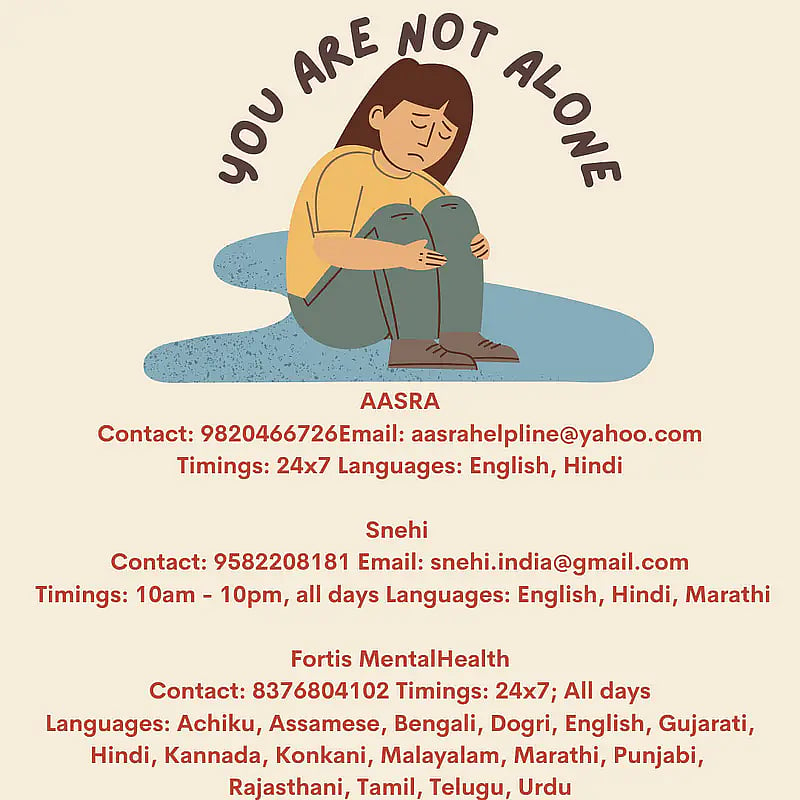 If you or anyone you know is struggling with suicidal thoughts, seek help here: | Mental Health Helplines
(To receive our E-paper on WhatsApp daily, please click here.  To receive it on Telegram, please click here. We permit sharing of the paper's PDF on WhatsApp and other social media platforms.)