With parts of Maharashtra's Konkan region inundated due to torrential rains, various social organisations in the city have joined forces to help those affected by the flooding.
A team of 17 volunteers from Mumbai and Thane, belonging to Jamaat-e-Islami Hind (JIH), IRW, Youth Wing and Students Islamic Organisation of India (SIO), has left for Chilpun in Ratnagiri district which has faced heavy floods. The team, which consists of trained relief and rescue workers, is carrying relief materials such as food packets, water bottles, medicines and clothes with them.
"While the flood water level is receding in Khed, Ratnagiri as it has stopped raining, the situation in Chiplun is still grim. The people are stranded, have no access to basic necessities and are in immediate need of relief. Considering the scale of the disaster, we have decided to provide aid to the distressed people," said President of JIH Maharashtra Rizwan-ur-Rahman Khan.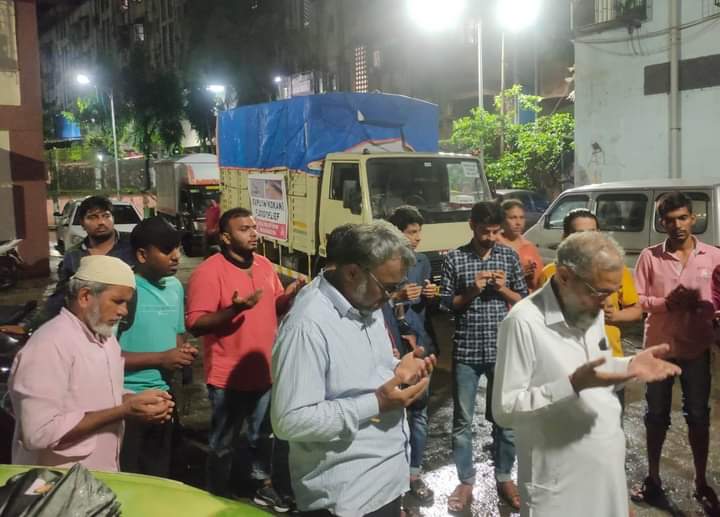 Around 37 people have died in the sudden landslides at 3 places of Mahad, while the search for 35 people is on. Dozens of houses have been buried in the rubble due to the landslide. Savitri river is flowing above the danger mark in Mahad.
"The Ideal Relief Wing under JIH's Social Service Department has more than 150 volunteers who render their services during such calamities. These volunteers have been specially trained in disaster management," said Mazher Farooque, Secretary of Social Service Department, JIH Maharashtra.
Meanwhile, volunteers from JIH and SIO have also been helping the people whose homes were flooded due to heavy rains in Kalyan in Mumbai's suburbs. They have so far distributed 1,350 food packets and 500 bottles of water as well as medicines worth Rs. 6,040 among the families in low-lying areas of Reti Bunder, Sanglewadi, Waldhuni and Kongaon.
"We have mobilized our medical team to prevent rain-borne diseases. The medical team is going door-to-door to distribute medicines to the people according to their needs," said Akhtar-ul-Iman Khan, President JIH Kalyan.
Rizwan-ur-Rahman Khan has appealed for cooperation to help the flood victims of the Konkan region. Hundreds of people have been rendered homeless, and their livelihoods have been destroyed. They have been provided temporary shelter in schools, masjids and madrasas, and are in a dire condition. Our activists are working diligently to get them out of this crisis. There is a great need for financial help in this regard. Therefore, we appeal to all the well-wishers to donate whole-heartedly," he said.
"The team reached at 12pm and had distributed water bottles and good packets. The wells of villages in Chiplun are full with dirty water. The team is trying to clean the water through a pump. And will make sure this well gets clean water and the villageers get clean water for daily usage. Also, on Sunday a team from Pune will go to Mahad for such relief help," added Farooque.
(To receive our E-paper on whatsapp daily, please click here. We permit sharing of the paper's PDF on WhatsApp and other social media platforms.)
Published on: Saturday, July 24, 2021, 09:49 PM IST