Trigger Warning: Mention of suicide
In a shocking incident reported from Mumbai's Mira Road a woman died by suicide after her in-laws allegedly tortured her for procurring money from her parents.
The deceased victim, Asmita Mishra, was married to Abhay Mishra in November 2021 and was sent off to her marital home in May last year after the 'gauna' ceremony. Gauna is a prevalent tradition in Bihar, Uttar Pradesh, Rajasthan and is related to consummation of marriage.
According to reports, Asmita's parents claimed that her death was faked by her in-laws and also alleged that her husband and her in-laws were responsible for her death.
Asmita's family spoke to Free Press Journal
Asmita, who was the eldest of four siblings, passed away on February 24, a family friend told Free Press Journal. He said that her in-laws and husband are claiming she died by suicide but they suspect foul play since she was always tortured in her marital home.
"Asmita's in-laws claimed that she was sitting alone in her room and was not answering her calls or texts, they waited for their son to return. Around 8.30 pm, they opened the door and found her hanging," said Sandeep Pandey, a family friend.
He then added that she was taken to Wockhardt Hospital where her death was pronounced at 9.20pm.
"We suspected foulplay and thus called the police who delayed making a punchnama until 12 am and the case was registered for February 25 and the hospital also changed the records. They were not filing a case either, we relentlessly protested and an FIR was registered on February 27," he said.
Pandey claimed that Asmita was tortured in her marital home and that her husband had installed surveillance application to monitor who she would interact with.
Asmita's in-laws alleged she has an extra-marital affair
He also said that Asmita's in-laws and husband were alleging that she had an extra-marital affair and spinning the narrative.
He also corroborated that Abhay's family made tall claims about having money, home in Juhu and luxury car but lived in Mira Road. They often demanded for money; he alleged that Abhay and his family had made plans to siphon her off, compel her to separate from him and he could remarry another woman to attain wealth.
A case has been registered against the in-laws at Kashmiri Police Station of Mira Road. Kashimira police dispatched 3 teams to search for the accused. Her husband and in-laws were held by the police reportedly.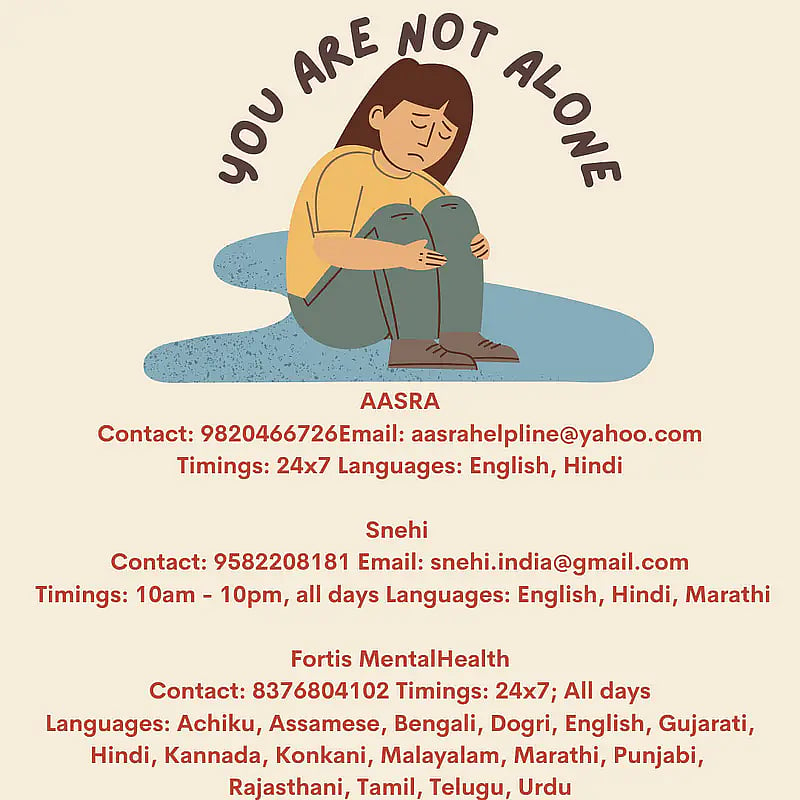 If you or anyone you know is struggling with suicidal thoughts, seek help here: | Mental Health Helplines
(To receive our E-paper on WhatsApp daily, please click here.  To receive it on Telegram, please click here. We permit sharing of the paper's PDF on WhatsApp and other social media platforms.)