It was a long Christmas weekend when we decided to take a pause from the hustle and bustle and drove down to one of the nearest cities Karjat from Mumbai. While we had many options to choose from, including the Art Village, we opted for Radisson Blu Resort and Spa Karjat.
Cutting through the view of the stunning Sahyadri mountains meeting the Ulhas river on the way, this luxury property was a delight. The tranquil setting amidst the gorgeous mountains and river swayed us at first sight and we knew that this was the perfect destination for our weekend getaway and next family holiday.
Following our check-in formalities in the afternoon, we headed to their in-house restaurant Palms, which featured an extensive Indian and pan-Asian menu. We made our peace with Indian food from their illustrious menu and a bowl of salad along with a small piece of chocolate pastry and called it a day until we saw a majestic pool from our exquisite business suit.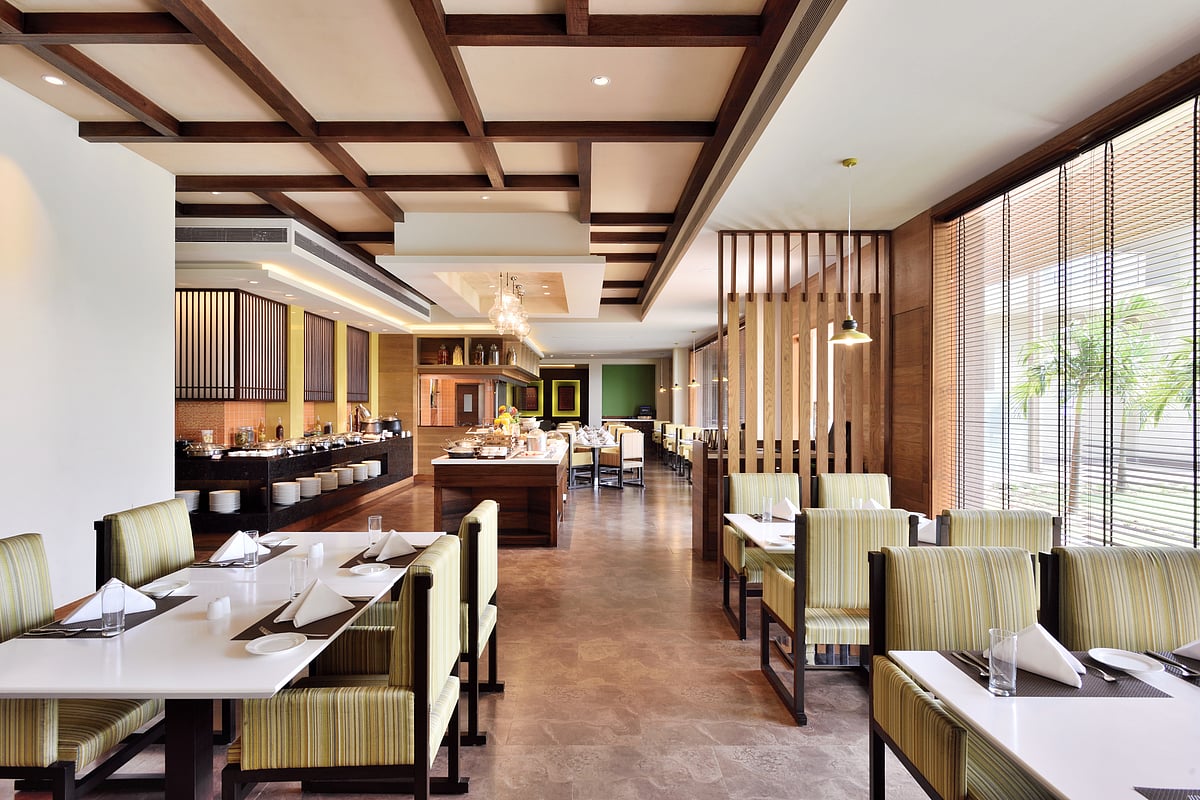 Palms restaurant |
Luxury suites |
The property features 102 rooms for business or leisure travellers complete with all basic amenities. There are about 11 three-bedroom villas for families along with two in-house restaurants which serve delectable national and international food.
Stay amidst nature
We boarded a golf cart and took a relaxing tour of the property, where we spotted a huge gaming zone and that was the next place we wanted to head to. It took us about 40 minutes to explore this exotic and huge resort which boasts a very tranquil atmosphere to relax and unwind.
Combining Eastern design that draws from Thai and Balinese architecture with rejuvenating therapies at their in-house spa, The Spa, the resort was bustling with Christmas decorations and a lot of construction that we learned was for luxurious villas as a new addition to the property.
Family Villa |
Pool side |
To accommodate corporate and business events, the property has huge banquettes — one can accommodate about 300 people and another 500. We were told there are three more meeting rooms which can accommodate a gathering of about 12 to 30 people.
Post our tour we headed to the pool to soak a bit in the sun. Recline by the outdoor pool and sip cool cocktails from the bar. You can also head inside their all-day dining restaurant for some of the best food fares in Karjat. We loved their sandwiches which were filling and came with a lot of salad. If you are a tea lover, don't miss trying one here.
Wedding site | VIDULsawant
The resort also connects to a small island which hosts prime destination wedding ceremonies. Do pick one golf cart and head to the island as it offers a beautiful view of the mountains and the river. Their staff is very courteous so don't shy away from asking anyone to take you around.
Eat, play, repeat
Next on our list was the gaming zone — Fun Park. The place brought the child in us as we were hooked to those table games and video game machines. Equipped with state-of-the-art audiovisual equipment this place offers a therapeutic experience where you can spend hours and not get bored with so many options to play with for all age groups.
There's also a small space for children alongside their in-house gym where kids can indulge in various art activities.
The Fun Park |
Gaming zone at The Fun Park |
While our lunch was pretty sober, we waited for dinner as the resort was opening its second huge restaurant Panorama that day. We had their debut meal served along with other guests.
The illustrious menu featured more than 40 dishes from across the world which left us spoiled for choice. From a variety of salads and pasta to Indian curries, Chinese delicacies and a host of options for non-vegetarians. Each dish on the menu was pleasantly served.
Post our dinner we retired to our rooms and this was the time when we actually saw the architecture of our room — a hut-style luxurious room with a huge balcony, which offered a stunning sunrise view the next morning.
Panorama restaurant |
Panorama restaurant |
Following a healthy and delicious breakfast which featured both local and international fare, we bid bye to the place and drove back to Mumbai feeling rejuvenated and expecting to go back when the resort is ready with their new exotic villas.
What else you can do
While you are staying at the resort, you can also take a tour of this beautiful city which is home to a lot of farming and local activities. Hike through lush forests and past beautiful waterfalls when you visit attractions like the Kondana Caves or Kothaligad fort. Don't miss these popular attractions during your stay.
How to reach
To reach Radisson Blu Resort and Spa Karjat from Mumbai or Pune, you can either drive down or take a local train and ask for a pickup service from Karjat Railway station which is about six kilometres from the resort. You won't regret the train journey as it offers a beautiful sight of green landscapes and mountains.
Price per night: Rs 14,000 + per night
Family villas: Rs 25,000 + per night
Prices may vary on weekends and holidays
(If you have a story in and around Mumbai, you have our ears, be a citizen journalist and send us your story here. )
(To receive our E-paper on WhatsApp daily, please click here.  To receive it on Telegram, please click here. We permit sharing of the paper's PDF on WhatsApp and other social media platforms.)