One of the most anticipated music festival Lollapalooza started with a bang on the first day. The day one of the musical extraveganza ended on a high note with the American pop rock band Imagine Dragons delivering a euphoric performance. The band with the lead singer Dan Reynolds, guitarist Wayne Sermon, bassist Ben McKee and drummer Daniel Platzman, made the wait worth it for their Indian fans. The band members performed some of their superhit songs like Believer, Thunder, and Radioactive.
Meanwhile, the hot weather of Mumbai was somewhat a challenge for the frontman Dan Reynolds as he took off his shirt withing minutes of entering the stage and continued like that the rest of the set. He didn't let his energy drop despite sweating profusely and have more than what his fans expected. He got off the stage and came up close to the fans, touched them, held their hands and spoke some motivating words. The singer ensured that the event became memorable for for his fans.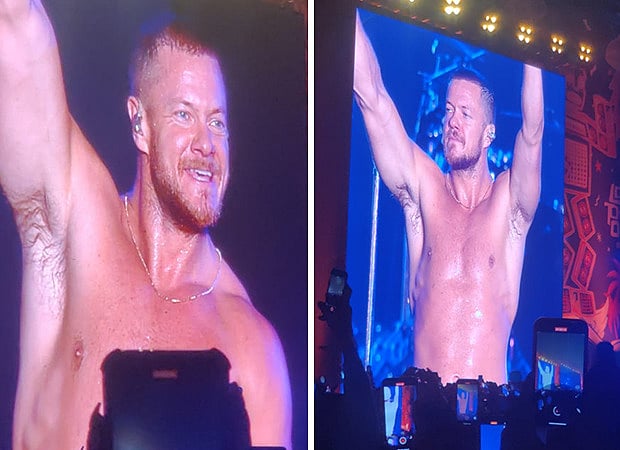 "Such a blessing to be here today, it's our first time in India. Thank you for treating us with kindness, for waiting for us for so many years. May we give everything you need. We hope, may you feel peace in your heart, let go of all the things in your mind, let it flow up in the air, never to be seen. May it be a safe place for you to exist, to be free. Anger, passion, love, sorrow, whatever it is you need to feel, may we bring it. We love you, we are here to give you everything we have," Dan said in between his performance.
"I have a feeling this is the first of many many shows in India," he later added.
Before starting their very popular song Demons, he said, "I do not claim to be a man of faith, I do not know the answers. But I am a hopeful person. I do hope to see the person I love again, somewhere in the space. May your heart feel peace - to all those who have lost someone, this song is for you."
Lollapalooza India, co-produced and promoted by BookMyShow, is being held at the Mahalaxmi Race Course in Mumbai.
(To receive our E-paper on WhatsApp daily, please click here.  To receive it on Telegram, please click here. We permit sharing of the paper's PDF on WhatsApp and other social media platforms.)