Rooftop parties, gigantic wave pools and unlimited thandai, there are a range of choices to make this year's Holi celebrations in Pune your best till date.
Holi Riot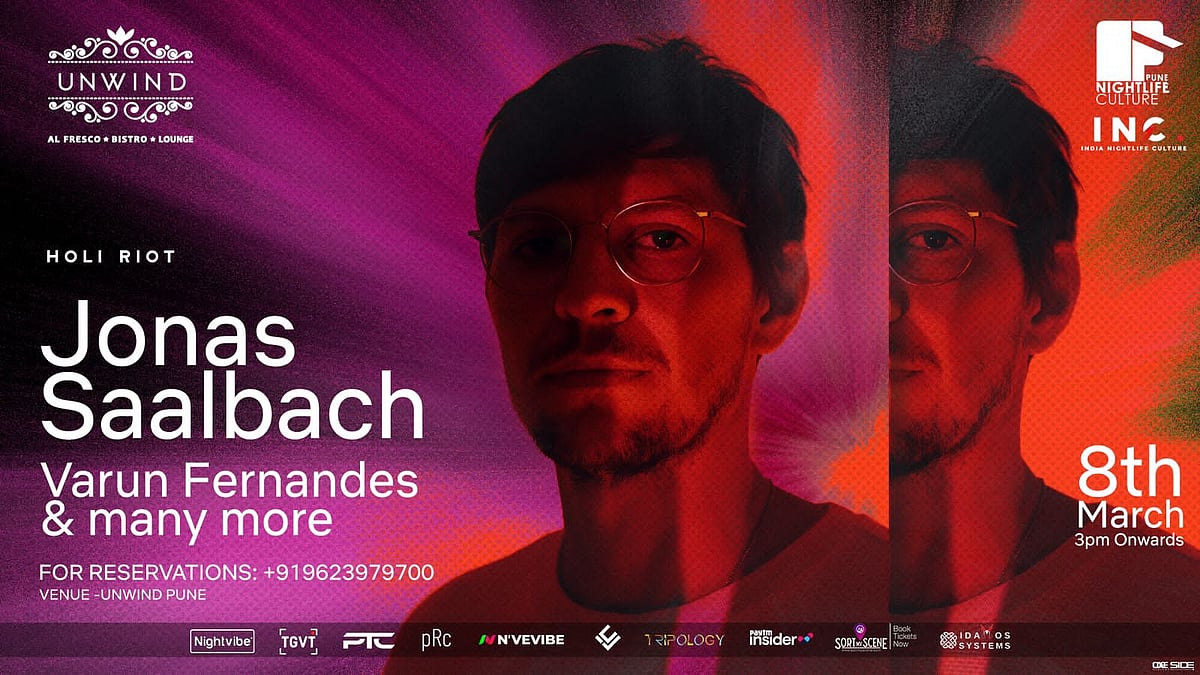 What: Holi Riot brings one of the finest techno Acts to Pune. German artist Jonas Saalbach will take you on an intense ride of bliss. His music is deeply uplifting and body-moving. Jonas has released EPs and long players with Einmusika, Bedrock and his own imprint Radikon. Expect nothing short of a riot of colours. Supporting acts Varun Fernandes, Auroteq, H3, Pashupati, Varaaka, Noiszy and XO are techno gurus.
When: 7th March,
Where: Unwind, Koregaon Park Annexe
Tickets: INR 499 onwards
Holi Moli
SOCIAL x Euriska is bringing a vibrant all-day open-air mini-festival in the midst of Koregaon Park. With a musically diverse line-up featuring Anyasa, Calm Chor, Fake Tattoos, Quistek, Smear, Zavion and That Ankit with lots of colourful drinks on sprawling lawns.
When: 7th March, 11 am
Where: The Secret Garden, Koregaon Park Annexe
Tickets: INR 1,499 onwards
Bollywood bash
What: Party with Bollywood celebrities Chunky Pande, Mahek Chahal, Archana Gautam and Gautami Patil at this Bollywood bash. There will be foam, there will be rain and a fashion show. Dance to remixes and mashes from DJs Rawking, DR A, Monika and Talon.
When: 7th March, 10 am
Where: Multipurpose Playground, Decathlon Wagholi
Tickets: INR 150 onwards
Foam Land
What: The biggest foam party in Pune, it will host two main music acts on two stages. The same venue will host a Sundowner foam party in the evening.
When: 7th March, 10 am
Where: Orilla, Koregaon Park Annexe
Tickets: INR 99 onwards
Holi Mohalla
What: Holi Mohalla is a burst of colours in a family-friendly environment. Expect bombastic Bollywood music with DJ Clive, unlimited eco-friendly colours and food, herbal drinks and a balloon fight to take you back to your childhood.
When: 7th March, 9 am
Where: Crystal Lawns, Pimple Saudagar
Tickets: INR 499 onwards (INR 299 for kids under 12)
Holify
What: Bollywood music stalwart DJ Akbar Sami will spin filmi tunes along with DJ Leo and Bassbanger. Relax at this family-friendly Holi bash with a natural waterfall as a backdrop. Recharge with mouthwatering food and amazing cocktails and mocktails.
When: 7th March, 10 am
Where: Sunny's World, near Mumbai-Pune bypass
Tickets: INR 500 onwards
Rooftop Holi
What: Enjoy playing Holi with vibrant organic colours at a party with a rooftop view. Colourful cocktails and shots are on the menu. Spinning music will be DJs Harsh, Vu, Kunal and Amruta.
When: 7th March, 10 am
Where: The Guilty Pleasures, TGP, Viman Nagar
Tickets: INR 299 onwards
Rang 2.0
What: Family-friendly grand pool party with models and celebrity DJs Freed, PALS and more. The colours will be organic, and you can choose to chill in the indoor section or take a dip in the outdoor section.
When: 7th March, 10 am
Where: Omania Kitchen & All, Bhugaon
Tickets: INR 300 onwards (INR 99 for kids under 12)
Rang De Basanti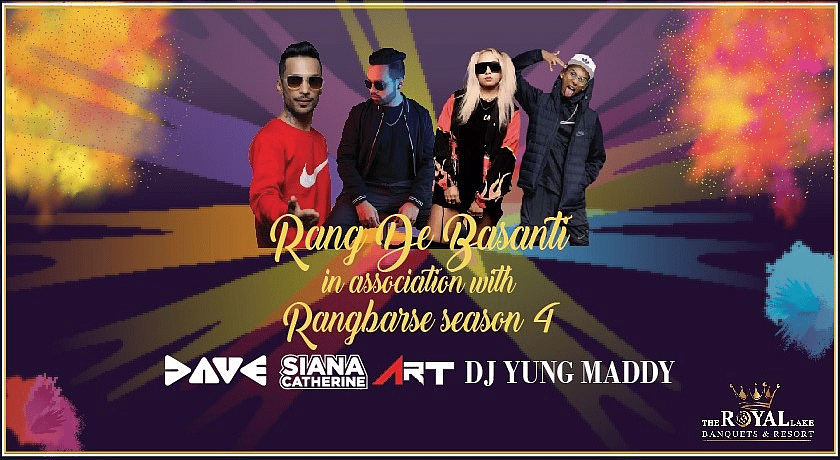 What: Rang De Basanti Volume is a Holi celebration with the supremo of party scenes in Pune: DJ Siana Catherine (Sunburn fame) and DJs Art, Dave, Yong Maddy. This all-day entertainment extravaganza will have a selfie booth, foam party, ribbon blasts and colour bombs. Multiple food stalls featuring a range of cuisines and beverages will be stationed so you don't play while hungry.
When: 7th March, 10 am
Where: Royal Lakes Banquet Resort, Bhugaon
Tickets: INR 199 onwards
Holi Vibe Fest
What: Beat makers Astrida, Zoya and DJ Ruhi will have you swaying to their beats. Expect a pool party, fire show, neon paint and open air show at this resort celebration.
When: 7th March, 10.30 am
Where: The Emerald Resort, Old Pune-Mumbai Road, Talegaon
Tickets: INR 699 onwards
Lai Bhari Holi
What: Celebrate the festival of colours with your family and friends in the largest wave pool in Pune. Lose yourself in live electronic music and dhol, rides and rain dance activities. Party goers get a complimentary Veg Biryani.
When: 7th March, 10 am
Where: Diamond Water Parks, Lohegaon
Tickets: INR 884 onwards
(To receive our E-paper on WhatsApp daily, please click here.  To receive it on Telegram, please click here. We permit sharing of the paper's PDF on WhatsApp and other social media platforms.)