Christmas lunch and dinner is always special. We all want our dinner table to be set with delicious traditional food. Though, most of us like to prepare days in advance for the house lunch with friends and family, there are some, who may not have figured out the Christmas menu for the day. Here are three last minute recipes by Chef Anirudh, The Westin Goa that you can make at home and get get into the holiday mood.
Pork Belly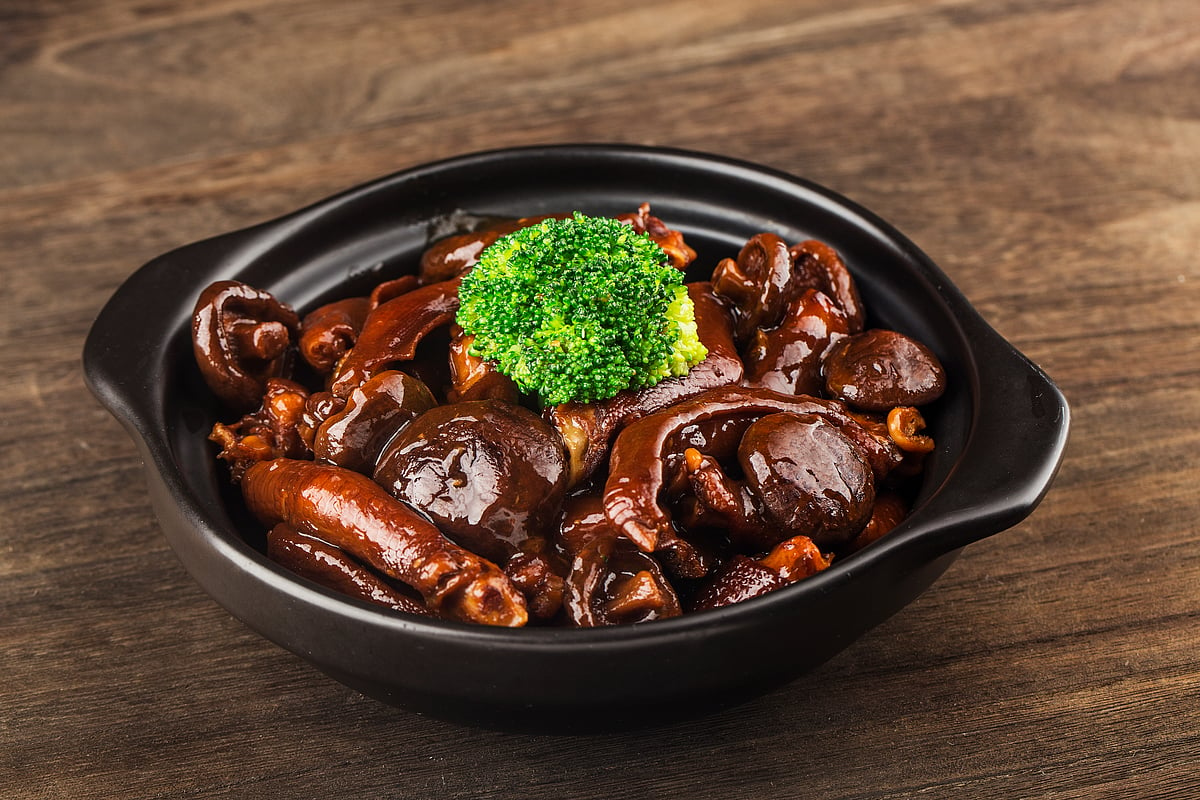 Ingredients:
2800 gm Belgium Pork Belly, 1500 gm Onion, 250 gm Carrot, 250 gm Leek, 250 gm Celery, 50 gm Bayleaf, 50 gm Star-anise, 100 gm Honey, 50 gm Clove, 200 gm Green Apple, 50 ml Red Wine Vinegar, 150 ml Red Wine, 100 gm Seasalt, 250 gm Red Apple, 500 gm Butter, 250 gm Abby Beets, 200 gm Baby Carrots With Stem, 50 gm Peppercorn, 250 ml Olive Oil Extra Virgin, 200 ml Vermouth, 500 gm Beef Bones
Method:
Roast the pork belly with wine, mire-poix, and salt in the oven at 90° for 6-7 Hrs. Reserve for further use.

Make the Jus and reserve. Caramelise the onion till brown and puree it, reserve. Macerate the apple and thin slices of apple to be reserved.

Finish off the portioned pork in Jus and Vermouth wine.

Assemble the mentioned, garnished well with wild berries.

Serve with Assorted Wild Berries, Baby carrots, Flowers, and Caramelised Onion Puree.
Veau Duck
Ingredients:
5 Duck Breast Imported, 1500 gm Aubergine, 500 gm Cream, 250 gm Cream Cheese, 10 Egg, 200 gm Mustard Pommery, 250 gm Garlic, 250 ml Olive Oil, 100 gm Seasalt, 50 gm Raspberry, 50 gm Black Berry, 50 gm Blueberry, 50 gm Cranberry, 50 gm Gooseberry, 500 gm Butter, 1000 gm Onion, 200 gm Thyme, 10 gm Egg
Method:
Confit the duck breast using thyme, butter, garlic and salt. Make an aubergine puree. Smoking it with cream, cheese, butter and thyme.

For Mille Feuille, thin slices of aubergine, crisp fry, smoked aubergine paste into layers.

Assorted wild berries to be tossed in honey with thyme. Sprinkled seasalt.

Confit egg yolk to be given. With cranberry jus and oil. Garnish well.
Chocolate Gingerbread Mini Cakes
Ingredients:
95gm brown rice flour, 70gm buckwheat flour, 70gm sunflower seeds, 30gm tapioca flour, 30 gm cacao or cocoa powder, 100 gm sugar, 10gm baking powder, 10gm bicarbonate of soda, 5 gm ginger, 3 gm cinnamon, 10gm nutmeg, 5 gm cloves, pinch sea salt, 30 ground flaxseed + 45 ml water, 80ml apple sauce, 80ml olive oil, 60ml molasses, 2tsp apple cider vinegar, 60ml hot water
For Chocolate Ganache
• 220 dm dark vegan chocolate
• 240ml oat cream
For Decoration:
• Fresh Cranberries
• Rosemary sprigs
• Blended desiccated coconut for snow
Method:
Preheat the oven to 180°C (350F)

Grease and line a 25 x 35cm Swiss roll tin with baking paper.

Mix 3tbsp ground flaxseed with 9 tbsp water and set aside to thicken.

In a large bowl whisk together brown rice flour, buckwheat flour, ground sunflower seeds, tapioca flour, cacao powder, sugar, baking powder, bicarbonate of soda, ginger, cinnamon, nutmeg, cloves and salt.

In a small bowl whisk together flax eggs, apple sauce, olive oil, molasses, apple cider vinegar and water.

Add the wet mix to the dry mix and mix until well combined. Add extra water 1tbsp at the time to achieve pourable muffin consistency. I've used 2tbsp more in my mix.

Pour the mixture onto the lined tin and smooth out the surface.

Bake for about 20 minutes or until a cocktail stick comes out clean. Try not to overbake it.

Remove from the oven and leave to cool down.

Once cooled using a 2 round cookie cutter cut out 25 shapes.

Spoon ganache into a piping bag fitted with a large star nozzle, pipe on top of the cakes and layer them on top of each other. You can create two or three layer cakes or a mix of both.

Chocolate ganache:

Roughly chop the chocolate for the chocolate ganache and place into a medium bowl. Place the oat cream and maple syrup into a small pot and gently heat until boiling point. Pour over the chopped chocolate and stir until completely melted and smooth. Leave to cool down before placing into a fridge to set overnight into a pipe-able consistency. It should be perfect for piping but if it's too hard leave it at room temperature for a little while to soften.

Decorate with cranberries and rosemary sprigs.

Blend some desiccated coconut and sprinkle on top and around the mini cakes to resemble snow.
(To receive our E-paper on WhatsApp daily, please click here.  To receive it on Telegram, please click here. We permit sharing of the paper's PDF on WhatsApp and other social media platforms.)