The City of Jaipur, famous for its exquisite architecture and delicious food, has culture embedded deep in its roots. Millions of tourists visit Rajasthan every year and seek out the rich heritage of the Pink City. What's more? It's even more special this time of the year as the Jaipur Literature Festival is in town from January 19 to 23. If you consider yourself a literary enthusiast, there is no better time than right now to visit Jaipur and attend the literary extravaganza.
Explore the city, immerse yourself in the culture, interact with the locals as you savour and bask in the rich literature on offer. And if you are struggling with your stay bookings here is a curated list of amazing properties and experiences that you can book to ensure your time in Jaipur is more than memorable.
Shades of Summer:
This cozy 3-bedroom apartment is situated just 25-30 minutes away from the festival venue and is one of the best-looking homestays you can book in Jaipur. With modern furniture and vibrant colours that retain an old world charm, this spacious property is a great place for you to relax and unwind after a long day of debate and discussion.
Price: Rs 7,744 per night
Shades of Winter:
A classy apartment complete with its chic decorated spaces, this Airbnb home with its 3 bedrooms comes with a gorgeous terrace that is just right for catching the Jaipur sunrise from before you embark on a day of adventure. With plenty of room to move around, an outdoor dining area, and a huge common area, this property is perfect if you're planning to visit Jaipur with your loved ones.
Price: Rs 7,642 per night
The Quench Retreat:
This classy home located in one of the posh areas of the city, is a delight for every guest. The place offer peace and beautiful view of nearby farm areas. With a modern-classic décor, the unique porch area with gentle water fountain is a highlight of this property offering a relaxing and unwinding experience. Away from the city's hustle bustle this property offers peace and your time to be around nature. The property also has additional stay options – The Quench Penthouse, and The Quench Green Meadows.
Price: Rs 4,779 per night
Winter Garden Studio: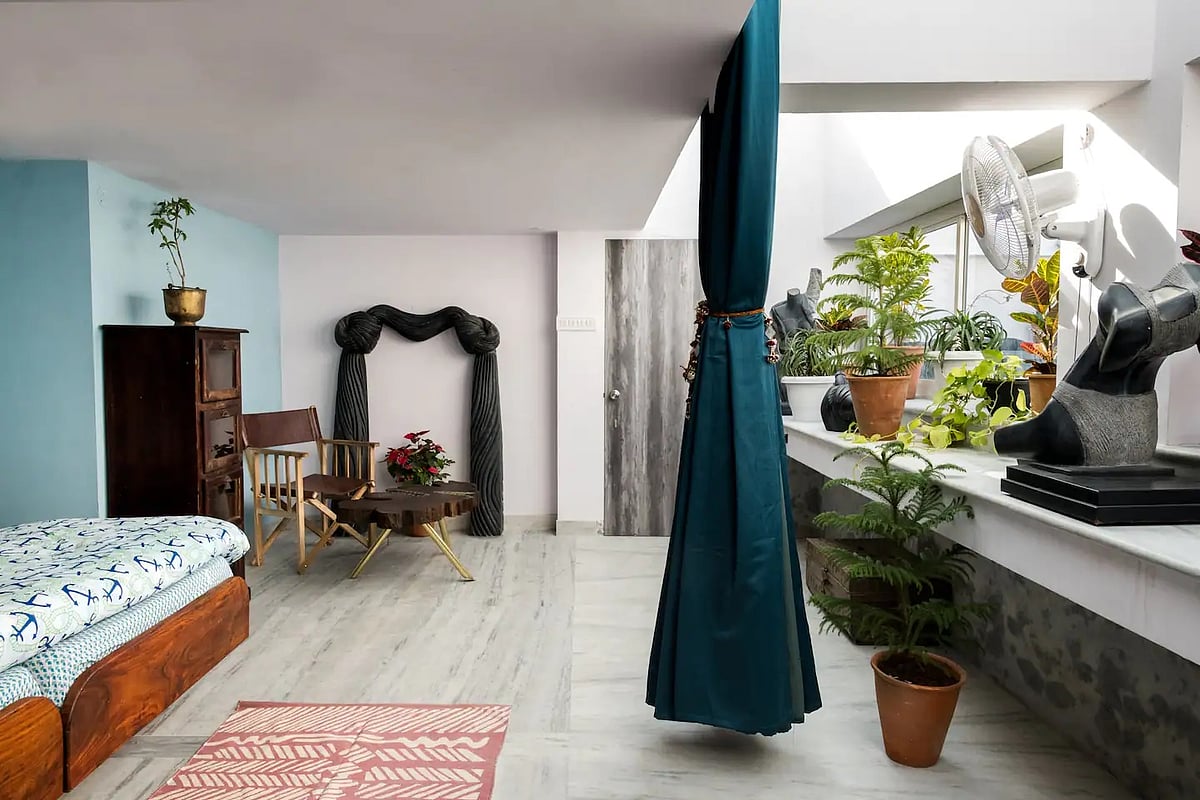 The Winter Garden Studio is an artistic and elegant property with mindful corners that are designed with plants, sculptures, and antiques. If you're looking to come back home to a calm and serene house, this is the place for you! Should you need any more persuasion to book this space, don't forget the private terrace hidden with a canopy of greenery that offers just the right amount of solitude for you to catch up on a great read and enjoy the sun on a winter afternoon.
Price: Rs 2,386 per night.
One Uptown 201:
For all the solo travellers, this chic and modern 1-bedroom apartment is located in the heart of Jaipur and is an absolute no-brainer for anyone looking to immerse themselves in the city. With its retro style décor and vibrant colour palate coupled with its proximity to the Jaipur Literature Festival venue, makes it the one property you can't miss out on booking.
Price: ₹ 3,536 per night.
These properties are available on Airbnb
(If you have a story in and around Mumbai, you have our ears, be a citizen journalist and send us your story here. )
(To receive our E-paper on WhatsApp daily, please click here.  To receive it on Telegram, please click here. We permit sharing of the paper's PDF on WhatsApp and other social media platforms.)