Indore (Madhya Pradesh): Reet Arora, a talented player from the Daly College, won the U-18 age group title in the Championship Series Tennis Tournament, organized by the All-India Tennis Association, in Haryana (Zirakpur) recenty. Reet's coach Sajid Lodi said that prominent players of the country participated in this national level competition. Reet easily defeated her opposition players. In the final, she downed Rasnum Kaur of Haryana in straight sets 6-0, 6-1 to win the trophy. Earlier, she beat Haryana's Rubani Kaur 6-3, 6-1 in the semi-finals, Bhumi Kakkar of Chandigarh 6-4, 7-5 in quarterfinals and Ayushi Rajput of Chandigarh 6-0, 6-0 in the pre-quarterfinals.
FP Photo |
Social education teach to children through sports
With an aim of giving children a better lifestyle with sports, a sports meet was organized by Sherringwood School Dias Park recently. Parents along with their children participated in it. Sunita Chhajlani said SEVERAL games along with yoga were played. This event was organized to increase self-confidence among children and to make them fit and healthy. Children of all ages participated in it. Arjuna awardee Kamlesh Mehta and table tennis player Nilesh V ed were present, who told the children about their career and progress in sports.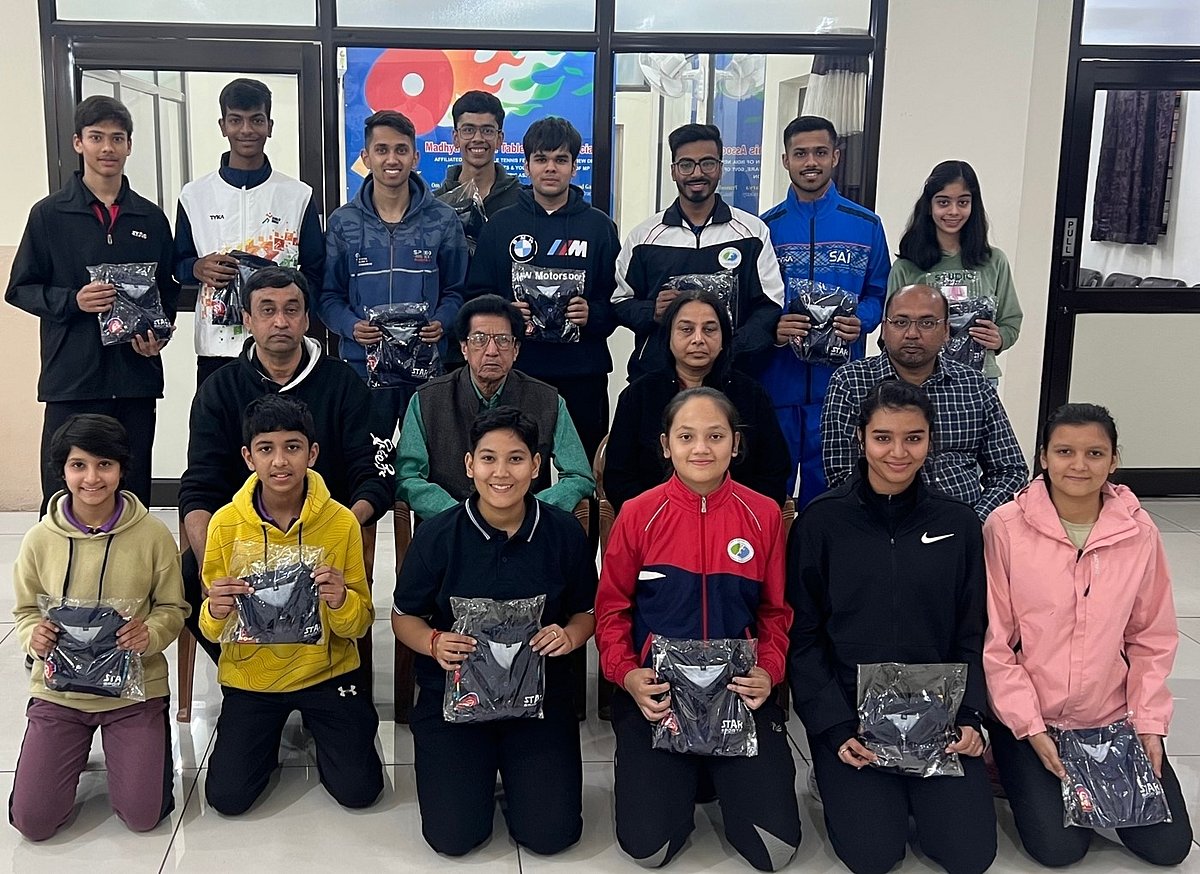 FP Photo |
Kartikeya, Bhagyashree to lead MP TT teams
Madhya Pradesh teams for National Junior and Youth Table Tennis Championship to be played in Chennai from 8 to 16 February 2023 have been announced. Kartikeya Kaushik and Bhagyashree Dave will lead the youth teams.
A meeting was also held under the chairmanship of Om Soni for selection of the team in which Pramod Gangarade, Rinku Acharya, Pramod Soni and convener Jayesh Acharya were present. The teams participating in the national competition were also felicitated in a simple function at Abhay Prashal on Sunday. Roshan Joshi will be the coach and Pushpendra Joshi will be the manager for both the teams.
TEAMS ARE:
Boys U-19: Kartikeya Kaushik, Indore Captain, Ansh Goyal, Indore, Anuj Soni, Indore Chaitanya Karode, Indore.
Girls U-19: Bhagyashree Dave Captain, Indore, Poorvashi Kotia, Indore, Lakshya Biyani, Indore, Sarvi Bist, Indore.
Boys U-17: Ridam Gadha, Indore, Anuj Soni, Indore,Vishesh Rastogi, Indore, Manas Ukale, Indore.
Girls U-17: Bhagyashree Dave Captain Indore, Bhavya Rao, Indore, Parmi Nagdeve, Bhopal, Advika Agarwal, Indore.
FP Photo |
Annual sports meet concludes
The annual sports meet of Omni School was held in presence of Indian basketball players Kavya Singla, Manmeet Kaur, Karanveer Kaur, Komalpreet Kaur and coaches Saloni and Ranveer. Co-founders and Chairman of Omni Group Sumit Suri and Hemant Suri were present, and they informed about the activities going on in the newly constructed Olympus Sports Arena in the school. A mesmerizing presentation was given by students of classes Nursery to XII in the presence of eyelids and dignitaries of the city. On this occasion, national players explained the importance of sports in life and praised the sports activities and human values going on in the school. Meritorious students were rewarded. Vote of thanks was proposed by the director of organization SN Patwardhan and Principal Satish Niranjani.
(To receive our E-paper on WhatsApp daily, please click here.  To receive it on Telegram, please click here. We permit sharing of the paper's PDF on WhatsApp and other social media platforms.)