The National Handloom Day is observed annually on 7th August to honour the handloom weavers and also highlight India's handloom industry.
Recently, the handloom industry has been hit badly and the desperation of the weavers has only been heightened by the COVID-19 pandemic. With businesses falling and market places shut down the local artisans are struggling to sell their products.
You can do your bit by incorporating the local handlooms in your next shopping spree to update your wardrobe. Take a look at the variety of fabrics and take your pick. Buying authentic handloom products will help in preserving and encouraging the art itself.
Here is a look at some of the famous fabrics of different states
Kalamkari from Andhra Pradesh
Kalamkari is a highly popular form of hand-painted or block-printed cotton textile and paintings practised in Andhra Pradesh. The cotton fabric is painted with a kalam i.e. pen, which is a sharp-pointed pierced bamboo. While Pedana and Machilipatnam are the hubs for hand block-printed Kalamkari, Srikalahasti in Chittoor district is known for the pen-drawn format. Kalamkari has been around for nearly 2000 years.
Kalamkari saree | https://lepakshihandicrafts.gov.in/
Apatani from Arunachal Pradesh
The tribal communities of Arunachal Pradesh weave their own textiles, including the Apatani. This cotton weave has nature-inspired geometric designs, with blue, red and yellowish orange being the predominant colours. The fabric is generally used to weave shawls known as jig-jiro and jilan or jackets called supuntarii. These patterns represent the life of tribal people in Arunachal Pradesh. Its craftsmen are regarded as the most progressive weavers of India.
Apatani fabric | Twitter/ @PemaKhanduBJP
Muga silk from Assam
Muga silk is a variety of silk geographically tagged to Assam. The silk is known for its durability and has a natural yellowish-golden tint with a glossy texture. It was previously reserved for the use of royalty. Muga silk can be hand-washed with its lustre increasing after every wash. Muga silk, like other Assam silks, is used in products like saris, mekhalas and chadors.
Muga silk | ANI
Muslin from Bengal
Bengal is known for its muslin, which was said to be so fine that it could pass through a ring. Super-fine handloom sarees or Taant and Dhakai jamdani sarees with geometric patterns are famous. Cotton is the most preferred fabric for hand-woven saris. Then there are the Baluchari and the Swarnachuri silk saris.
Jamdani saree | Twitter/@PIBKolkata
Bhagalpuri silk from Bihar
Bhagalpuri silk or Tussar silk is used in traditional style of silk saris from Bhagalpur, also known as "silk city" of India. Bhagalpuri silk is made from cocoons of Antheraea paphia silkworms or Vanya silkworm, native to India. Bhagalpuri silk sarees are one of the oldest art works in India. These sarees have a mellow golden hued appearance.
Bhagalpuri silk | Twitter/ @MauryaJp01
Another variety of Tussar silk is Kosa silk from Chhattisgarh. Kosa silk is known for its sturdiness and is preferred to pure silk in Chhattisgarh.
Kunbi fabric of Goa
Traditionally, the Kunbi is a cotton chequered sari in red and white with a sturdy weave good enough to be worn for farming. It is worn short above ankles with a knot on the shoulder. The Kunbi tribe is believed to be the oldest tribe of Goa.
Kunbi fabric | Twitter/ @RanchiPIB
Bandhani fabric from Gujarat and Rajasthan
Bandhani is a type of tie-dye textile decorated by plucking the cloth with the fingernails into many tiny bindings to form a design. The term bandhani is derived from the Sanskrit bandh ("to bind"). Today, most Bandhani making centers are in Gujarat, Rajasthan, Sindh, Punjab and in Tamil Nadu where it is known as Sungudi. The technique involves dyeing a fabric which is tied tightly with a thread at several points. The main colours used in Bandhani are yellow, red, blue, green and black.
Bandhani fabric | jamnagar.nic.in
Pattu shawls from Himachal Pradesh's Kullu Valley
The Himachali shawl is a light woolen fabric and it is draped around and over the shoulders and chest. The fiber used in shawls is merino wool, local sheep wool, pashmina, angora and mixture of these. Yak hairs are also used. The Kulvi designs and motifs woven nowadays have been derived from intricate kinnauri designs.
Kullu shawls | Twitter/@mygovindia
Mysore silk from Karnataka
Coming from a state that is one of the largest mulberry silk producers in the country, Mysore silk sarees are renowned for their exquisite zari work and lightweight fabric. The differentiating feature of a Mysore silk saree is a solid single colour base fabric kept plain without any patterns to highlight the intricate zari work.
Mysore silk | KSIC
Shawls from Kashmir
The textile tradition in Kashmir has a glorious history be it the Kani shawls or the Amlikar needle work. The shawls, known for inimitable tapestry design, make use of Pashm or Pashmina. The fibre normally comes from the fleece of a wild Cashmere Asian mountain goat.
Kashmiri shawls | Twitter/@CharuPragya
Kasavu from Kerala
Kasavu is a soft, white or off-white, handloom cotton cloth with gold-threaded borders that originated in Kerala. The original kasavu cloth was made by hand and the borders from golden threads. It is believed to date back to the Buddhist era. The original garments had pure gold borders, whereas the newer versions have red, green, orange etc. colors along with gold.
Kasavu sari | kasavukadaonline.com
Chanderi fabric of Madhya Pradesh
Chanderi fabric is characterized by its lightweight, sheer texture and fine feel. Chanderi is produced by weaving in silk and golden Zari in the traditional cotton yarn that results in the shimmering texture. The fabric borrowed its name from the small town Chanderi in Madhya Pradesh. This fabric can be classified into three types – Chanderi silk cotton, pure silk and Chanderi cotton.
Chanderi fabric | Twitter/ @DEFindia
Paithani from Maharashtra
Paithani sari is named after the Paithan town in Aurangabad, where the sari was first made by hand. Yeola town in Nashik is the largest manufacturer of Paithani. Paithani is characterised by borders of an oblique square design, and a pallu with a Peacock design. The kaleidoscopic effect is achieved by using one color for weaving lengthwise and another for weaving width wise.
Paithani sari | @ShefVaidya
Phanek fabric from Manipur
Phanek is commonly worn by the females of Manipur. It is just like a sarong but, Manipur Phanek has a unique style, design and color. Made up of cotton, silk and other synthetic materials. Phanek can be broadly classified into two types – Metei phanek and Tribal phanek.
Phanek fabric | isha.sadhguru.org
Eri silk from Meghalaya
Eri silk from Meghalaya is durable and strong. The thermal properties of Eri silk makes it a suitable fabric for shawls, jackets, blankets, and bed spreads. Dress materials and baby dresses are also made from Eri silk fabric because of its soft texture and moisture absorbent quality. The woolly white silk is often referred to as the fabric of peace or ahimsa silk as it is processed without killing the silkworm. Moths leave the cocoon and then the cocoons are harvested to be spun.
Eri silk | Twitter/@thebetterindia
Chaksheshang shawl from Nagaland
Naga shawls are traditional shawls with a distinctive pattern (primarily in red and black wool) made by various Naga tribes. The Naga shawls are bright red and black and sometimes yellow and a bit of blue are also used. The designs were woven into the cloth with warp or weft threads using a stick of bamboo, or even porcupine quills. Because of the nature of the loom, the designs were always linear and geometric.
Naga shawl | Twitter/ @Tat_Tvam_Asi_
Ikat from Odisha, Guajarat and Andhra Pradesh & Telangana
Ikat is a technique from Indonesia that employs resist dyeing on the yarns before dyeing and weaving the fabric.
Andhra Pradesh and, subsequently, the separated state of Telangana, are celebrated as the place of birth of Indian ikat. The most distinct ikat of Andhra Pradesh is the Telia Rumal, characterized by oil treating the yarn.
Ikat from Odisha (Orissa) is known as bandha. Ikat weaving centres of Odisha (Orissa) are Sambalpur, Bargarh and the districts of Sonepur and Boudh.
Patan Patola is the most prominent product of double ikat from Gujarat. The last few decades have seen Rajkot and its neighbouring villages produce sarees similar in design to Patan Patola but in single ikat.
Phulkari from Punjab
Phulkari refers to the folk embroidery of the Punjab. Although Phulkari means floral work, the designs include not only flowers but also cover motifs and geometrical shapes. The main characteristics of Phulkari embroidery are use of darn stitch on the wrong side of coarse cotton cloth with coloured silken thread. Motifs similar to the ones found in Phulkari are also found in Kashida of Bihar and some of the embroideries of Rajasthan.
Phulkari | en.wikipedia.org
Mirror work fabrics of Gujarat and Rajasthan
Mirror work, otherwise known as shisha, is one of the most captivating characteristics of traditional Indian handicrafts. The creativity lies in the framework of decorative and colourful stitches that hold the embellishments in place. The colour of the base fabric is usually dark, compared to the shine of the embellishments. Most renowned mirror work hails from Gujarat.
Shisha work | Twitter/@kalanjaliarts
Lepcha fabric of Sikkim
Handloom of Sikkim is synonymous to the Lepcha handloom, traditionally woven on back-strap loin loom. The weaving is done predominantly by woman folks. The traditional Lepcha fabric has intricate and colourful motifs arranged in a vertical striped pattern. It is woven out of yarns made of cotton and wool. Lepchas are known to be the first inhabitants of Sikkim.
Lepcha fabric | Twitter/@incredibleindia
Kanjeevaram sarees from Tamil Nadu
The Kanjeevaram sarees get their name from the city they were traditionally produced in -- Kanchi (Kanchipuram). Every Kancheevaram silk saree is made pure mulberry silk. Kancheevaram sarees are weaved using the Korvai technique. A Korvai saree's border and pallu are of the same color, and are in bright contrast to the "body". Unlike other silk sarees, border and pallus are not woven seamlessly but attached. The technique of attaching the border is called 'korvai'.
Rekha in a Kanjeevaram saree | File Photo
Chikan fabric from Uttar Pradesh
Chikan is a traditional embroidery style and one of Lucknow's best known textile decoration styles. Chikan is a delicate and artfully done hand embroidery on a variety of textile fabrics like muslin, silk, chiffon, organza, net, etc. White thread is embroidered on cool, pastel shades of light muslin and cotton garments. Nowadays chikan embroidery is also done with colored and silk threads in colors.
Chikan | Twitter/@tourismgoi
Panchachuli weave of Uttarakhand
Panchachuli weave is a intricate weave fabric produced by women living at the foothills of Panchachuli mountain ranges in Uttarkhand. The women weavers use sheep and merino wool, in addition to pashmina and silk – all fabrics are knitted by hand, and only natural ingredients are used in the dyes.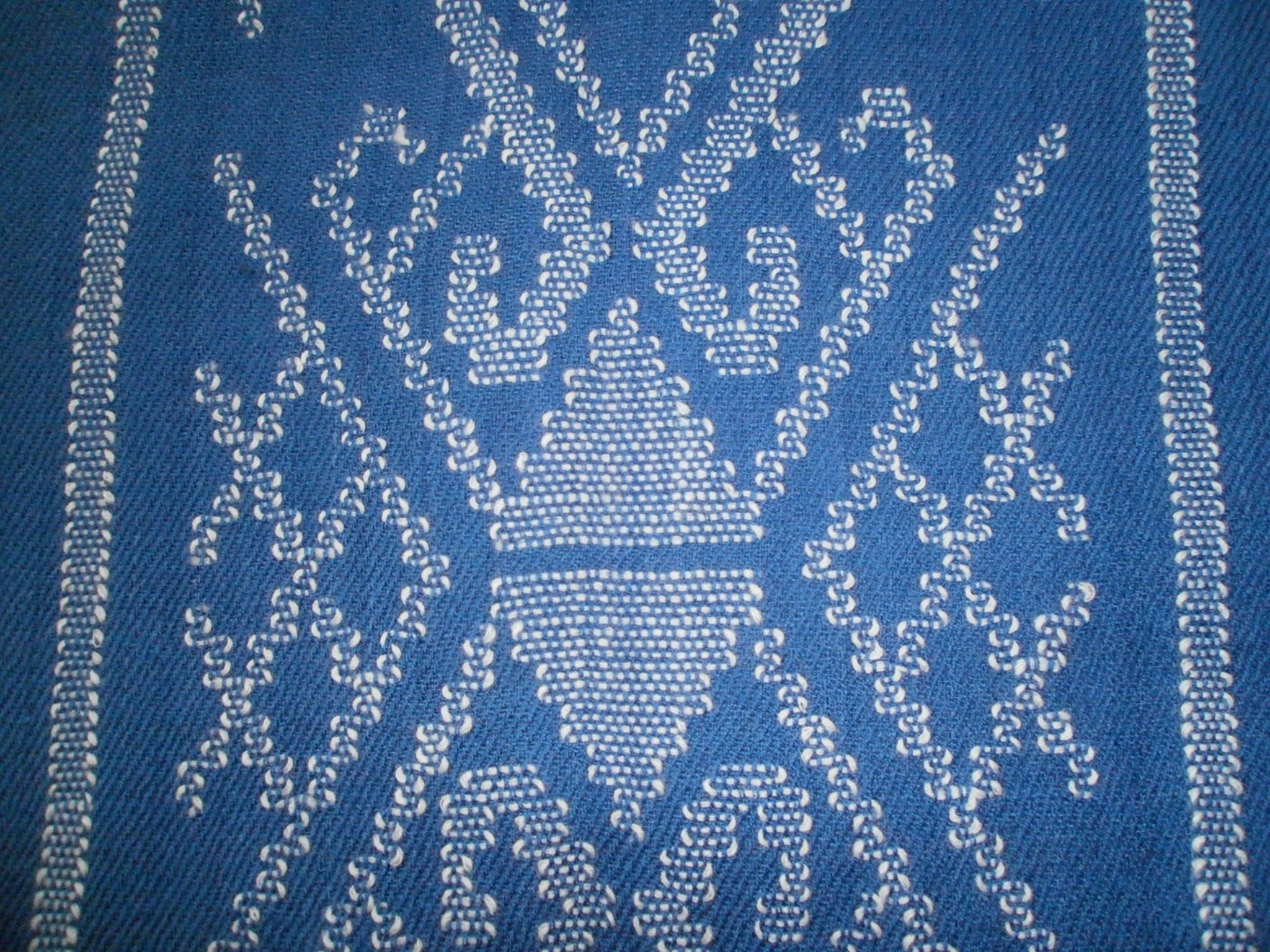 Panchachuli fabric | Uttarakhand Archive Project/Facebook
(To receive our E-paper on whatsapp daily, please click here. We permit sharing of the paper's PDF on WhatsApp and other social media platforms.)
Published on: Saturday, August 07, 2021, 11:52 AM IST