The team of Kabzaa visited Mumbai to promote their upcoming film. On March 9, after riding motorcycles across the city, the film's lead stars Upendra and Shriya Saran along with Kichcha Sudeepa (who has a special appearance in the film) and producer Anand Pandit interacted with the media. The Free Press Journal was also present at the do.
(l-r) Shriya Saran, Upendra, Anand Pandit |
Kichcha Sudeepa, who is often seen in Mumbai while promoting his pan-India films plays an interesting role in Kabzaa that is set in pre Independence era in the year of 1945. The elated actor shares, "The reason I became an actor was Upendra sir. I feel you can become stars for several reasons. I always wanted to be an assistant director but he found me good looking and suggested that I be an actor and not waste my time in direction. I took him seriously and did a photoshoot. He was the first person to whom I showed it. I am not standing here since I am a part of Kabzaa but it is also because of Upendra sir."
Kichcha Sudeepa |
He adds, "I had an opportunity to work with him in a film and Kabzaa is my second association with him. Both the films have my cameo. Upendra sir is the one, who is known for giving blockbusters from our state. Besides the scale, it is always the pleasure to work with him. I did Makkhi, Dabangg 3 and Vikrant Rona in the past and now here I am with Kabzaa."
Upendra |
Superstar Upendra is also a writer-director and he has been a reason for many to start their careers. At the trailer launch, he tells, "I am very excited for my first pan-India film. Kichcha is a talented artist and a wonderful human being. Kabzaa feels like my first movie as I am promoting it and it's nearing release. In fact, every week, I feel Friday jitters. Our film is very high on technicality, although it has multiple superstars headlining the film, the real stars of our movie are the DOP, music composer and action director. People are going to enjoy this visual spectacle. My film isn't KGF in any aspect."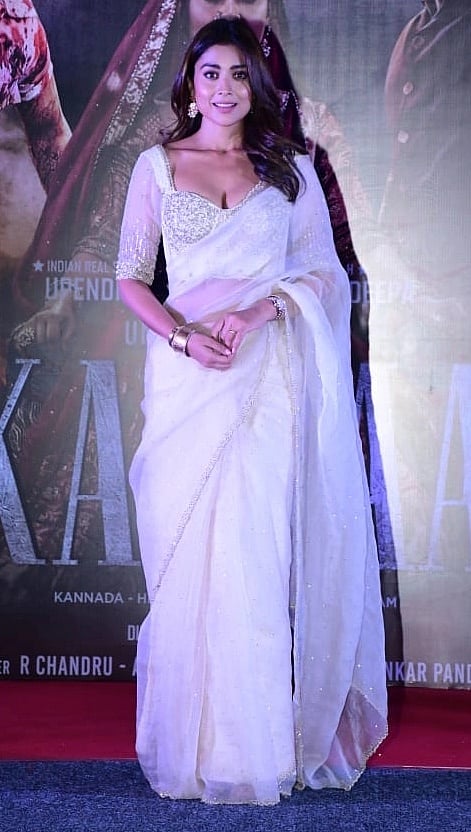 Shriya Saran |
Actress Shriya Saran, who recently gave a smashing hit at the Hindi box office with Drishyam 2, plays the role of a princess. An emotional Shriya reveals, "When I met Upendra sir for the first time, I was literally blown away. He is such a big star yet very humble. He has been there, done it all but had no arrogance or attitude about it. The film is shot in a larger than life format but it has soul to it. I always believe that the film I am going to do will be a big hit."
Shriya further continues, "The first thing which I shot about the film was the song Namaami Namaami and I am scared of action sequences. No wonder, our director R Chandru had put me in the background while doing action sequences."
Anand Pandit |
Producer Anand Pandit, who backs multilingual projects, is now gearing up for its March 17 release in theatres. With the solo window, Anand believes in good content and nothing more. "I feel if our content is good then nothing can really put us down," he avers.
(To receive our E-paper on WhatsApp daily, please click here.  To receive it on Telegram, please click here. We permit sharing of the paper's PDF on WhatsApp and other social media platforms.)