Sai Tamhankar, a popular actress of Marathi and Hindi films, swims against the tide and says, "I would rather eat everything and burn out calories than deprive myself of the food I like to eat." The Free Press Journal caught up with her for an exclusive chat on her diet and food fundas. Excerpts:
The first thing I have when I wake up: A cup of hot water.
For breakfast: I have eggs. I love eggs, I can eat eggs for 12 months straight every day.
My lunch is: Home made food. We should eat what we have grown up eating and not fall prey to the trends. I believe in home made food so I have dal, sabzi, roti and salad. Sometimes roti is replaced by jowar bhakri.
Must have in my meals: Ghee and curd. Lots of people think ghee is fattening, but ghee acts as a grease in your body and it is very nutritious. And curd is also very good for your reproductive system. Curd is a probiotic.
My evening snack: I get really hungry at 6:30 pm and I think that's my dinner time. So when you get the most hungry, that is your meal time. I have my dinner by 7:00 or 7:30 and for dinner I'm a puri bhaji girl.
My fitness regime: I don't follow, I am a very moody person in general so I do a mixture of strength training, cardio and kickboxing.
Foods I consciously have and avoid: I ensure that whenever it is possible, I carry a dabba from home. I don't like eating outside but when there is no option I prefer to have lots of protein. I avoid fried food and I am not a fan of aerated drinks and sweets. So I think half my battle is won.
My idea of a romantic meal: Cooking together and serving the food together. If I have to go out for a romantic date, a nice cosy cafe in Paris would be perfect. For me, if I am in good company, all meals taste delicious.
The weirdest food I've ever had: Ice-cream and rice. My character in a film relishes ice-cream and rice. And trust me, rice with mango ice-cream is worth giving a try.
My favourite cook in my family: My grandmother, I miss her a lot. After my grandma it is my mom. Her food is insanely good. I love the food she makes. Certain dishes one likes to have only from one's mother's hand. It's a sort of a tradition, a special emotion.
Favourite restaurants: I love Indigo Deli. I think they have amazing food. There are also small joints in Mumbai that I love. There is this place, which is run by an aunty near Malad, and she serves the most amazing paya soup. It's the best that I have ever had. These are small places which are nameless and people who are not famous.
My favourite cuisines: Maharashtrian, Indian and European.
My favourite drink is: Coffee. I am addicted to caffeine. I'm a huge fan of black coffee without sugar. As a result, I carry my percolator and hot plate with me.
During summer I like to drink: Coconut water and buttermilk.
During winters: I love my green tea and hot chocolate.
Tip for readers: One should eat everything that one likes. Being on a diet does not mean that you don't eat. Diet means eating in moderate quantities, and watching what you're eating. In my opinion, eat well and work out harder.
Recipe of Pitla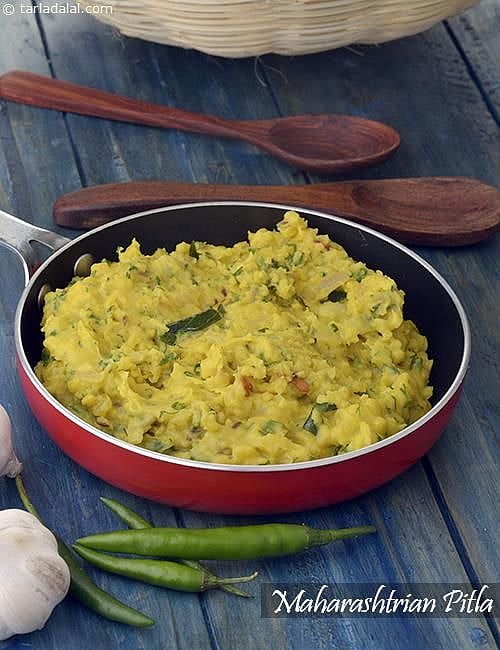 Representative pic of Pitla | Pic: Pinterest
Ingredients
3 tablespoon oil
1 teaspoon mustard seeds
1 teaspoon cumin seeds
1 onion (finely chopped)
8 to 10 cloves garlic (finely chopped)
1 cup milk
1 cup water
Salt to taste
2 teaspoon red chilli powder (or as per taste)
1 tablespoon onion and garlic masala
Handful of coriander leaves finely chopped
1 cup gram flour
Method: Heat oil in a kadai, add mustard and cumin seeds. Once they crackle, add garlic and onions. Saute the onions on a medium flame till light golden, immediately add milk and water. Mix well. Add salt, red chilli powder and onion garlic masala. Immediately start stirring continuously to prevent the milk from curdling. Add coriander leaves and continue to stir. Once it comes to a boil, add the gram flour and keep stirring till you get the desired consistency. Serve hot with bhakri or chapati.
(To receive our E-paper on WhatsApp daily, please click here.  To receive it on Telegram, please click here. We permit sharing of the paper's PDF on WhatsApp and other social media platforms.)