There was a time when a saas-bahu serial meant Tu Tu Main Main, starring Reema Lagoo and Supriya Pilgaonkar. The 1994 sitcom was about the fun love and hate relationship between mother-in-law and daughter-in-law, minus the melodrama. In the months before the year 2000, there was a doomsday prediction that a 'Y2K bug' would affect computers globally. Although like most end of the world conspiracies this too turned out to be false — the new millennium did bring with it another threat, albeit of a different kind — the new saas-bahu serials. Before you knew it, stupidity, regression and the real 'brain drain' had taken over India like a zombie apocalypse. The golden age of TV was dead.
But, just like there is a method to madness, there was method to this mental asylum, too. And in order to understand why the content on TV soaps, till date, is so deplorable, one needs to know their modus operandi.
Actor Pallavi Joshi, who was part of the hit show Arohan on DD National in 96-97, breaks it down for us. "Those days we didn't have daily soaps, we did only weeklies. They wouldn't do more than four or five episodes a month. And we would take very typically, anything between 14 to 16 days to shoot these episodes, which meant that we had at least two and a half to three days to shoot every episode, and hence do proper justice to each scene."
"With the advent of daily soaps what happened is that you have 22 episodes in a given month and on regional television like Marathi, Bengali and Telugu, there are 26 episodes monthly because they run the series Monday through Saturday. Actors are stressed out because everybody else can work in shifts, but not them. Acting is all about emotions, so if the actors don't get time to de-stress, then they wouldn't be able to put in intensity in their performances too. Then everybody is superficial — the director, creatives etc, which is why there is an amazing amount of mediocrity and regression in TV," explains Joshi.
But ever since game changers like Netflix and Amazon entered the market, there is a belief that Over-The-Top (OTT) could be bringing back the golden age of Indian TV. Once again, there is a practical reason as to why this is possible. "OTT actually allows filmmakers to make shows that they believe in rather than catering to the market, which is a huge difference between television and OTT. I can tell a story without having to burden myself with thinking whether people in the city or villages like it or not. OTT is a bigger, better format of television. And the best thing is that it's on demand," says Rohit Roy, who made his debut in the 90s with Mahesh Bhatt's Swabhimaan.
Vishal Singh, or Sanju, from the sitcom Dekh Bhai Dekh is really happy with the kind of shows on OTT platforms, The Family Man being one of his favourites. "OTT is 100% bringing back the golden era of TV. When I'm watching these shows I tell myself this is the kind of stuff we used to make back then," he says.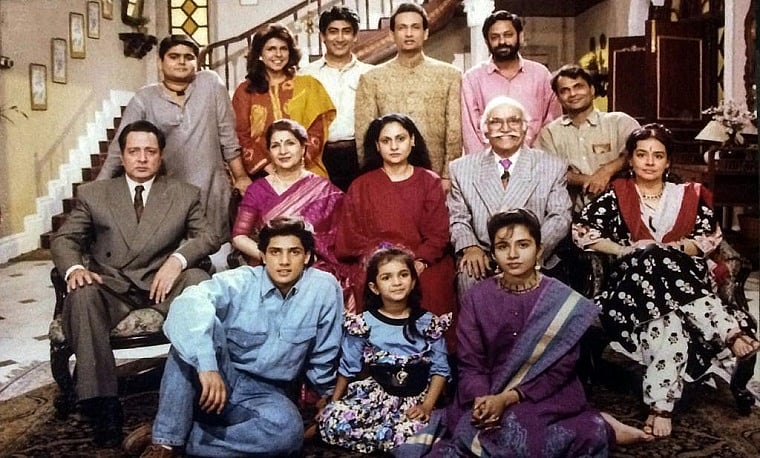 But a niggling fear is that this too might eventually give way to mediocre content, like it happened before with TV. However, like Roy says, "Whenever there is an influx of varied people working on a medium, there's bound to be some kind of mediocrity which is sure to seep in slowly but surely. But the quality of checks on most platforms will make sure that it's a minimal affair."
But to give credit to the devil, we should also try to see positives in the negatives. For all that the saas-bahu serials did, they also gave us enough meme content and parody material. The most recent example being the runaway viral video, Rasode mein kaun tha?, by music composer Yashraj Mukhate, based on a clip from the 2010 Star Plus series Saath Nibhana Saathiya.
As far as views on too much sexual content on OTT are concerned, this is what Navneet Nishan, who played the title role in the cult serial Tara has to say. "A lot of the OTT shows have the use of abusive language or extra sexual content, but that is bound to happen and will eventually settle down. Since it's a brand new game, everybody's jumping into it with more and more shocking content, because that's what we are starving for. The audience has also been starved of such content due to sensor restrictions," she explains.
Baba Sehgal, who made a comeback with quirky videos like Chicken Fried Rice and had anchored the show Superhit Muqabla in the 90s, has his own unique take on the matter. "The DD Metro channel on which Superhit Muqabla used to air was the baap of all the OTT channels combined together. Every era is different and comes with its own ups and downs. I don't really watch any Hindi content on OTT except few films here and there on Netflix, but I prefer Spanish series more than anything else," says Sehgal.
But we leave the final word with Ratna Pathak Shah, who played Maya Sarabhai in Sarabhai vs Sarabhai, a glimmer of hope that had emerged in 2004 in the comedic saas bahu genre.
"I think it's premature to start calling anything a 'golden age.' There was none earlier and there's certainly none in sight yet. We made a few good serials earlier and just as we were getting somewhere, the saas-bahus took over! Fingers crossed now, but don't forget we Indians are good at snatching defeat from the jaws of victory!" she says, in true Maya Sarabhai style.
(To receive our E-paper on whatsapp daily, please click here. To receive it on Telegram, please click here. We permit sharing of the paper's PDF on WhatsApp and other social media platforms.)