(The Free Press Journal publishes articles by study abroad consultants, Consulates, foreign universities, international students, and much more every Saturday to give its readers a glimpse of the world of overseas education.)
In recent years, Australia has emerged as one of the most popular foreign destinations to earn a degree in STEM or Business courses. Various courses in the field of STEM and Business Administration are offered by illustrious universities in Australia. Chemical Engineering, Computer Programming, Mathematics, Statistics, Medicine, etc, are some of the vital streams in STEM courses famous among the students who aspire to study in Australia.
The nation is home to the world's finest academic institutions that impart dedicated training in STEM and Business courses. As per industry experts, almost 75% of the fastest-growing career streams will require STEM skills in the future, and those who possess them will be an asset for the respective businesses and industries they are working in.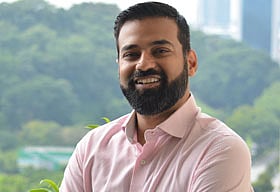 Abhinav Mital |
The hybrid model of education: Australia is one of the finest countries in the world that impart marvellous education, which is recognised worldwide. Though factors like high cost of living, expensive course fees, stringent visa process, selection of a good university, etc, can be challenging, there is hope for ambitious students. The option of a Hybrid model is a choice that can help the students acquire a degree in STEM and business courses from Australia. Once the student's first academic year has been completed, they can go to Australia to pursue the remainder of their course durations on campus. The comfort and convenience that the hybrid model offers have made it a popular choice to attain higher studies among students. It is significant to comprehend that a hybrid model is a cost-effective option as students can save a substantial amount of money by pursuing the first year of their intended courses at home. A hybrid model not only saves money but also prepares students by granting them exposure to distinguished academicians in the first year that can help them get accustomed to the Australian model and style of education.
Cost of STEM & Business courses: One of the most significant aspects of studying abroad is the proper knowledge related to the course fee for diverse courses. It is significant to understand that STEM courses fall under the advanced level of education in Australia. Various aspects such as University, the particular stream of STEM/Business courses etc, play a vital role in the formulation of fee structure for various courses. The cost of studying STEM programs in Australia ranges from AUD 28,000 (INR 16,03,696) to AUD 64,000 (INR 36,65,195) per year. The annual tuition fee for pursuing a business course in Australia varies from AUD 32,000 (INR 18,27,966) to AUD 46,000 (INR 26,34,812).
Scholarships for STEM & Business courses: Scholarships can be an efficient way to finance the course fee for foreign education. Many universities and academic institutions in Australia grant scholarships to meritorious students. Both undergraduate and graduate students are eligible to apply for STEM scholarships in Australian colleges and universities. While some STEM scholarships are granted for a specific number of years, others may only be awarded once. The monetary amount of scholarships awarded by different educational institutions in Australia for various academic courses (STEM & Business) may vary from AUD 36,000 (INR 20,62,829) to AUD 48,000 (INR 27,50,439) for the whole tenure of undergraduate and postgraduate courses.
Australia with its niche potential in higher education, world-class infrastructure, and exquisite academic environment can be an excellent foreign destination for students, who aspire to earn a prestigious degree in STEM and Business courses.
The author is the Co-Founder of The WorldGrad.