Umaria (Madhya Pradesh): Jodhaiya Bai Baiga, a tribal artist from Madhya Pradesh's Umaria district who was been shortlisted for Padma Shri, the fourth highest civilian honour of the country, is still looking for a pucca house. As per NDTV report, the administration has not been able to provide the 83-year-old Baiga Art mural painter a house even after she was promised one by Prime Minister Narendra Modi himself.
Jodhaiya Bai was awarded with the 'Nari Shakti Puraskar' last year by the President in Delhi. At that time, she also met PM Modi and shared her plight. She said, "I hugged Modi-ji and shared my pain about not having a pucca house, after which he promised that I will get one".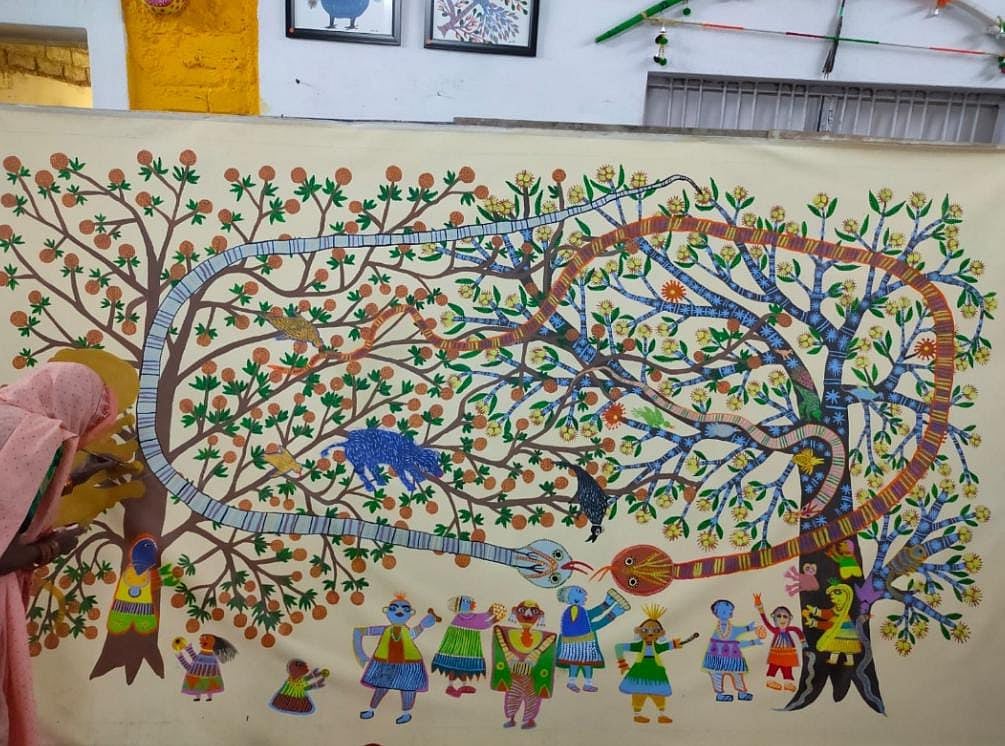 FP Photo
10 months since the promise...
Almost 10 months have passed since she was awarded the Nari Shakti Puraskar and now the tribal artist has been selected for Padma Shri, but the promise of a pucca house still remains to be fulfilled and she still lives in a house made of mud in Lorha village. Jodhaiya Bai has also visited several government offices in this regard in Umaria as well as in the state capital Bhopal but to no avail.
"With folded hands, I request both PM Modi and Chief Minister Shivraj Chouhan to give me a pucca house," she added.
Name not in the list of PM Awas Yojana beneficiaries
When asked about why the Padma Shri nominee has not been provided a pucca house yet under the PM Awas Yojana, senior panchayat official, KK Raikwar said, "Her name does not figure in the list of beneficiaries of the scheme. Her two sons have been given houses in the same area because their names are on the list." He further added that the state government will have to take a decision in this regard now.
FP Photo
A labourer who picked up the brush
Jodhaiya Bai Baiga has an inspirational story backing her achievements. The tribal artist worked as a labourer till the age of 60. Her two sons are labourers as well. Jodhaiya Bai's mentor Ashish Swami, who passed away in 2021, trained her in making Baiga paintings and within a span of 20 years she started making headlines on an international level for her artistry.
What is Baiga Art?
Baiga Art is the traditional art form of the Baiga tribe and it depicts the imaginations of the people of the tribe through mural paintings. According to Ashish Swami, "People of the Baiga tribe see Lord Shiva in trees and tigers. That is why they depict Lord Shiva as 'Baghasur' and trees. Baiga people also decorate their houses with this art."
(To receive our E-paper on WhatsApp daily, please click here.  To receive it on Telegram, please click here. We permit sharing of the paper's PDF on WhatsApp and other social media platforms.)