Bhopal (Madhya Pradesh): It has not been an easy ride for Adil Altaf, a rare cyclist from Jammu & Kashmir who won a bronze medal in the Individual Road race (100 KM) event at the ongoing Khelo India Youth Games 2022 Madhya Pradesh in Jabalpur today. The teenage cyclist from the valley state wants to use this platform once again in pursuit of excellence in such a demanding sport at the international level.
The 19-year-old, son of a tailor who created waves in last year's KIYG at Panchkula, Haryana by striking gold in the 70 km road race and a silver in the 28 km time trial, was in Delhi to participate in the track cycling segment of his event – individual pursuit and then travelled to Jabalpur of Madhya Pradesh on Sunday to complete in the road cycling leg.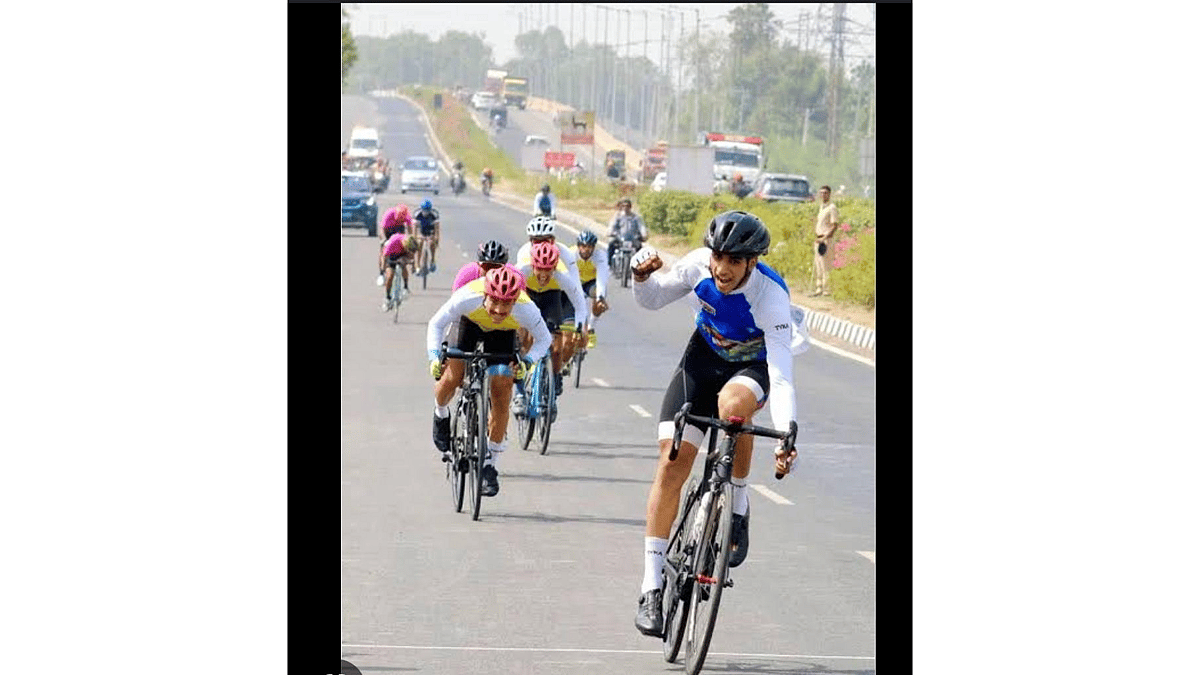 Altaf, now 19 and a Khelo India athlete since 2019, after he finished in the top five of his event there, trains in Sports Authority of India's Patiala complex for certain months of the year. ''The problem, however, is that of continuing with my programme once I am back in J&K. I appeal through you to the government to sanction one good cycling coach there,'' he pleaded.
As a kid, Altaf used to pedal through the crowded bylanes of Lalbazar area in Srinagar – running chores for his father's shop – dropping or picking up materials for him. When barely 15, he took part in his school event in Kashmir Harvard and finished third. This made him pursue the sport and as he began to win in local events frequently, the State Bank of India in Srinagar came to his aid, sponsoring his MTB bike, costing Rs 4.5 lakh.
It's not often that one associates a J&K athlete with the sport of cycling, but Altaf says that there are enough youngsters ready to pursue the sport with a little help. ''The conditions there are actually conducive to this sport as it's much like parts of Europe, which hosts most of the major Tours. There are plains, uphill rides and gradients while your heart beats more for intake of oxygen as the air is thin…this helps in building the endurance levels,'' the articulate Altaf added.
The expensive nature of the sport, according to Altaf, is what forbids the Kashmir youth from taking it up. ''It's not something like cricket or football as the price of a basic racing cycle starts from Rs 2 to 2.5 lakhs and sky is the limit for the highest models. I am, indeed fortunate, that I train in SAI but then the conditions get really harsh in winter back home, you have to remain indoors,'' he said.
Now that this is Altaf's last appearance at Khelo India because of the age-limit, the bigger challenge of breaking into national reckoning is next on the cards. ''The trials for the Asian meet are coming up in another 15-20 days. I will give it a shot despite all odds,'' he added.
The Khelo India programme has given Altaf a platform and kickstarted his dreams, but only time can tell if he can raise the bar from here!
(To receive our E-paper on WhatsApp daily, please click here.  To receive it on Telegram, please click here. We permit sharing of the paper's PDF on WhatsApp and other social media platforms.)