In January 2020, alarm bells were already ringing. India had s slipped from #78 in ranking on corruption last year to #80. The ranking was on the Corruption Perceptions Index (CPI-2019), said Transparency International (TI). It also questioned the "unfair and opaque political financing" in the country. India's score of 41 out of 100 remained the same.
By 24 November 2020, yet another survey by TI showed that 47% percent people surveyed in India, believe that corruption has increased over the past 12 months. This is even though as many as 63% believe that the government is doing a good job in tackling corruption. Really?
The TI report also showed that India has the highest overall bribery rate (39 per cent) and highest rate of citizens using personal connections (46 per cent). This was markedly much more than either Indonesia or China who ranked second and third among people using personal connections (36 per cent and 32 per cent respectively).
Discomforting findings
There are other damning findings. Nearly 1 in 5 people who used a public service in the past 12 months paid a bribe. Not surprising, if you know how even clerks in crematoriums and mortuaries demand gratification. That means that almost 280 million people in India paid bribes, often for services that should have been their birth right.And, sadly, many of these people belong to the category referred to as below the poverty line (BPL). Clearly, bribe-takers has no qualms about preying on this category as well. Additional details on methodology and numbers can be downloaded from this link.
If further proof were required, just pay heed to the government's own admission. It stated that of the 72 absconding economic offenders, the government has managed to bring only two in the past nearly six years, as per a reply under the Right To Information (RTI). No prizes for guessing whey the did not get apprehended or prosecuted.
As pointed out by these columns earlier, the government loves playing to the gallery than in taking concrete action. Instead of catching self-styled godmen who have taken huge amounts of money from India, set up a self-styled island republic and even issuing its own currency, the government chooses to hound wealth generators and employment creators like Vijay Mallya. It could have settled with him and let him continue generating wealth for India and its people. Instead, you have a lot of sound of fury, signifying nothing.
It comes back to the seriousness with which the government deals with corruption and wealth generation. It has spent more legislative time in playing political games – with the likes of the CAA (Citizenship Amendment Act, 2019), cattle slaughter, defaming tablighis (with and some states trying to legislated "love-jihad" -- than in rooting out corruption or in generating wealth.
Just look at the way the government rushed through the CAA, even ignoring widespread protests across India. Yet when the rubber hit the road, it was found that it had not even framed the rules to deal with the influx of people from Pakistan who tried to take shelter under the CAA. The hopeful migrants returned to Pakistan than deal with the unending (and corrupt) bureaucracy in India.
Eventually, each of these bribes has pushed up the cost of doing business in India. Coupled with terrible dispute resolution processes – court cases can take a number of years to get resolved, sometimes as many as 20 years – it is no surprise that foreigners are loath to invest in India (http://www.asiaconverge.com/2018/02/anxious-times-for-fdi/).
It also explains why government-owned banks account for over 84% of the bad debts in the country.
ALSO READ
The double vision of the guys at RBI
It also raises awkward questions about the government's intent when it wants to link Aadhaar cards with PAN cards and bank accounts, despite knowing about the existence of bogus Aadhaar cards. It also makes one wonder why – when there are so many urgent economic issues to be resolved, including bringing corrupt businessmen, bank, and government officers to book – the government is keen on allowing corporates to own banks. Is that to make frauds easier? Is that the new definition of improving the ease of doing business in India?
Is a solution possible?
Yes, of course. Three solutions.
First, do not criminalise bribe-giving. As the charts above show, many people are compelled to give bribes. Why should they be penalised for succumbing to extortionate demands from government officers? The former chief economic adviser, Kaushik Basu, had strongly recommended reducing penalties (even abolishing them altogether) for bribe-givers, but coming down hard on bribe-takers. That will embolden bribe-givers to come forward and register complaints against bribe-takers. Today, given the quantum of punishment, no bribe-giver wants to come forward and complain. That only emboldens bribe-takers a great deal more.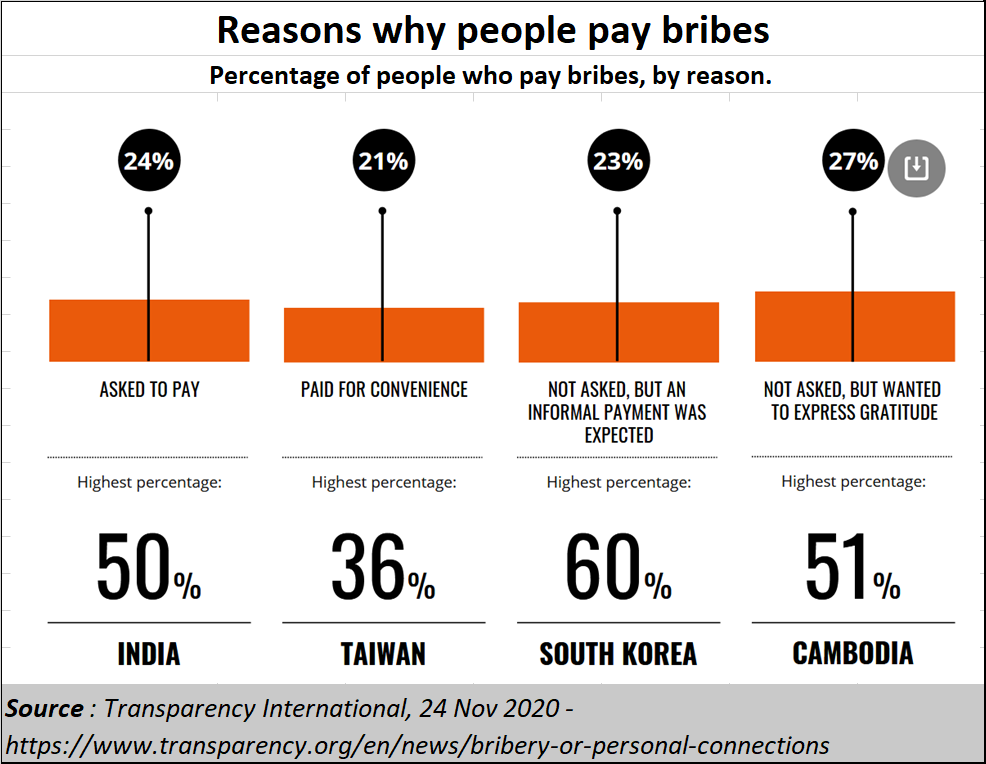 Second, remove the protective shield around government officers. Currently, no citizen can prosecute a government officer till sanction to prosecute is given by his immediate superior. That can be interpreted as a collusive arrangement. The courts have frowned on this, but the practice continues. Let officers accused of corruption be prosecuted.
Third, speed the time taken to prosecute the guilty. To make this happen, increase the number of judges – a demand that has been made again and again. At the same time, allow the complainant to complain against the police, for not completing investigations quickly, for any badly-drafted charge sheet (which allows the accused to go Scott free) and for allowing evidence and witnesses to be 'tampered' with.
Of course, all this depends on whether the government is actually serious about preventing corruption. At the moment it appears that it is more interested in talking about stopping corruption than preventing it.
One hopes that this will change.
The author is a consulting editor with FPJ.
(To receive our E-paper on whatsapp daily, please click here. We permit sharing of the paper's PDF on WhatsApp and other social media platforms.)
Published on: Monday, November 30, 2020, 11:43 AM IST