"It's time to return to society and let students benefit from my knowledge and experience," says a notably mellowed Subhash Ghai. The filmmaker with a long string of successes behind him is presently most absorbed in his film school Whistling Woods which he says has 1000 students at this time. But Ghai is still gung ho about filmmaking too. He admires both the calibre and number of actors available today but also laments a lack of thairaav. "Most talents are in a hurry to be successful. Music, poetry, storytelling all require composure and patience." The veteran filmmaker is one of the few Hindi film celebrities who claims: "I am happy both professionally and personally."
Excerpts from an interview:
You have employed Holi as the backdrop in a pivotal Saudagar sequence. How significant is Holi in our films?
Holi in Hindi films has highlighted the appeal of the festival of colour, fervour and joy. As a festival, Holi promotes unity in diversity and love across the boundaries. Hindus, Muslims, Sikhs all participate in Holi celebrations. Hindi films have often used Holi as a tool of drama.
Like in Sholay when Gabbar and his dacoits attack the villagers revelling in Holi celebrations.
Yes, what we call rang mein bhang.
Any interesting memories linked with Holi?
My friend Shatrughan (Sinha) and I would drive together to attend Raj Kapoor's lavish Holi at RK Cottage, Chembur. Raj Kapoor celebrated Holi in a big way inviting everyone from stars to unit workers. Later, I would host Holi at my Madh island home. I would invite one person and he would bring four friends... but it's alright; that is the spirit of Holi.
Raj Kapoor was called the showman, and subsequently the epithet passed on to you...
I did not succeed Raj Kapoor as a showman. Like him, I was considered a showman because of our Punjabi flamboyance. I had become quite close to Rajji. Besides attending his Holi bashes, I was also the scriptwriter of Khan Dost starring Raj Kapoor and Shatrughan Sinha.
You have been a filmmaker for 46 years now. What is your relationship with success and failure?
I have seen both success and failure; and failures have taught me three times more than success. After success, I just learn to be humble, but after failure I think: What I should do now? What should I change? What should I learn? Failure is the biggest blessing. If you accept failure and don't become bitter, you grow. Our biggest problem is that we listen too much to what people are saying. People laugh at you and discourage you after a failure, but don't worry about them; instead analyse your failure, reboot your thoughts and correct yourself. Success is always there; failures are intervals. It's good that I fell... Now I will become even better. I thought in this manner and that's how I hit a six again, and also got bowled for a duck. Only someone who has the courage to be bowled for a duck can hit a six.
You gave Madhuri Dixit and Jackie Shroff a second chance when they were diamonds in the rough. Would you say you have the talent for discovering talent?
I can't claim that because many people who I have rejected also went on to prove their talent later. What I look for in a newcomer is goodness and honesty. When I met Madhuri or Jackie for the first time, what impressed me was their innocence. They spoke with absolute honesty that they did not know anything, but were willing to learn. Your tongue and mind can lie, but not your face which is your true mirror. They were, and still are, very honest, neat and clean people and I am friends with them after 30-40 years. I am once again making a film with Jackie.
Before casting Vivek Mushran in Saudagar, I asked him three questions -- Do you know dancing, acting or singing? He said no to all three questions. And I cast him as the hero based on these three lines! Some people come with full makeup and attitude or boast about their YouTube or Insta, but what you should catch is the chords of the heart.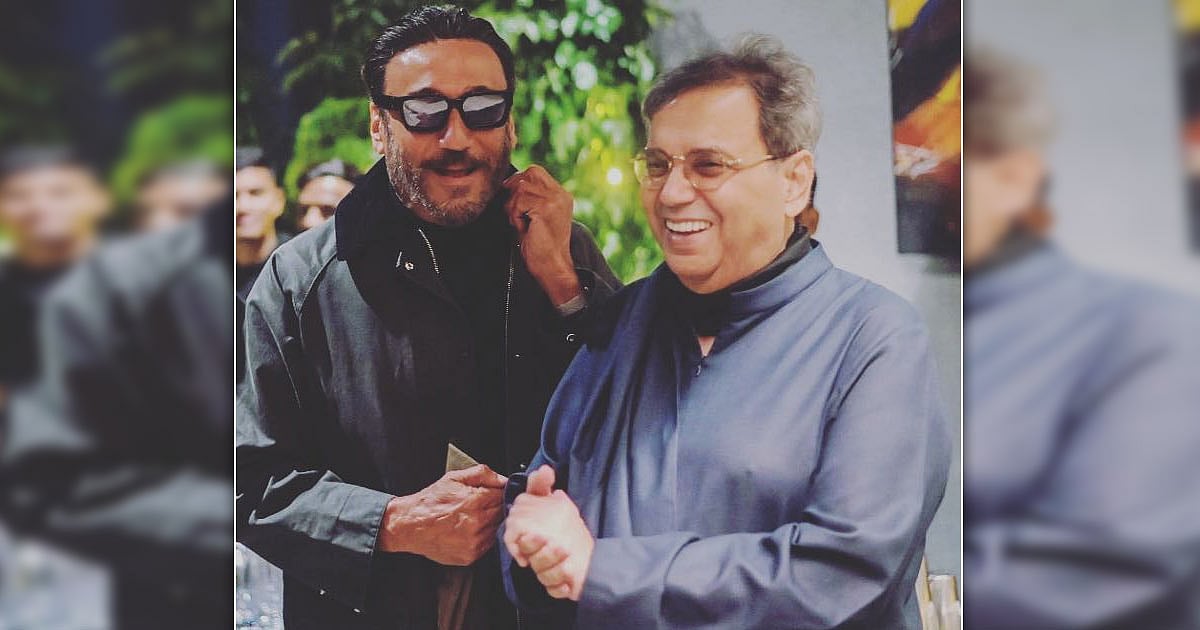 So, a willingness to learn is crucial for a newcomer?
For everyone. Till date, I say I am a student who is still learning. I have learnt so many things from my students at Whistling Woods and my young friends... I try to learn about their changing attitudes, values, approach, interpretations. Don't be stubborn about clinging to your thoughts, instead keep yourself updated. Accept all, respect all.
You had once told me that you wanted to work with Shabana Azmi, which was surprising considering you were known for different genres of cinema.
I still maintain that I haven't worked with Amitabh Bachchan and Shabana Azmi though I always wanted to. I think Shabana Azmi understands the art and craft of acting with absolute accuracy. But I haven't cast her in my films. She is also a friend and I tell her that I feel a huge responsibility when I have to write a script for you... I want to present you better than before but you have already done such excellent work that it becomes difficult.
You just revealed that you have cast Jackie in your next film. It's been 40 years since you made him a star with Hero in 1983. What makes this rare, four-decade-long unbroken association work?
Most actors come into a director's life on leave and license arrangements. I launched Anil, Madhuri, Meenakshi, Mahima but they finally found their own space. Fair enough; that's the way of life. But in Jackie's eyes I see indebtedness and loyalty even today. I find loyalty a very attractive quality. My film with Jackie is going to make him a superstar. I am presenting him in a new avatar.
(To receive our E-paper on WhatsApp daily, please click here.  To receive it on Telegram, please click here. We permit sharing of the paper's PDF on WhatsApp and other social media platforms.)