The use of colour as a therapy, known as chromotherapy, dates back thousands of years; proof of this can be established from ancient scripts from India, China and Egypt. Colour therapy is a holistic, non-invasive and potent drill, and can be achieved by practising these vibrations of energy to bring about adjustments in our own human energy fields, thereby altering our balance in our day-to-day lives.
People can have a leaning towards particular colours. "They often associate specific hues with certain mood states. For instance, warmer colours like oranges and reds represent warmth or stronger emotions," says Kamna Chibber, Head of Department, Mental Health & Behavioural Sciences, Fortis Memorial Research Institute, Gurugram.
Colour choices can indicate where there may be an imbalance of colour which can highlight a potential problem; whether emotional, physical, mental or spiritual and can give indications of personality issues which may need to be addressed.
Vobgyor vibes
Colour has been an inevitable part of not just the rainbow but our lives and vocabularies; most importantly of our spiritual being. Ever wondered why you choose to wear pink coloured outfit today or felt more at ease in a room with orange coloured walls? Colours influence your mood, personality, feelings and even your physical energy.
Facebook
Akshita Gandhi, an internationally renowned artist and philanthropist, believes that colours play an important role in shaping our lives. "Each colour of the rainbow holds its own oscillation, it is associated with our internal chakras, and possesses certain peculiarities that influence our mental state. Certain colours can inspire delight, agitate, evoke creativity, sensuality, hunger or even relaxation, and a multitude of other emotions and feelings."
Your preferred colours can give out a lot about your personality and your inclinations, from everything about your physical well-being, state of mind to something as banal as whether you are hungry or not. For instance, blue is an appetite suppressant while yellow and orange can stimulate appetite.
Colours to heal
It should be used as part of our everyday life. As a therapy it can be used safely and effectively – either alone or alongside any other therapy. Colour is simply light of varying wavelengths, and is a form of energy used in Chromotherapy. This light touches all living cells and if used in a proper way, these different frequencies of light or colour can have an intense and healing influence on all.
Holistic Guide Nupur Alankar, opines, "Colour energy acts as a catalyst towards speeding a healing process and encourages normal and healthy workings of the body. It can be used for specific problems as well as an overall relaxation therapy."
Chromotherapy |
Workspace colours
As for home decor, it plays a monumental role. Colours that are chosen for a project can affect a person's mood and state of mind. The impression of a colour and the connotation it conveys is of utmost importance in creating the psychological mood or ambiance that supports the role of a space. "Having mint green in your workspace brings growth and prosperity and surrounding yourselves with yellow ensures you're always feeling uplifted and jovial. I would also highly recommend using earthy tones and neutral colours in living spaces as possible. We have to realise that we go through a lot of moods and emotions throughout the day and when we are dawdling in a living space or any kind of space, which has neutral tones, it allows our moods to pass with ease because they are transient," suggests Akshita.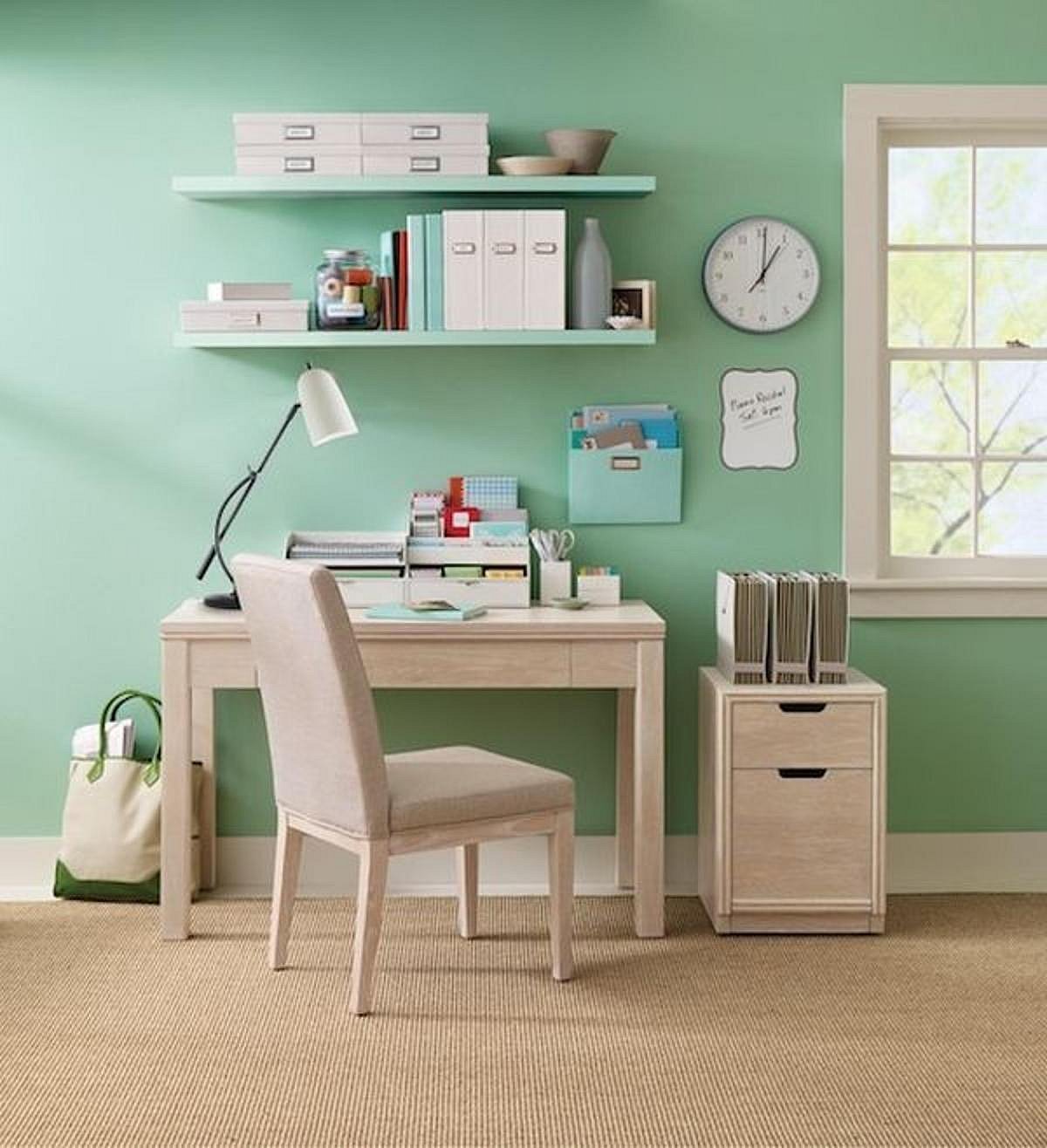 Pinterest
Here's how you can colour code your space...
Green:
Effects --Balancing, harmonising and boosts forbearance and understanding.
Recommended zones: Can be used for most areas. Use with other colour as well to circumvent too much of balance and harmony akin to total dormancy and uncertainty.
Red:
Effects -- Revitalising, rousing the sentiments. Kindles appetite.
Recommended zones: Any bustling area but pay attention to the space in which it is used. Red has the ability to make a space appear smaller and can be claustrophobic or oppressive. If applied appropriately, red and its variants can offer warmth and comfort.
Blue:
Effects -- Soothing, peaceful, therapeutic. Also the colour of communication
Recommended zones: Any room other than those used for physical activity or play.
Orange:
Effects -- Warming and stimulating. Can stimulate ingenuity and creativity. It is the colour of fun and affability and openness.
Recommended zones: Any activity area and creativity area. Not ideal for bedrooms or study area.
Indigo:
Effects -- Sedative, hypnotic; helps to open up your sixth sense; the hue of spiritual awareness and evolved mind.
Recommended zones: Not suitable for areas of amusement but more for serene places like bedrooms, treatment rooms, spa rooms, library or study.
Yellow:
Effects -- Encourages mental activity, creates feeling of self-assurance, helps us to stay vigilant and cautious.
Recommended zones: Activity rooms; entrance halls; not for bedrooms as yellow can inhibit sleep since it tends to keep our minds "switched on".
Violet:
Effects -- Relaxing for both body and mind. Ideal for meditation, introspection and prayer. Cathartic and cleansing.
Recommended zones: Places of worship. Entrances to clinics and hospitals. Pale violet in bedrooms.
Pink:
Effects -- Pacifies and nurtures. Helps to thaw rage and motivates unconditional love.
Recommended zones: Most suited for an infant or child's bedroom.
Black:
Effects -- Black used with another colour heightens the strength of that second shade.
It provides us the space for retrospection, observation and inner quest.
Recommended zones: Improper to be used as a single colour, but when used with caution, can augment and balance other colours in almost any setting.
White:
Effects -- It holds all the colours. It underscores transparency and brightens up our beliefs and opinions, giving us clarity.
Recommended zones: Any room; Needs to be dispersed with another colour or with plants, pictures, wall decor etc. to be less daunting.
(If you have a story in and around Mumbai, you have our ears, be a citizen journalist and send us your story here. )
(To receive our E-paper on WhatsApp daily, please click here.  To receive it on Telegram, please click here. We permit sharing of the paper's PDF on WhatsApp and other social media platforms.)