"A good friend is like a four-leaf clover, hard to find and lucky to have!" — Irish proverb.
It holds true of five set of friends who are from different walks of life but share a common trait – unconditional love and abiding loyalty for their friends.
Nandita Om Puri (author) -Suparna Roy-Gina
"I may not talk to Chumki, aka Suparna Roy, and Gina every day; but when we do, we instantly pick up from where we left ... and that I think is true friendship.
Chumki and I must have been in the 8th grade when we immediately bonded over our tomboyishness. We were such pranksters! From ringing people doorbells and running away to beating up the Romeos during the Durga Puja times to attending all night musical concerts, we were a riot. Chumki is now a teacher.
When Chumki and I went to different colleges, Gina Mehta became my bestie at Loreto college. Gina loved my homemade food and I found her dal-rice college lunch (she was a boarder) delicious.
On weekends, her then boyfriend, Dikky, would take us to the Pink Elephant disco at the Oberoi Grand. Way past midnight, I'd sneak into the hostel with Gina and sometimes hide under the bed if the sister was on her midnight rounds.
Gina's father was a strict Zoroastrian and Dikky a Nepali Hindu so Gina's boyfriend masqueraded as mine while visiting her. Ultimately, everything was revealed and they were married. Gina is a home chef and she not only fed Om discreetly with chicken and parathas but also sometimes wrote love letters on my behalf. She does have a temper though and we have fought and made up a million times.
My friendships work because none of us stand in judgement. There are no agendas, just unadulterated friendship."
As told to Dinesh Raheja
'She took pains to introduce me to girls whom I could date'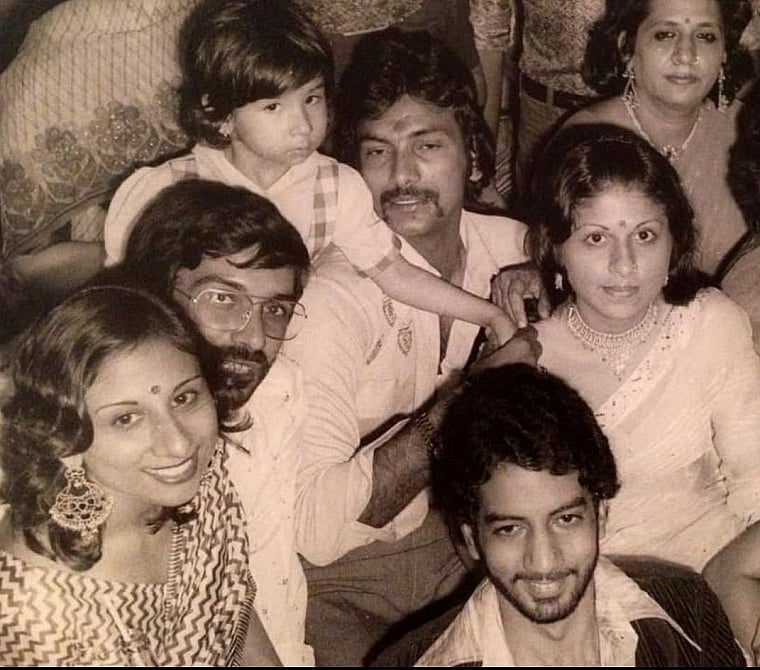 Mix gender friendships that last 45 years are not commonplace but Malti Lala (now Supriya Tuli) and Raju Samtani, who is into fish farming, are still friends. They met when they were both fresh-faced 16-year-olds just starting HR College, and hit it off immediately. "We were both 'baatooni', loved going out, watched similar movies; essentially people's persons," smiles Malti.
"I will never forget that she was the one who brought me out of my shell," reminisces Raju. "She loves life and knows how to celebrate it. She literally pushed me to meet people, participate in theatre and fashion shows, which completely transformed me and helped me excel. And she took pains to introduce me to a few girls whom I could date!" They were inseparable in college, and then go home and chat on the phone. "I liked his emotional traits and that he was such a gentleman, accompanying me home after parties or jam sessions. I was welcome in his home and he knew all my cousins, my aunts. My family loved him. He is a charmer," Malti says.
As it happens in life, they drifted away for a few years after marriage, when Malti moved to Dubai. "Our respective spouses were not in favour of our friendship," Malti admits. "But once we caught up again, and his baby was born, we were always in touch. I would give my life for a friend and expect the same from him/her. I want a friend who is as genuine, sensitive and honest as I am; and that's what I found in Raju, my best buddy, ever."
Raju concurs, "Friendship can really be one of the most valuable relationships in one's life."
'We bonded while taking care of sick cats'
Renita Kapoor, actor-host, and Rituu Memani's quarter-century-old comradeship proves that long-distance friendships can thrive if nurtured well. "We meet once every couple of years," says Renita. "I left India in 2003, so we get together in person only when I visit or she comes to meet me in Singapore. We last met in February 2019 when I had come to Mumbai for a shoot and she flew in from Delhi."
What keeps them ticking is the strength in the roots of their relationship. Renita and Rituu first met as teenagers in 1995. Renita recounts, "I had moved from Lucknow to a Delhi hostel to study advertising. I was the only non-Delhi girl in the class — like the "behanji wearing a salwar suit" in a class of all modern girls. That's when Rituu approached me and made me feel comfortable."
It was a case of opposites attract. Renita says, "I was always the quieter one while she talked non-stop. But we bonded while taking care of sick cats together. We both got scabies and were quarantined for two weeks, scratching all day and scaring other girls. It was hilarious and painful."
Renita analyses sentimentally, "I was the mommy in this friendship, while she made sure I was safe. She has always helped me believe in myself and my strengths. I believe friendship is the base for all good relationships in lie."
'I was her go-to person'
Photographer-turned-fashion designer Vickky Idnaani and New Jersey-based date analyst Rajeeta Karamchandani were together in a Mumbai coaching class but behaved like ships that pass each other at night. However, when they contested the Jai Hind College elections, Rajeeta lost but won a friend. Vickky became her go-to person whether she wanted to smoke a cigarette or banged her mother's new car or wanted to get away from a psychotic lover.
An emotional Vickky says, "She is the Jai to my Veeru, Karan to my Arjun, Karamchandani to my Idnaani. She made me a part of her marriage rituals and even printed my name as a well-wisher on her wedding card." The only time they fought was when he became emotional because she was going to live in America. Once he reached the airport, however, he surprised Rajeeta by calling her favourite actress, Rekha, and asking her to wish Rajeeta bon voyage.
When Rajeeta's baby shower was on the cards, she sent a flummoxed Vickky an air ticket to New Jersey. Rajeeta says, "Vickky made me try so many outfits before he okayed one. But the end result was worth all the trials."
'There was an equal amount of give and take'
The 71-year-old Raj Mahtani whose eyes sparkle like the gems he deals in, was nine and Lalu Chandiramani four, when they became acquaintances, thanks to Raj's sister who was Lalu's school teacher.
Raj reminisces, "When Lalu turned 16, our friendship blossomed since our jewellery stores were a minute away from each other and we would take tea and cigarette breaks together." Not a week passed by when they didn't see a film on a Saturday night or play snooker on a Sunday.
And they had made a pact that when they marry, they would go for a honeymoon together with their respective spouses — and they did. The foursome — Raj and his wife Sheila, and Lalu and his wife Renu — flew down to Srinagar and their bond grew stronger.
Raj says, "There was an equal amount of give and take in our relationship." In 1982, Raj moved to Mumbai and later Lalu to America. Circa 2000, Raj returned to India, and whenever he made a trip to Mumbai, he would drive straight to Raj's house from the airport. But after eight years, the Big C played villain. Raj recalls, a tad wistfully, 'We last met on October 28, 2008. He was afflicted with cancer so I flew down to meet him." Before he passed away, Lalu extracted a promise from Raj, "Make sure my elder son marries the girl he is courting."
Though Raj misses him acutely, his takeaway is fond memories. "He had a fine sense of humour."
(If you have a story in and around Mumbai, you have our ears, be a citizen journalist and send us your story here. )
(To receive our E-paper on WhatsApp daily, please click here.  To receive it on Telegram, please click here. We permit sharing of the paper's PDF on WhatsApp and other social media platforms.)