As a proud father myself, I find those few and far between occasions intriguing when Hindi cinema explores different shades of the father-daughter bond. Unlike the mother-son relationship which has been examined in umpteen potboilers as well as milestones from Mother India to Deewar to Karan Arjun to Bahubali, it's rare for a film to delve into the dynamics of father-daughter ties.
I caught Jawaani Jaaneman this week and thought it had a very contemporary take on it. Young Alaya F (oozing elan) thinks ageing Casanova Saif Ali Khan may be her father but her fascinatingly bohemian mother Tabu is not too sure. Saif adamantly refuses a DNA test, but in the next scene (nice cut!) he is seen taking the paternity test ... and, well, acing it. The film is about how the newly discovered father-daughter tentatively learn to, at this late stage, forge a bond that should have ideally begun at childbirth. Will the hard-partying Saif dig out his caring side or his outrage when he learns his daughter is pregnant out of wedlock? And will the hedonistic patriarch find some semblance of an emotional anchor? Father dearest has to find the answer.
Cinematic fathers come in all shapes and sizes. There are those doting fat cats whose suited arm the leading lady clings on to and breathes admiringly, 'O daddy!' There are those who are the villains of the piece in their daughters' romantic dalliances. And then there are those grieving gents who sing corny Bidaai songs that reduce you to mush no matter how firmly you resolve not to cry.
The recent blockbuster Dangal had a well-meaning but formidably strict father in Aamir Khan's rustic character who espouses the admirable belief that his four daughters are not less worthy than sons. The former wrestler trains his daughters to become champions even if he has to be labelled Haanikarak Bapu by the hapless girls. In his book, father obviously know best!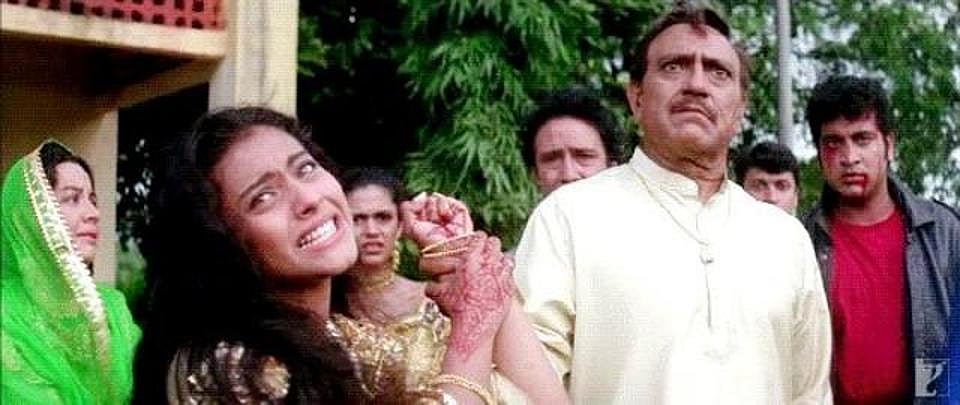 While Dangal's dad is clearly emotionally invested in his daughters, there are also those fathers who 'think' they have cut their daughters out of their hearts; only to eventually learn otherwise. My favourite film about a fractured father-daughter relationship is Hrishikesh Mukherji's 1966 classic, Anupama.
After his beloved wife died during childbirth, an anguished Tarun Bose can barely bring himself to look at the child whom he holds responsible for his wife demise. He shuts his daughter out of his affections and she grows up to be an extremely shy and reserved young lady (Sharmila Tagore) who yearns for her father's love. Her match is fixed with an eligible candidate but she is pursued and won over by a sensitive writer played by Dharmendra. In the climax, not only does Sharmila find the courage to break out of her shell and defy her father, but he too comes to terms with his latent love for his daughter as he secretly watches her take flight while shed ding a tear quietly from behind a pillar.
Another Hrishikesh Mukherji directed gem which dealt with the father-daughter bonding, albeit not as centrally, is the 1969 film, Aashirwad, which won veteran Ashok Kumar the Filmfare award for Best Actor almost a decade after he had begun essaying character roles. Like many in Mukherji's cinematic universe, Ashok Kumar plays a morally upright man. He is a zamindar but he disagrees with his autocratic wife Veena about the treatment of their tenants. Escaping to Mumbai, he keeps alive the memories of his beloved daughter Nina by selling toys to children and singing the famous 'rap' number: Rail gaadi ... beech waale station bole ruk ruk. His love for his daughter and for children spills onto the frames. When circumstances land him in prison, he survives for years by penning poetry for his daughter.
All grown-up and estranged from him by now, his daughter falls to recognise him when she meets him by chance. But the grand old patriarch is determined to attend her wedding and give his blessings (aashirwad) even if he has to do so anonymously. In Tagore's timeless story Kabuliwala there are two fathers with heart. The Kabuliwala (played by Balraj Sahni in the 1961 film) is separated from his own daughter by hundreds of miles, and lavishes his paternal love on a young girl. When the girl grows up, her father makes a monetary sacrifice so that the Kabuliwala can reunite with his own daughter.
Emotionalism runs deep in the telling of every father-daughter tale... Even when it's a bull-headed Amrish Puri in Dilwale Dulhaniya Le Jayenge who eventually lets go of Kajol's hand and lets her board the train with Shah Rukh Khan. It's a lesson all fathers have to learn: when to hold on and when to let go.
(To receive our E-paper on whatsapp daily, please click here. To receive it on Telegram, please click here. We permit sharing of the paper's PDF on WhatsApp and other social media platforms.)
Published on: Sunday, February 09, 2020, 06:30 AM IST