Is that a 'Neck lace' or a 'Nuke lace'? That is the question netizens are asking on social media regarding Kim Jong Un's wife Ri Sol Ju's missile pendent.
Ri Sol Ju, Kim Jong Un's wife, donned a pendant designed in the shape of a missile at the 75th anniversary celebration of the Korean People's Army in Pyongyang on Tuesday. The silver necklace stole the limelight as it looked similar to North Korea's largest intercontinental ballistic missile (ICBM) - Hwasong-17 ICBM.
Many social media users have referred to the necklace as 'nuke-lace'. A solid-fuel ICBM would make the nation's nuclear missiles more evasive to detection and destruction in times of war, making it a long-standing national priority.
While Kim's daughter Kim Ju Ae dressed in a black and white suit with a brooch for the occasion, her mother chose to wear a black coat and hat. Before the massive military parade, Sol Ju was seen wearing the 'nuke necklace' at the banquet table, surrounded by her husband, daughter, and military leaders.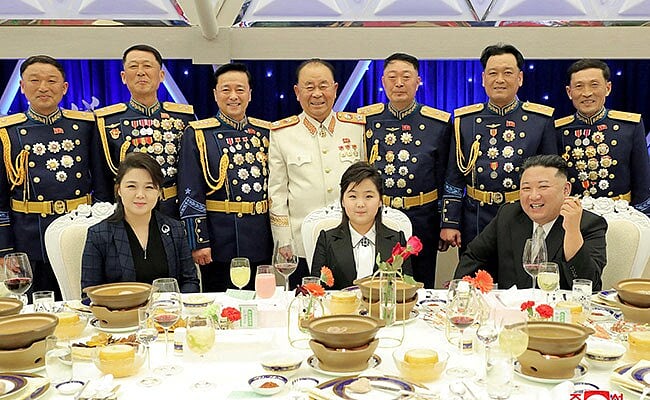 Twitter
He was also seen with his daughter, Kim Ju-ae, which fuelled speculation that she is being positioned as the successor.
At a pre-parade banquet with military chiefs, Kim Ju-ae was pictured taking centre stage while seated between the North Korean leader and his wife, a position normally reserved for her father. While some analysts believe Ju-ae to be Kim's heir apparent, others believe the government may be trying to portray the North Korean leader as a 'family guy' by making this claim, as per the BBC report.
The outlet further adds that Kim Jong Un is the father of at least three kids, including an older son and a younger daughter. Ju-ae is considered his second child, as per BBC. In November 2022, she made her first public appearance when she accompanied her father to witness a significant ICBM launch.
The nighttime parade on Wednesday featured the country's newest technology and largest missiles, including at least 11 previously tested ICBMs and tactical nuclear weapons units, state media reported on Thursday, referring to short-range systems for use on the battlefield.
(To receive our E-paper on WhatsApp daily, please click here.  To receive it on Telegram, please click here. We permit sharing of the paper's PDF on WhatsApp and other social media platforms.)