Thane: Shiv Sena wokers and supporters on occassion of MLA Pratap Sarnaik birthday on Monday, April 25, distributed petrol at Rs 1 per litre at Kailash Petrol Pump near Tatvagyan University, Ghodbundar Road in Thane.
The initiative was launched by Thane Municipal Corporation's (TMC) former corporator Aasha Dongre along with Social Worker Sandeep Dongre and Abdul Salaam. Around 1000 motorists received petrol at Rs 1 per litre per person, marking a symbolic protest by Shiv Sena against the rising petrol prices in the country.

A huge queue was noticed on Monday at 10am at Kailash Petrol Pump. The petrol was distributed by Shiv-Sena former corporator Aasha Dongre along with Sandeep Dongre and Abdul Salaam. The petrol cost of around Rs 1,20,000 has been already paid to the petrol pump, informed social worker Sandeep Dongre.

Speaking with FPJ Correspondent Sandeep Dongre, Social Worker from Thane said, "My wife Aasha Dongre who was TMC Corporator has come up with such a unique idea on the occasion of Pratap Sarnaik's birthday. The prices of petrol and diesel are rising day by day and there is no respite from the central government. We can't do anything more about the price hike but we can bring a smile to the comman man's face atleast for one day and that's the reason we launched this initiative of distributing petrol at Rs 1 for first 1000 motorists. Seeing the good response in future too we will try to do such an initiative once in a while until unless the prices of petrol do not come below Rs 100."
Prashant Narvekar
Prashant Narvekar
Prashant Narvekar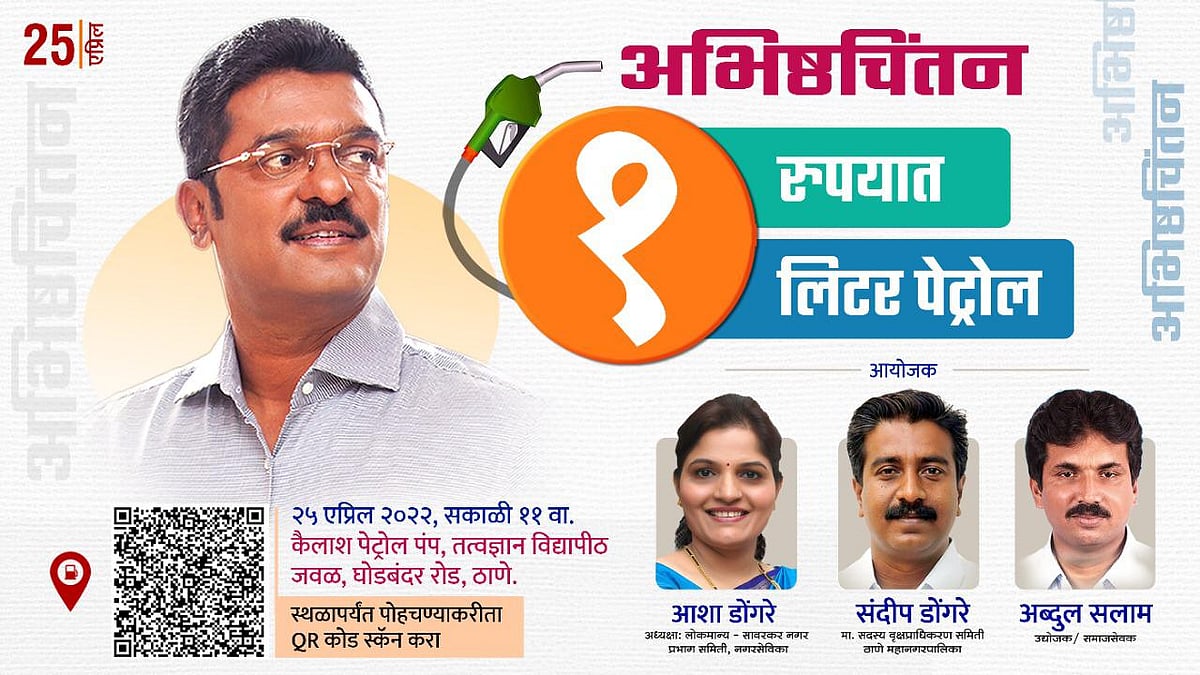 Prashant Narvekar
Dongre further added, "Today no one is ready to see the problem faced by the common man but most of the politicians have been involved in such an issue which is not at all so important for the common man. If a resident of Thane travels for work to Mumbai by his own vehicle, then he will need to burn hole in his pocket by atleast Rs 400 on a daily basis which is a costly affair. So one day if the petrol is made available for Rs 1 per litre then it will bring happiness on their face."

Ralph D'mello, a resident of Thane said, "When I came to know about the petrol pump at Rs 1 per litre at Kailash Petrol Pump through a whatsapp message which was circulated in the group, I woke up early today in the morning and filled my bike and also asked my brother and father to fill their bike with one litre petrol which was made available at Rs 1 per litre. The price of a petrol pump in Thane is Rs 120 per litre and it is above Rs 100 across the country which is really a headache for many people. We really appreciate the initiative taken by the supporters of Pratap Sarnaik on his birthday."
(To receive our E-paper on WhatsApp daily, please click here.  To receive it on Telegram, please click here. We permit sharing of the paper's PDF on WhatsApp and other social media platforms.)