Mumbai: A railway employee died by suicide after he jumped in front of a running local. The incident reportedly took place at Vile Parle station on Jan 26.
In the horrifying video surfaced on internet, the railway employee can be seen waiting for the train to approach near the platform. As soon as the train approaches the platform, he jumped off on the railway track and laid down on it. He was then crushed under the train as other passengers on the platform watched the horrifying ordeal.
GRP confirms suicide as there was a suicide note near the body
According to the Government Railway Police (GRP), on Thursday around 12.45 pm the deceased, identified as, Rakesh Gaud, was run-over at Vile Parle station by a local train heading to Borivali. The train was halted between 12.46 pm to 12.58 pm due to the incident.
The police found a suicide note next to the body which read "I do not blame anyone for this" along with his wife's phone number. "We confirmed the suicide, then contacted the family and handed over the body," said senior police inspector Yogesh Devare of Andheri GRP.
"The reason for the suicide and others aspects of the case are under investigation," added the senior inspector.
Deceased was stressed, on sick leave
According to sources, the deceased was undergoing stress and was also on a sick leave since few days. However, as the deceased was a railway employee, the railway authorities have said that the GRP will conduct a thorough investigation regarding the reason for the suicide.
The data of only the Western Railways, according to GRP, shows that last year (2022), a total of 28 people (21 male and 7 female) died by suicide on the railway tracks by jumping in front of an incoming train. While the total deaths by suicide on all railway tracks of the city last year is estimated to cross more than 87 which is three times more than the pre-pandemic year 2019.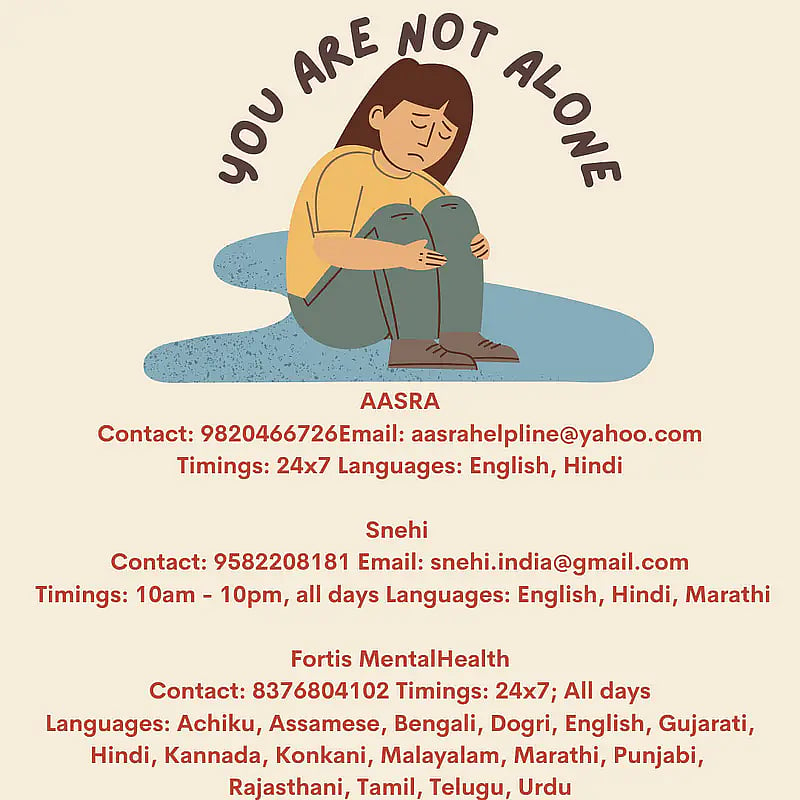 If you or anyone you know is struggling with suicidal thoughts, seek help here: | Mental Health Helplines
(To receive our E-paper on WhatsApp daily, please click here.  To receive it on Telegram, please click here. We permit sharing of the paper's PDF on WhatsApp and other social media platforms.)