State units of the Bhartiya Janata Party (BJP) and Congress engaged in a war of words on Friday with making accusations and counter-accusations against each other over Manora MLA Hostel at Nariman Point and the Central Vista Project in Delhi.
While BJP questioned the logic behind floating a tender for the MLA Hostel and the estimated cost of Rs 900 crore. Congress, on the other hand, slammed BJP saying the project was approved by the erstwhile government led by BJP and was necessary at this juncture.
Manora MLA Hostel -Front Elevation | FPJ Photo
Atul Bhatkhalkar, BJP MLA, raised questions over the Rs 900 crore estimated cost of the MLA Hostel project. According to him, it was Rs 600 crore when the BJP-led government gave approval during its rule. Who is going to be the beneficiary of Rs 300 crore? he asked in a tweet and questioned the timing of the tendering process in view of the ongoing pandemic. The cost of Rs 600 was decided when the project was approved and handed over to National Building Construction Corporation (NBCC), a central government wing.
Bhatkhalkar has written a letter to CM asking to probe in Rs 300 crore rise and cancel the tendering process. "Or BJP will resort to agitation", he has warned.
He even raised questions over the replies given by Prabhu & Associates, the architect firm for the project. "Why are they speaking on behalf of the government," asked Bhatkhalkar.
Manora MLA Hostel -Front Elevation | FPJ Photo
Sachin Sawant, spokesman of the State Congress unit, slammed Bhatkhalkar on Twitter and shared pictures of the bhoomipujan conducted by Devendra Fadnavis.
The project is most needed as the state government is spending a few crores to provide temporary accommodation to legislators as the old building of Manora Hostel has been demolished. Even BJP members are getting Rs one lakh each for making arrangements for their stay in Mumbai, said Sawant.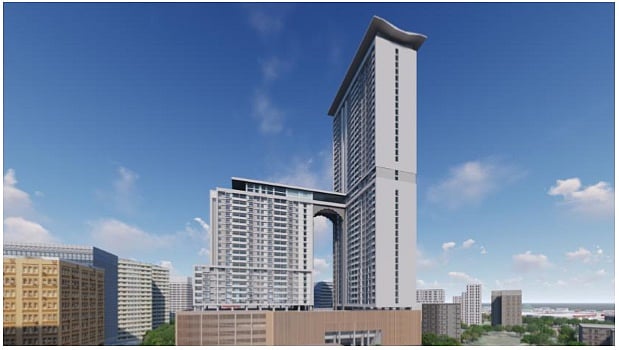 Manora MLA Hostel |
While saying this, Sawant raised questions over the Central Vista Project and questioned its necessity when a plush residence is currently being used by the Prime Minister. Accommodation for Members of Parliament is also available where the project is currently undertaken. The same is not the situation in Mumbai as the complex of four buildings has been demolished, he has retorted and said any advice if needed is for the PM who keeps himself busy in electioneering instead of handling the COVID-19 situation.
(To receive our E-paper on whatsapp daily, please click here. To receive it on Telegram, please click here. We permit sharing of the paper's PDF on WhatsApp and other social media platforms.)