70-year-old celebrity chef Bimba Nayak owns the place she belongs to — her kitchen. She cooks for a minimum of 10 hours each day and still appears energetic and ready for our interview, as we settle in a corner seat of the plush restaurant, Saptami in Holiday Inn Mumbai International Airport hotel. It is the ongoing Pathare Prabhu Food Festival that we recently attended to sample some of the delicacies from the best in traditional Mumbai cuisine.
Featuring some of the authentic dishes of the community that have been passed down from generation to generation, Bimba tells us that she has researched about each dish and none of her food is without a story attached to it. "There are stories about where a particular dish comes from. I do a lot of research and do not compromise with the food I cook, even if an ingredient costs me too much," says the chef, who, after living in the royal kitchen in Kuwait, shifted her base to Mumbai in 2005.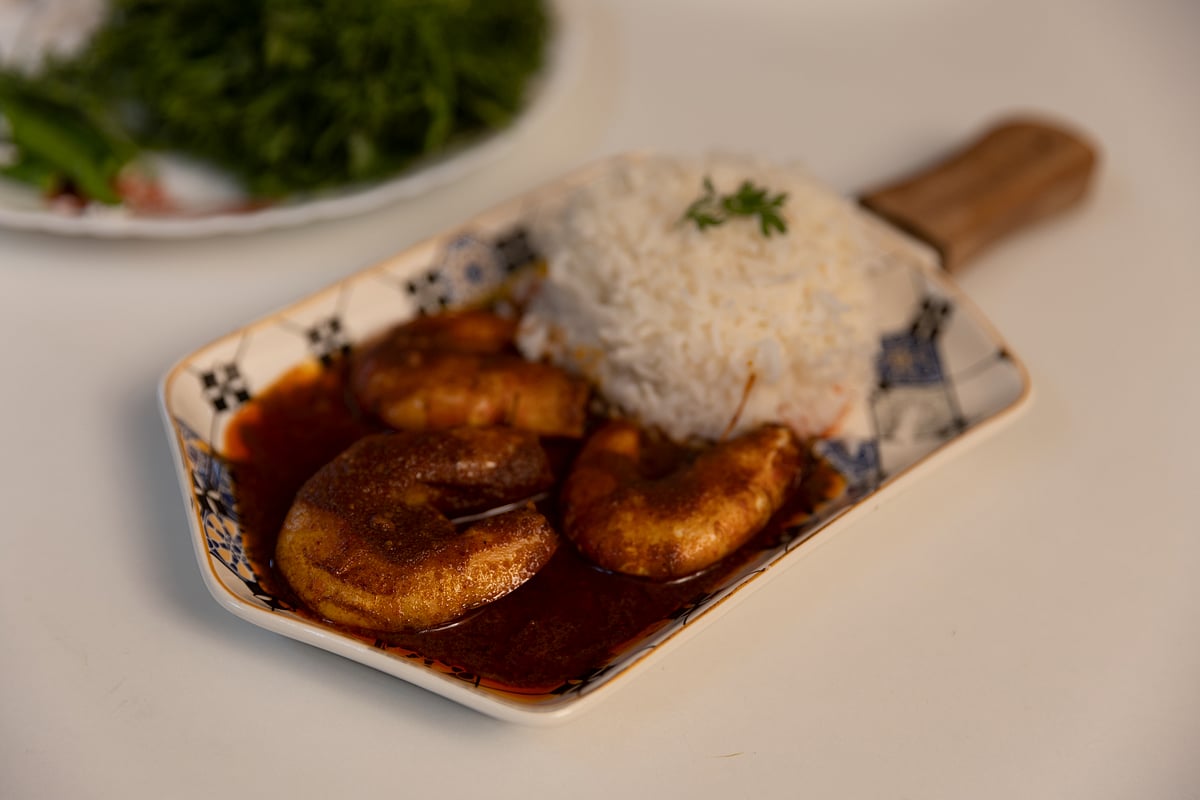 On the job in Kuwait, where she would serve the royal family members and their guests at elaborate events, she cooked a variety of European and Middle Eastern cuisine. She says she had immense success in Kuwait and learned different kinds of cuisine. "I moved to Kuwait when I had an eight-year-old son and my daughter was married. My husband became a mother to them. And when my second daughter got married, I couldn't make it to her wedding," recalls the chef adding that apart from her there are six more chefs in the family having expertise in different cuisines and baking, which she says has been passed down to her from her mother, who did a course in baking, "she was a wonderful baker."
Rightly so, the elaborate buffet menu had everything non-veg and a host of vegetarian options from 'Prawns Khadkhadle', 'Batata Gode', 'Kaskdi Bondachi Bhaji', varieties of 'Dal' to 'Bombil Cutlet', and several seafood specialities cooked with spices used by Pathare Prabhus.
Tradition desserts along with more than five types of cakes and pastries were the highlights of the meal. Chef Bimba specialises in all things sweet including English chocolate cake, sugarcraft and baking. Her exotic cakes dressed with sugarcraft are delivered to most of the five-star hotels in Mumbai including Taj Hotels across the country. She holds lessons in sugarcraft and baking for seasoned pastry chefs as well as home bakers and baking enthusiasts. "My forte lies in baking English and French cakes," says the chef.
Interestingly, when she moved back to Mumbai with expertise in European and Middle-Eastern cuisine, she didn't think of opening a restaurant but teaching. "I am not a business-minded person," says Chef Bimba. She says that the food industry has changed a lot over the years. "half of the people don't know what the food tastes like but they make and become experts. Social media is just adding to it," says the chef.
When asked about the boom in the home chef industry she opines that it is perishable. "It's like changing your job. How long can you serve the same dish and how many dishes can you serve? Saying that we (home chefs) serve better than hotel food is not right. It has affected the hotel industry so much," opines the veteran chef, who also taught noted chef and author Tarla Dalal to make chocolates in 1972. Chef Bimba is touted to be the first chocolatier from India to make them since 1960.
Married at the age of 17, she dreamed of becoming a uniformed officer and if not she donned a chef's coat which she says, "comes with a lot of responsibility." "I did a diploma course in culinary arts and excelled at baking and then I did a course in tailoring and mastered the art of cutting. I wanted to learn these two things so I never have to be dependent on anyone," says the chef in conclusion.
Chef's take
Myths about food
Eggless mean Less of Egg and never eggless
Eating milk with fish because white sauce milk is made with milk
One thing everyone should follow while cooking
Cooking should come from your heart and should have eye-to-eye contact. Love for serving.
One dish that you love cooking
Lebanese grill chicken
Cuisine that you love eating
Lebanese cuisine
Available for Lunch and Dinner.
Every Thursday to Sunday till March 31
(To receive our E-paper on WhatsApp daily, please click here.  To receive it on Telegram, please click here. We permit sharing of the paper's PDF on WhatsApp and other social media platforms.)