Annie Dubé, the new Consul General of Canada in Mumbai, is happy to be back in India. Her first tenure was in 2005-2007, when she was the vice consul and trade commissioner at the Consulate General in the city. For Dubé, India, especially Mumbai, is not new to her, but she knows that her new role comes with a set of responsibilities along with challenges. Apart from boosting the bilateral trade, this proud feminist also gives more priority to women empowerment. Besides trade, education and other activities, Dubé speaks to FPJ's Jescilia Karayamparambil and RN Bhaskar about initiatives undertaken for women empowerment by her team.
Edited Excerpts:
How do you view the changing Indian rules around food items which have impacted trade between India and Canada?
I do not see it as an impact but more so as a transformation. Trade between the countries—India and Canada—stands at around CAD 8 billion – but this deals with only import and export of goods. Services account for an additional Rs 2 billion. We have around 100 Indian companies in Canada. This number is growing, mainly because Canada is a welcoming country. At a time, when there is a wave of populism, Canada is a different voice which appeals people around the world. The renewal of North American Free Trade Agreement (NAFTA) reaffirmed our position. We have Free Trade Agreements (FTA) with many Asian countries too. However, there is no agreement with India as yet. The negotiations are still on. We understand that it is not the focus of India. We have signed Comprehensive and Progressive Agreement for Trans-Pacific Partnership (CPTPP), we consider such agreements important for trade. These agreements increase our reach, improve mobility, labour costs are cheaper and relationships between countries grow. This shows our open door policy. Canada is a middle power and we have the potential to make a difference.
Indian students are moving to Canada for higher studies. How many students went to Canada from India last year?
 Education is a fantastic driver to discover Canada. The number of students going to Canada for education is very huge. For Indian students, it is the second destination of choice after the US. At present, the number of students going to Canada stands around 1,24,000. This figure can even go up because we do not take into consideration the number of students who travel to Canada for shorter courses (that are less than six months). Most of the students going to Canada for shorter courses take travel visa rather than student visa. Thus, it is difficult to track them. The number of Indian students in Canada is growing due to the two-three years' work permit offered to students (going for longer duration courses). Other than permits, Canada's diverse and inclusive policies are also working in its favour.
Would you know about the collaboration between Indian and Canadian universities?
 We do try to keep track of such collaborations but we have not been able to get appropriate data around it. There are some universities that have collaborated in terms of knowledge sharing and some who send in their professors to teach. There is a growing interest among Canadian Universities about India. Such educational associations strengthen relationships between both countries.
Tell us about the nuclear cooperation between the countries.
Canada and India have an annual government-to-government nuclear policy discussions, regulatory cooperation between our regulators, nuclear research and development efforts between our laboratories, and ongoing trade between our nuclear industries. Canada places the highest priority on nuclear safety and security. International collaboration is important to advance these priorities. Canada and India are the world's first and second largest operators of pressurised heavy water reactor technology, respectively. Thus, such cooperation in important.
In case of Electric Vehicles (EV), will there be a larger association between both countries?
 At present, Canada is looking at the US as its potential market for EVs. As most companies in Canada are MSMEs, they usually look at neighbouring markets for opportunities and later they might explore India. In the EV space, Blackberry is running some trials on EVs. The company has almost stopped production of Blackberry handsets but has reoriented itself to corporate communications solutions. India is a complex market. But I feel this is the right time that companies should explore India and understand the complexity of this market. There is no doubt that India will surpasses China going ahead.
How has the relationship between India and Canada changed?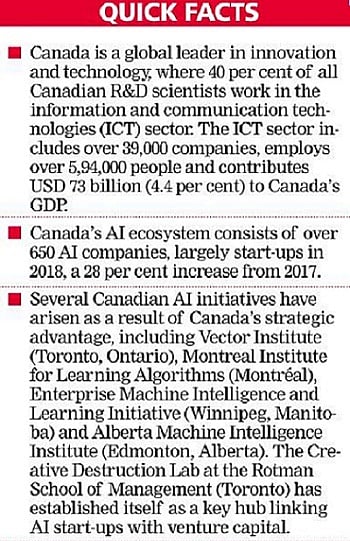 Coming back to India after a decade, I realised that lot has changed over time. I was posted in India as the trade commissioner a decade ago. Now, when I travel around the city, I feel the change in landscape. Over the years, the relationship between India and Canada has also changed. Everybody wants to grow. I believe that dynamism is the way forward. We are looking at ways to further build a strong relationship between both countries and take it to the next level.
What is the number of Indians residing in Canada?
Around 1.3 million Indians reside in Canada. This accounts to 5 per cent of the total population in the country. Punjabi is the third most spoken language in the Parliament. Canada is open about welcoming talent to the country. Such open policies help in strengthening relations between countries as well.
Apart from trade, what are your other priorities?
 Our other priorities in India are women empowerment, diversity and inclusion. I am a Consul General, a mother and a feminist. I will proudly say that I am a feminist. Until my teens, I never felt different. But as years passed by, during my professional and personal journey, some instances led me to take up the cause of women empowerment and become a feminist. In India, we are working with local organisations that are working for women empowerment. We have associated with talent that uses art to spread the message of women empowerment.  We have limited funds but we still support such causes. We want to make a difference. India has so much potential. But this social change has to happen where women are empowered. This social change in India will take place. I hope this social revolution takes place peacefully, but at faster pace. I hope that India will find a way to give women in the country their voice. While I am against patriarchy, I am not against men as they are part of the solution. As you educate girls, you need to educate boys as well. We need to raise kids well. We understand this which is why we support local organisations.
(To receive our E-paper on whatsapp daily, please click here. To receive it on Telegram, please click here. We permit sharing of the paper's PDF on WhatsApp and other social media platforms.)