Srinagar
Five LeT terrorists, including a district commander, and an Army jawan were killed in an encounter between the ultras and security forces in Jammu and Kashmir's Pulwama district on Friday, police said.
The security forces had launched a cordon-and-search operation at Hanjin village in the Rajpora area of Pulwama following information about the presence of terrorists there, a police official said. He said the operation turned into an encounter when the ultras opened fire on the security personnel who retaliated.
A soldier was injured in the initial exchange of fire with the terrorists, the official said, adding that the jawan died at a hospital here.
He said reinforcements were rushed to the area, and in the subsequent gunfight, five terrorists were killed.
The slain ultras were affiliated with the LeT, and one of them, Nishaz Lone alias Khitab, was the district commander of the outfit, Inspector General of Police, Kashmir, Vijay Kumar said, adding, one of the slain ultras was a Pakistani but is yet to be identified. The operation was a "big success".
Women soldiers deployed to improve interface with public in Ganderbal
Srinagar: Indian army deployed women soldiers on Friday at various checkpoints in J&K's Ganderbal district to bridge the gap between locals and the security forces. Colonel RS Karakoti, commanding officer of 34 Assam Rifles, said the Rifle women of Assam Rifles have been deployed at mobile vehicle check posts in Ganderbal district. Women soldiers are also known as Rifle women in the area. They were first deployed in Kupwara district in August 2020 after intelligence reports that militants were employing women handlers for narco and weapon smuggling. Colonel Karakoti said the Rifle women have been a force multiplier and they have become the bridge between the locals and the security forces. "We deploy them during other opera­tions as well. They have been able to develop a special relationship between the locals and the security forces," the officer said.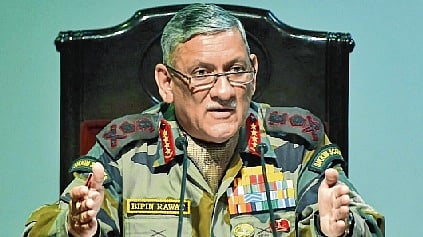 CDS: India, China should be able to achieve status quo in eastern Ladakh
New Delhi: India and China should be able to achieve status quo in eastern Ladakh in a gradual manner as both sides understand that it is in the best interest of ensuring peace and tranquillity in the region, Chief of Defence Staff Gen Bipin Rawat said on Friday. In an address at a think-tank, Gen Rawat, at the same time, said that India must remain prepared for 'any misadventure' and respond accordingly as it has done in the past. "All I would say is that keep your guard up, remain prepared; do not take things lightly. We must also be prepared for any misadventure and respond accordingly. We have responded in the past and will do so in the future," he said replying to a question. About the resolution of the prolonged standoff, Gen Rawat said both sides are engaged in negotiations at political, diplomatic and military levels to resolve the row. "It will take time. I think in a gradual manner, we should be able to achieve the status quo because if you do not achieve the status quo and remain in this kind of a position, it could lead to misadventure at some time," he said. "Therefore, both the nations understand that returning to the status quo is in the best interest of ensuring peace and tranquillity to which our nation is committed," he said.
India, China to maintain dialogue to reach mutually acceptable solution for complete disengagement, says MEA: India and China in their talks last week agreed to maintain dialogue through diplomatic and military mechanisms to reach a mutually acceptable solution for complete disengagement from all friction points so as to enable progress in bilateral ties, the Ministry of External Affairs said on Friday. MEA spokesperson Arindam Bagchi said the 22nd meeting of the Working Mechanism for Consultation and Coordination on India-China border affairs was held on June 25.
(If you have a story in and around Mumbai, you have our ears, be a citizen journalist and send us your story here. )
(To receive our E-paper on WhatsApp daily, please click here.  To receive it on Telegram, please click here. We permit sharing of the paper's PDF on WhatsApp and other social media platforms.)