Aries:
You are going to receive some important messages this week. It could be an answer you may have been waiting for since a while. You will gain confidence to take action in your life. Some of you could receive a new job/career opportunity. Pay attention to your home during this period and safeguard your house precious belongings correctly. You may feel particularly emotional and open in your personal life. Love is all around you. You or someone special in your life could offer a romantic gesture. Don't be afraid of saying what is on your mind to your loved ones.
Page of Cups |
Taurus:
This week you may get distracted and indulge too much in food, drinks and merriment. Beware of going overboard with any activity, even if it may seem good. It is time to create structure in your work life. You will be presented with many new creative ideas and these will bring excellent results in the near future with consistent effort. Your friends or family could celebrate an important milestone in their life. You have very good manifestation powers currently hence use it to visualize your future and write down your dreams and expectations. A personal issue will also see resolution.
The Devil |
Gemini:
Dear Geminis, you will feel much calmness and stability this week. Some of you will feel more 'settled' in life. You will be more open to go with the flow instead of forcing changes. You will have much clarity of thought and your career/professional life will thrive. It is also time for you to plan things out well in your work life. Pay attention to intuitive messages from your spirit guides during this period. Don't try to do too many things instead focus on one or two things and do them well. Finances are also going to start looking good.
King of Pentacles |
Cancer:
Dear Cancerians, some of you have given up on new beginnings and retired into a shell, surrendering to divine fate or life in general. It is only a matter of time before you shall break through this sluggish/stagnant energy. Till then, stay devoted, committed and unwavering in your personal and work commitments. Paying close attention to smaller mundane activities will help you stop yourself from stressing about the big picture/long term future, at least for the time being. This period requires you to focus on your mental and physical healing. You will see emotionally fulfilling changes in your romantic partnerships.
Wheel of Fortune |
Leo:
You will be blessed with abundant energy to leave the past behind and move in a fresh new direction. Avoid taking on too many responsibilities just because you have the will power to carry them out. It is time to set healthy boundaries at work and in your personal life. Financial prosperity is on the cards for some of you. Travelling and planning new travel is going to be favorable. This is also an excellent period for love and personal relationships. Singles could meet someone special. Make the most of this auspicious week.
Page of Wands |
Virgo:
You have been waiting to bring in major changes in your life. Some of you could be looking to travel or relocate your home. You could face some challenges with these changes but it is advisable to wait and gather important information before making the jump. Remember to bring in the Virgo quality of looking into the details of things .Take some time out to rest and release your mental blocks this week. You are asked to remain calm and patient as you shall be prone to losing your temper. Bring a gentle touch to your communication.
Three of Wands |
Libra:
This week you may hold yourself back from stepping into your power. It is time to address your fears and release them in order to achieve the success you desire. This may especially be true for your work/career. Some of you could be feeling a financial crunch. This period promises to bring much healing to your life, especially in your personal life. Some Libra's may have the opportunity to meet an excellent life-partner/great love. It is also a good time to commit to a long term partner. Your personal relationships will transform and be the cause for much happiness and joy. Some of you could settle down or see the birth of a child in your family.
Four of Pentacles |
Scorpio:
Dear Scorpio, I see your self-confidence shining. Some of you will glow with vitality. This period could feel like a rebirth of sorts. You are reclaiming your power and strength. There is much healing coming to your physical and mental health. You could also undergo deep healing from certain traumas and fears which have been on your mind since many years. Stay committed to this path towards personal growth. Embrace changes step by step. Travel is very favorable during this period.
Temperance |
Sagittarius:
You will feel like your warm sunny self again, Dear Saggis. Be prepared to get out of your shell and shine this week. It is time to detoxify from your past experiences. There shall be rapid and powerful changes coming in your direction. You will draw a lot of attention and can expect a lot of communication coming your way. It is also a good time to pamper yourself. You will feel the guidance of your spirit guides/higher-self this week. Your relationships will also see massive improvements. Overall, this week shall bring a lot of healing for your mind, body and soul.
Eight of Wands |
Capricorn:
This week you are asked to be analytical, practical and clear in your thoughts and communication. It is important that you put a strategic plan in place and work with data. Some unexpected changes could create tension but nothing that a little help from others cannot solve. Despite everything, you will remain in a strong position. Others will be drawn to your aura and confidence. The flow of financial abundance and opportunities will continue. Pay close attention to your intuition. It is also time to start a new health regime to achieve a fitter body.
Queen of Swords |
Aquarius:
Dear Aquarians, many of you may have been waiting for some inspiration, positivity and healing in your life. This week shall bring all of these. Some of you could meet a mentor or guide who will add to your learning. You shall step into your power and it will feel like a rebirth of sorts. Your mind will be clear and you will experience child-like joy and happiness. There is much to be grateful for this week. Some of you will develop a closer bond with an existing partner. Those who are single will be intensely attracted to a new person.
Four of Cups |
Pisces:
After many delays and struggles you will see success this week. You will hit an important milestone. Your commitment will be tested but don't forget to focus on the positives. Some of the delays/changes would have been like a blessing in disguise. Continue to have faith in divine timing. A clear, practical and straight forward approach will help you. Your personal life will also bring much contentment.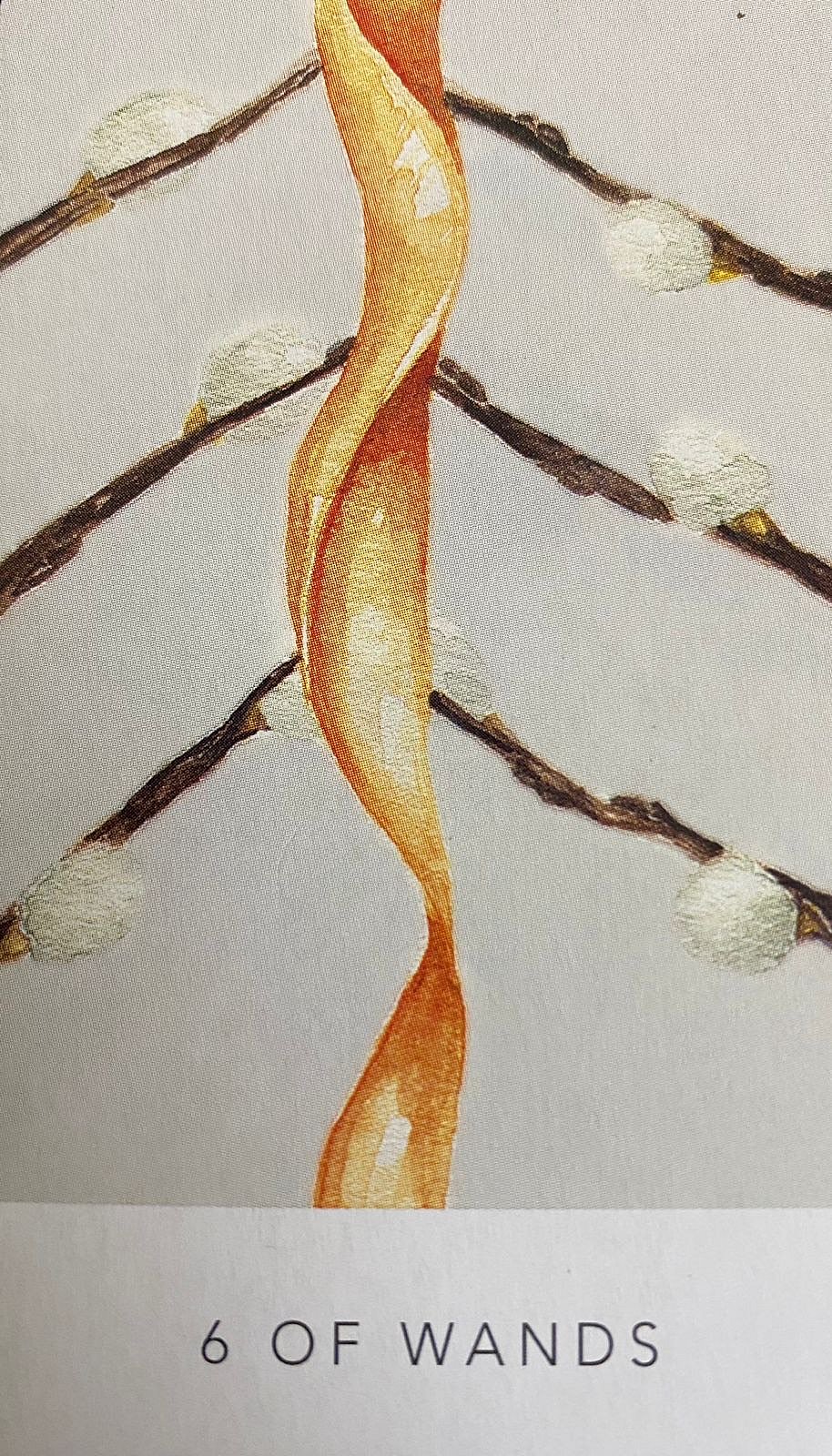 Six of Wands |
Deck- White Sage Tarot
(If you have a story in and around Mumbai, you have our ears, be a citizen journalist and send us your story here. )
(To receive our E-paper on WhatsApp daily, please click here.  To receive it on Telegram, please click here. We permit sharing of the paper's PDF on WhatsApp and other social media platforms.)